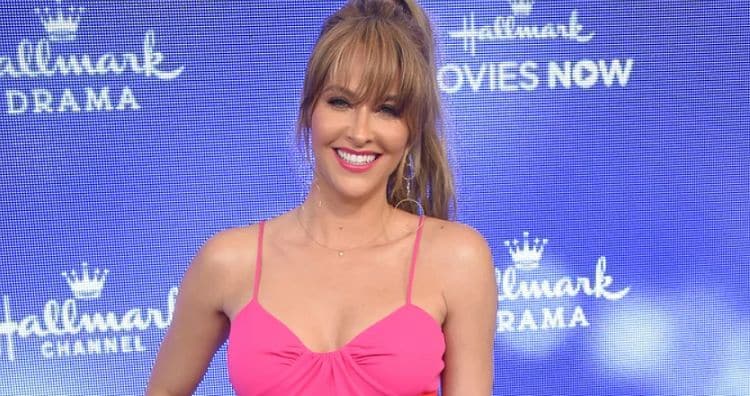 Jill Wagner has a familiar face because she's a familiar person. From 2008 until 2014, she was the woman on ABC hosting the show "Wipeout," the guilty pleasure we all watched. People tried desperately to get through, over, under, and around obstacles in their way without falling flat on their faces – which is what viewers wanted to see – and she was an animated host. She's also a familiar face for Hallmark movie lovers, and we thought with the holiday season right around the corner (we call it Hallmark movie season), it might be time for her fans to brush up on their Jill Wagner knowledge.
1. She's From North Carolina
She's a born and raised North Carolina girl. She did not grow up in the ever-popular OBX, but she did grow up in Winston-Salem, which is an equally beautiful, though more centralized, location in the Tar Heel state. She graduated high school in Wallburg, and she enjoyed her time there.
2. She is a 70s Girl
She was born on January 13, 1979, which means she celebrated her 42nd birthday in 2021. She was born in North Carolina, but she was not raised by her mother. Her primary caregiver was her grandmother and her father. However, her father was a U.S. Marine, and he owned a tire shop. She thought for most of her life that she would go into the family business alongside her father when she became an adult.
3. She is a College Graduate
Following her high school graduation, she decided to pursue a college degree. Wagner attended classes at North Carolina State University. In 2001, she graduated college, and she took with her a degree in business management. She doesn't use her degree, but it's always nice to have one to fall back on if acting doesn't last forever.
4. She is a Trained Model
Growing up, she aspired to be a model/actress. Her dad allowed her to take courses at the Raleigh Barbizon Modeling and Acting School. Her acting classes there definitely paid off in the future when she was able to land roles after moving to California.
5. She Made a Big Move
She graduated college and left home. She went far, too. She went from North Carolina to California in 2001. It would take her a few years to make a name for herself when she got here, but she did it. She landed a few small roles here and there on major networks and on shows everyone loved, but it was in 2008 that she became a household name filming her hosting duties for ABC.
6. She Starred on MTV
One of her first roles after moving to Hollywood was on Punk'd. It was the huge show on MTV hosted by Ashton Kutcher. The entire premise was that he would go around and play elaborate practical jokes on people who had no idea what was going on. She was part of the show in the way that she got to participate in some of the pranks that were being pulled on unsuspecting people.
7. She's a Magazine Model
Before she became a television host on ABC, she was recognized as a model. She was named 90 on the Maxim Hot 100 List in 2004, and she was also featured in FHM in one of their summer issues in 2006. She earned both spots, too.
8. She is Married to Another Star
The year was 2016. Wagner was dating former professional hockey player Davide Lemanowicz. It was the couple announced their engagement. The following year, they got married. Her husband retired from hockey and now works as a U.S. Army Major. Together, they purchased a home in Tennessee where they raise their own little set of farm animals and live their dream.
9. She's a New(ish) Mom
Wagner and her husband welcomed their first child together three years to the month following their wedding. Their little girl was born in April 2020, and her parents went on to announce she's expecting her second child with her husband the same month their first baby turned one. She found out just before the Christmas holidays, and she could not be more excited. She is also the stepmother to her husband's daughter from a previous relationship.
10. She Values her Privacy
She's every new mom sharing photos of her baby with her loved ones and friends, but she's not sharing too much into her life as a mom, a wife, and into her marriage with her fans. She isn't holding anything back, but she's very careful not to discuss anything too private. Nor does she share anything too private on her social media pages. She respects her own privacy.