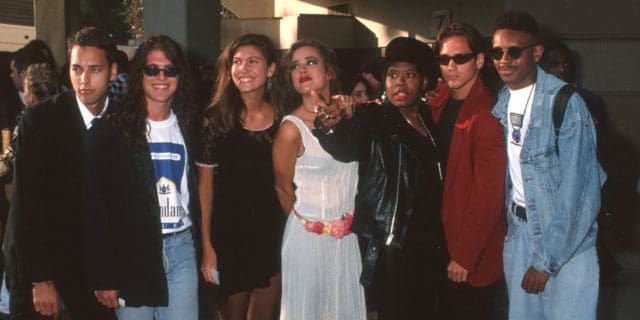 MTV is a cable and satellite television channel that was originally called 'Music Television'. When it launched in 1981, it predominantly aired music videos that were presented by television personalities and these were known as the 'video jockeys'. At first, their target demographic was young adults interested in music. However, this network decided to move away from continuous music programs. Although they retained some music-based series, they now offer a wide range of television genres, including sitcoms, animations, reality series, game shows, documentaries, and dating programs. While some criticized this move away from music, others have become huge fans of the variety of shows that are aired on MTV. In fact, MTV now has many original shows that have become a huge hit with viewers. Here are 20 of the best original MTV television series of all-time.
20. Remote Control
This popular television game show ran on MTV from 1987 until 1990. The show involved three contestants answering trivia questions on the topic of television, movies, and music. Some of the questions were presented in a skit format. The series was developed by Michael Dugan and Joe Davola. This was the first non-musical show shown on MTV. Ken Ober hosted the show and Colin Quinn was his sidekick. People who had walk-on parts in the series included Adam Sandler, John Ten Eyck, Roger Kabler, and Denis Leary.
19. Awkward
'Awkward' is a teen comedy series created for MTV by Lauren Lungerich. Jenn Hamilton, played by Ashley Rickards, is the central character in the series. She is a Californian teenager who is struggling with her identity and is involved in an accident which is mistaken for a suicide attempt. It premiered on July 19, 2011, and was renewed for a second series on August 24 of the same year. After three seasons, the show's creator left the series. It went on for another two seasons and was aired for the final time on May 24, 2016. It is believed that the cast members would be happy to return if there was a sixth season of the show.
18. Rob & Big
Premiering on November 4, 2006, Rob & Big is a reality television series following the lives of Rob Dyrdek and his best friend Christopher 'Big Black' Boykin. Drydek is a professional skateboarder, actor, and producer, while Boykin is a bodyguard. The show ran for just three seasons and concluded on April 15, 2008. However, there are still reruns of the show on MTV2 which is a sister network of MTV. The show focused on events in Dyrdek's life, such as when he had his home exorcised and when he tried to break a Guinness World Record. Rob Dyrdek followed up this series with 'Rob Dyrdek's Fantasy Factory', which aired from 2009 to 2014.
17. True Life
'True Life' is one of MTV's documentary series that revolves around serious topical issues. For example, the first episode, which aired on March 31, 1998, was titled 'Fatal Dose' and was about heroin addiction. Subjects are followed by camera crews in areas of their lives that relate to the topic of that episode. The show has aired for 328 episodes over 18 seasons, during which time it has covered over 140 topics. The series has been nominated for and won multiple awards, including winning the 2009 Emmy Award for Best Special Class Series. This show is ongoing on MTV.
16. Teen Wolf
The television series 'Teen Wolf' is loosely based on the 1985 film of the same name. The series was created by Jeff Davis for MTV and stars Tyler Posey in the lead role of Scott McCall. He has been bitten by a werewolf and the series revolves around how he is coping with the effect this has had on his life. The series premiered on June 5, 2011, after the MTV Movie Awards in the same year. In 2016, the cast announced that the sixth season would be the last. They revealed this at the 2016 Comic Con. The series finale was aired on June 5, 2011. Others who starred in this series included Crystal Reed, Dylan O'Brien, Tyler Hoechin, and Holland Roden.
https://www.youtube.com/watch?v=rvPIbeh2N_M
15. Headbangers Ball
Although MTV made a move away from music in the programs they aired, 'Headbangers Ball' was one of the series that retained an element of music. This music program was aired on MTV and some of its sister channels and consisted of heavy metal videos. It was first aired on MTV on April 18, 1987. However, the relevance of the program came into question when other genres of music became more popular, including grunge, rap, and alternative rock. This led to the show being canceled in 1985. It was later reintroduced to MTV2 eight years later as heavy metal rose in popularity once again. It is now only shown on the network's website.
14. Viva La Bam
This series was a spin-off from 'Jackass'. It is a reality television series that starred Bam Margera who was one of the main stars of 'Jackass' and also follows his friends and family. During each episode, the different cast members were given a mission that usually involved completing a stunt challenge or conducting a prank. It would often involve them recruiting the help of friends, family, and experts. Although there was some planning and organization involved in the events of the show, it was predominantly improvised. The show ran for five seasons from October 26, 2003, to August 14, 2005.
13. TRL
Commonly referred to simply as TRL, 'Total Request Live' is an MTV series that features popular music videos and featuring daily guests. TRL is often used as a promotional tool by American artists who get to showcase their music videos to the shows audience, which is predominantly teens. When the series began, they would hold a viewer vote for the best videos and would then show the ten most requested videos of the day. This show was cancelled in 2008 but then returned in 2017. Instead of a daily countdown, the show now has a weekly top five. Special guests add their favorite songs to the official playlist and then viewers rank these using social media before they are played on the show.
12. Ridiculousness
'Ridiculousness' is a comedy clip show that is hosted by Rob Dyrdek with Sterling 'Steelo' Brim and Chanel West Coast acting as co-hosts. The series was first aired on MTV on August 29, 2011. The series features viral videos of people doing ridiculous things, such as stunts that have gone wrong. Unlike similar programs, this show does not accept viewer submissions. Due to the nature of the show, there is a disclaimer at the beginning of each episode advising viewers not to attempt any of the stunts they see in the program. Season three of the series was the number one cable television series in its time slot. The ninth series of the show premiered on January 20, 2017. In total, this series ran for 245 episodes.
11. Liquid Television
Liquid Television is an animation showcase that has launched many original cartoons on MTV. The first season of the show was also aired on BBC 2 in collaboration with MTV. This series was an opportunity for independent animators to get their creations onto television. In addition to new material, the series also showed compilations of cartoons that had previously been aired at festivals. While the series was well-received by viewers, it has not done many full series since its original run. This is because it extensively used licensed music, and this was an expensive series with which to continue. The show ran for 24 30-minute episodes over three seasons between 1991 and 1994. A revival series was aired on Titmouse, Inc. in 2014.
10. Singled Out
This dating game was aired on MTV between 1995 and 1998. Originally, the show was hosted by Jenny McCarthy and Chris Hardwick before Carmen Electra replaced McCarthy in 1997 when she got her own sitcom. In every episode, 50 women and 50 men would compete for a date with a main contestant who was a member of the opposite sex. The show was divided into different sections in and people would be eliminated in each round. The show aired for the final time on May 22, 1998.
9. Pimp My Ride
Hosted by rapper Xzibit, this MTV television series involved taking a car that was in poor condition and restoring it or customizing it to create an amazing set of wheels. Some of the cars were customized to reflect the interests of their young owners. For example, one car was customized a surfer got a clothes dryer added to the rear of his Volkswagen Type 2 and a 'Need for Speed' fan had his car customized as a replica of a car from the film. Other versions of this show shown on MTV's sister networks included 'Pimp My Ride UK' and 'Pimp My Ride International'. The former was presented by Tim Westwood and the latter was presented by Fat Joe and Lil'Jon. This series ran for six episodes which ran from March 4, 2004, to December 30, 2007. It consisted of 73 30-minute episodes.
8. The Real World
Originally, this show was called 'The Real World' before the name got shortened to simply 'Real World'. Although it is an MTV series, it was inspired by a series from another network. The idea came from a documentary series on PBS called 'An American Family'. 'Real World' is a reality television series that is often credited with launching the modern reality television genre. The premise of the show is seven or eight strangers living together in a new city and being filmed continuously, day and night. When this series first began, it received great critical acclaim for highlighting modern issues. However, it later became widely criticized for promoting immature and irresponsible behaviour. Jonathan Murray and Mary-Ellis Bunim were the original producers of the show. The show has run for 32 seasons between 1992 and the current day and has led to a number of spin-off series, such as 'The Challenge' and 'Road Rules'.
7. The Osbournes
This reality series followed the Osbourne family, which consisted of rocker dad Ozzy, music manager mum Sharon, and two of their children; Kelly and Jack. They also have a daughter Amy who opted not to take part in the show as she prefers to keep out of the limelight. The show first aired on March 5, 2002, and was the most viewed series on MTV ever during its first season. It aired for 52 episodes finishing on March 21, 2005. It showed all the ups and downs of this famous family's lives. The show also featured some of the family's staff, their friends, and other family members. The Osbournes had a wide fanbase as their antics were entertaining to watch, but they also faced plenty of criticism for their behaviour. In 2014, Sharon Osbourne announced that they would be reviving the series and eight episodes would be filmed. However, in the following year, she announced that this series would not go ahead and that she was no longer in discussions with MTV.
6. MTV Unplugged
MTV Unplugged is a series that showcases musical artists that was aired on MTV from 1989 to 1999. It then aired again between 2000 and 2009, although this was on a less frequent basis. Since 2009, there have been specials of this show and these usually focus on one specific artist or group. During the 1990s, many of the artists who performed a session on MTV Unplugged released the session as an album. One example of this is Eric Clapton who released his album 'Unplugged' in 1992. This album sold 26 million copies and is the best-selling live album of all-time. In 2016, Sean Atkins, the MTV president announced that the series would return reimagined. This is one of the longest-running shows on MTV.
5. Punk'd
Ashton Kutcher and Jason Goldberg created this series for MTV. It is a hidden camera program where practical jokes are played, often on celebrities. It is similar in format to 'Candid Camera' and 'TV's Bloopers & Practical Jokes'. The term 'punk'd' referred to someone being the victim of a practical joke. Ashton Kutcher was both the producer and the host of the program. Originally, this series began as a program called 'Harassment'. However, this show ended when a practical joke involving a fake dead body at the Hard Rock Hotel in Las Vegas backfired. The creators rethought the concept of the show and decided to involve celebrities instead. 'Punk'd' was aired for 75 episodes. It was aired on MTV between 2003 and 2007 before making a brief return in 2012. In 2015, the series moved to BET.
4. Celebrity Deathmatch
Created by Eric Fogel, 'Celebrity Deathmatch' is a stop-motion animated series. It is a parody of sports entertainment programs and features depictions of a variety of celebrities who engage in wrestling matches which are over-stylized. During the matches, the combatants utilize a variety of weapons, so they can commit brutal acts against their opponents which then cause exaggerated injuries. The show became known for its large amount of bloody violence. Initial pilots were aired on MTV in January 1998. The show then premiered on May 14, 1998. There was a total of 75 episodes until the series aired for the last time on October 20, 2002. In 2003, MTV announced a film based on the series. However, the project was cancelled before the end of the year.
3. Daria
Daria Morgendorffer was originally a recurring character in 'Beavis and Butt-Head' and this led to a spin-off series based entirely on this character. This animated sitcom was created by Glenn Eichler and Susie Lewis Lynn as Mike Judge had agreed to release the character and had no involvement in the creation of this show. It is about Daria who is a smart and misanthropic teenage girl and her observations of the world around her. The series was aired between 1997 and 2002 and had the opening theme 'You're Standing On My Neck' by Splendora.
2. Jackass
'Jackass' is a reality television series that originally ran from 200 to 2002. It features people performing a variety of dangerous stunts and pranks. The three men the show featured were Steve-O, Bam Margera, and Johnny Knoxville. Prior to making this show, the three had only minor acting roles. Therefore, this series was a launchpad for their careers. While the show had many fans, it also sparked a considerable amount of controversy as it was seen to encourage reckless and dangerous behaviour. The series led to the creation of three feature films and there was also a series of spin-off television shows based on the same concept as 'Jackass'. The show came to an end when the cast refused to return as they were struggling with the amount of censorship the show faced. They had shot many stunts and scenes that never even made it onto the screen.
1. Beavis and Butt-Head
Beavis and Butt-Head is an animated sitcom that Is based on a short film by Mike Judge called 'Frog Baseball'. The sitcom was created by Judge, who also voices both characters, and aired on MTV between March 8, 1993, and November 28, 1997. The series was then renewed for an additional season in 2011 and was aired from October 27 to December 29. In 1996, the series was adapted into an animated feature film called 'Beavis and Butt-Head Do America'. The show is about two teenage delinquents who are heavy metal fans. They are best described as socially incompetent and dim-witted. At least one scene in each of the episodes involved the pair critiquing music videos with dialogue improvised by Judge. One of the signature traits of the teen due is their distinctive laugh which audiences heard every time the pair heard a word that could even remotely be construed as sexual. This series was a big hit amongst the teen and young adult demographics.
Tell us what's wrong with this post? How could we improve it? :)
Let us improve this post!