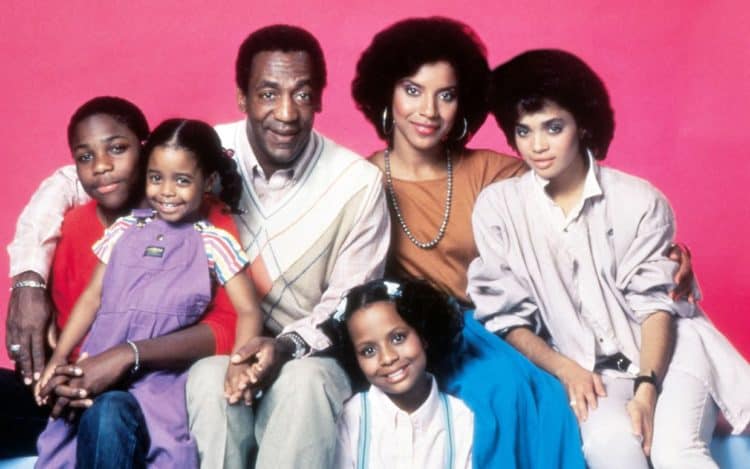 As Cliff Huxtable's wife, Clair Huxtable ( Phylicia Rashad) upheld all the qualities of a virtuous woman; she was intelligent, well-dressed, and poised at best. Her feminine aura filled every room she walked in, so did her unwillingness to let things slide. On The Cosby Show, Clair was the voice of reason who was quick to give a tongue-lashing when need be. To be in her bad books was a disaster waiting to happen since she had a polite yet thorough way of calling people out. Hardly did she raise her voice, but the message sunk in. These are a couple of times Clair's words pierced through the screen:
1. Elvin Had To Second-Guess Gender Roles In Marriage After Clair's Lecture
Clair Huxtable was in many ways a feminist icon. She oozed confidence, class, sophistication, and was naturally graceful, all while maintaining strong opinions on equality. Elvin (Geoffrey Owens) experienced the best of Clair's views on marriage when she offered him and Dr. Huxtable (Bill Cosby) a cup of coffee. "Coffee? You mean, you're gonna get it?" Elvin asked, clearly surprised that Clair would 'serve' her man. As was the norm with Clair, it didn't take long before Elvin got a dose of unapologetic feminism: "Let me tell you something Elvin, you see, I am not serving Dr. Huxtable. Okay? That's the kind of thing that goes on in a restaurant. Now, I'm going to bring him a cup of coffee just like he brought me a cup of coffee this morning. And that, young man, is what marriage is made of. It is give and take 50/50. And if you don't get it together and drop these macho attitudes, you are never gonna have anybody bringing you anything anywhere anyplace anytime ever!"
2. Denise's Poor Money Choices Earned Her A Good Read
As a teenager, Denise Huxtable (Lisa Bonet) didn't fall too far from the first car splurge bandwagon. Excited that she'd earned a driver's license, Denise got the brilliant idea that she should use her savings to buy a new car. Her parents thought otherwise. Denise went on a rant as any teenager would, trying to defend her choice. " Well, I don't understand the problem here. It's my money in my bank account in my name. You're acting like I'm asking you for your money and I'm not. It's my money and I could do what I want with it," Denise complained. " Are we still in America?" She asked in a condescending tone. Theo ( Malcolm Jamal Warner) tried to salvage the situation, but it was too late. Clair was ready to go: " You see, Denise, you know you can pretty much do anything you want because, deep down, you know we're always there to bail you out. You see, we're your safety net. And, we're so good at it, half the time you don't even know we're doing it. And, your father and I accept that responsibility because we're your parents. And, you'd better not ever forget that, young lady. Because, if you EVER take THIS attitude with us again, you can take whatever is in that bank account of yours and go DISCOVER America!"
3. Theo's Love For Women And Car Magazines Landed Him In Trouble
Having teenage sons comes with its fair share of problems and Clair Huxtable had some of her own. A walk into Theodore's room revealed that the young boy had taken a liking to magazines. Not just any magazines, but ones in which the women posed without clothes on. " It seems to me that there's a lot more than cars in here. On every page, there's some woman draped on top of an automobile. This is obscene!" An astounded Clair said. Theo tried to convince her that the women were actually dressed. To cover up for the real reason he had the magazine, Theo said he liked to read the articles. Clair cornered him into pointing to a specific article. He did just that, except the page he chose had a woman named Tammy leaning across the engine. " Theo, this magazine is demeaning to women," Clair said. Theo thought otherwise. In his eyes, the magazine made women look great. When Clair asked whether he'd end up with a woman like Tammy, Theo said, " No! I would like to date a few girls like Tammy, but later on, I'd like to settle down with someone like you." Theo, without a doubt, proved Clair's point. And when he couldn't put the magazine away, she snatched it.
4. Unlike Dr. Huxtable, Claire Knew A Little More About Masks
While Clair Huxtable worked as a lawyer, she had a ton of experience as a mother. This experience came to clash with Dr. Huxtable's own when Sondra ( Sabrina Le Beauf) called to complain about strep throat and seek a second opinion. " Sure, penicillin is just fine. And please do me a favor, take it the whole nine days. Don't stop just because you feel good. Alright?" Dr. Huxtable advised. Clair walked in to find him wrapping up his session of medical advice. She was concerned that Sondra did not want to talk to her, and had chosen to call her dad instead. " You are not a doctor," Dr. Huxtable mocked. " So you're a doctor. Does that mean you know everything? What did you tell her to do with the babies? She shouldn't be breathing on those babies," Clair questioned. The genius Dr. Huxtable had told Sondra to wear a mask. Clair was livid. " A mask? Cliff, bacteria are tiny little whatever that can get through anything they please. Did you tell her to scrub the walls down with disinfectant? That's what you should have told her to do. Did you tell her to do that?" Safe to say, Dr. Huxtable did not win that argument despite his many years of medical school.
5. Denny Got More Than He Bargained For, Following His Thoughts On Aunt Flo
Clair's children knew not to stir the pot in any way. While her family had learned to read the room, the same could not be said for Theo's friend, Denny, who wished he'd kept mum about his thoughts on Premenstrual Syndrome. Denny (Troy Winbush) confided in Theo about his girlfriend's mood swings. " You know women. I was an hour late for dinner…but I had a good reason," he said. According to him, 'I'm always late' was a good enough reason to be late again. Denny blamed his girlfriend's reaction on 'that time of the month.' No sooner had he mentioned that, than Clair stepped into the room. She wanted to know more. " Can I be frank?" Denny asked. When he got the go-ahead, he shared his thoughts:" No offense Mrs. Huxtable. But you know how women get. They get a little grumpy. They do that crying thing." Denny thought that it'd be great for men to have their own mood swings just like women did, and those ought to coincide with Monday football. After listening to his views, Clair Huxtable asked him to deliver a message: " You tell them that a woman is entitled to have a mood. Any mood. A happy mood, a sad mood, an angry mood, and she can have this mood whenever she likes. And it has absolutely nothing to do with whether or not Aunt Flo is visiting…One more thing, these people should be happy that women get visits from their aunts, because, if they didn't, there would be no uncles."