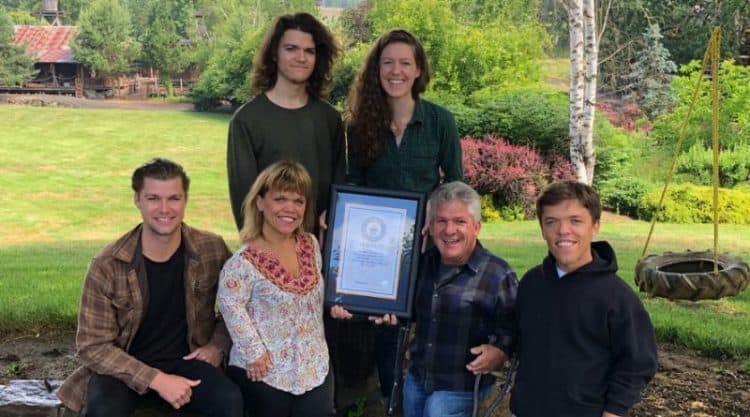 With the impending 14th season of Little People, Big World coming up and the very possible decision to sell the farm on the line, it's time to sit back and think about just what's happened since the Roloff's bought the farm back in 1990 and what they've accomplished. While Abi Ong from the Inquisitr easily points out the issues that have been recorded during the show it's also important to note that despite everything that's happened in their history the Roloff's have still found a way to stick together. Eileen Reslen from GH has even gone into why Molly Roloff won't be likely to even appear on the next season and hasn't been seen all that much on the show at all, but thankfully it has more to do with the fact that she no longer lives in the area than anything else. The family has been seen to have their ups and downs and their moments in which things seem to be taking a serious nosedive in terms of the stability that they've experienced throughout the years. But all in all the family has, as Natalie Stone might agree, kept things as close and as amicable as possible.
Here are a few lessons we might have learned thanks to the show.
5. There's still some truth in reality TV.
There might have been some drama on the show but it was hardly ever the over the top as we tend to see in so many other reality shows. The Roloff's have been allowed to run their lives as they will and the drama that has come along has been pretty low-key and all too real since there are things that you simply can't and shouldn't fake. That might seem like an odd and even amusing statement when it comes to a reality show, but quite honestly it seems far more true for this show than any other. So many reality shows these days want to up the ante by adding in false drama that gets revealed later tend to water the whole idea of reality TV down.
4. Running a farm is a lot harder than it looks on TV.
Most people should know this by now but even running a farm that's not big by corporate standards is not an easy task. It take more than just the Roloff's and still takes up a great deal of their time as they have operate and oversee a lot of different aspects. The kind of responsibility that goes into running a farm is also hard on those that do the work. It's been seen throughout the seasons that the Roloff's have been experiencing a great deal of stress, both physical and emotional, that has come close to breaking them down at times. As of now they're doing fairly well, but there's also the fallout that's come from the developments we've seen occur.
3. Family's fight occasionally, but on TV it gets blown way out of proportion.
There's more gossip about the Roloff's online and in the various articles that are published about the show. But the great thing is that the articles are used to show that the drama isn't quite as intense as it might seem. The family has stuck together through thick and thin over the years and quite honestly they're more close-knit than some might believe. Throughout all the challenges they've met they're still a family, and even a divorce hasn't made them fall to pieces.
2. Sometimes you've got to admit when something isn't working.
Matt and Amy have been divorced since 2015 but they've been business partners for the last few years. Since they've been apart however they have come to the realization that no matter how it's been working, it's still not perfect. They've been doing their absolute best to keep their family together and keep everything on an even keel, but from Amy's perspective it would seem that things aren't really working the way they should as of now. It might be time to finally just admit that things aren't working and that it might be the time to move on and enjoy the memories that have been made.
1. Family is too important to let divorce tear it apart.
The Roloff's have stayed pretty tight throughout the divorce thus far, and in all honesty they've kept things pretty civil between them since despite the fact that Amy and Matt are kind of stiff around one another at time. This is to be expected honestly but it's also nice to see that they've both found someone to share their lives with. So far it would seem that the family is happy that they're happy as well, and things have gone ahead in the manner that people didn't expect, but is so far proving to be positive for everyone.
It's been an interesting show so far, the next season might be even more interesting.
Tell us what's wrong with this post? How could we improve it? :)
Let us improve this post!