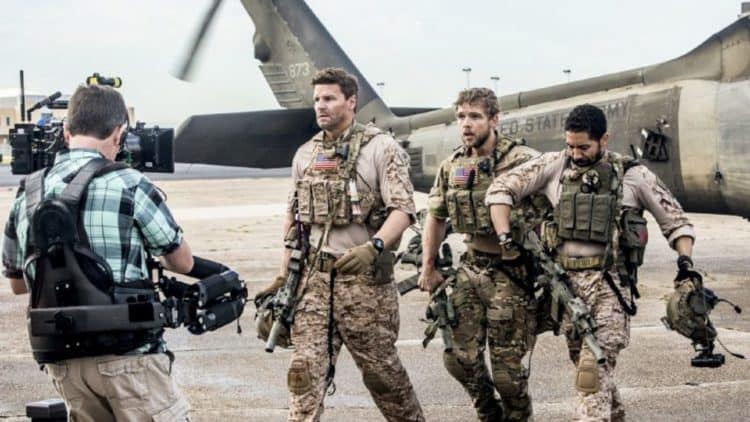 SEAL Team is a U.S television show that was developed by screenplay writer Benjamin Cavell and currently air on CBS Television Studios. The series premiered on September 17th, 2017. It follows the lives of a top navy SEAL squad as they train, plot, and perform the most dangerous missions in the nation. David Boreanaz, Jessica Paré, Maximillion Drake Thieriot, Neil Brown Jr., Toni Trucks, and Alan John Buckley are part of an elite group known as the Bravo Team. They are a division of the U.S Naval Special Warfare Development Group (NSWDG), and their job is to undertake the complex assignments in the U.S and globally. Patrick Rose and Snuffy Walden are the series' writers, and it is currently in its third season, which first aired on CBS on October 2nd, 2019, Wednesday at 9 pm. Both of its past two seasons comprised 22 episodes, with each running for an average of 43 minutes. According to the Daily Caller, its new season is exciting and has commenced smoothly with positive reception. Here are a few changes that the series has undergone from its first season to its current one.
Introduction of several new faces
The series was first screened in 2017 and has cast more than fifty actors to date. Canadian actress Jessica Pare act as Mandy and American actor David Boreanaz, who plays Jason, started in season one. However, it has added several new actors too. Its second season saw the introduction of numerous cast members such as Darren Pettie, an outstanding actor recognized for his role in the hit drama series "Madmen." Tamala Jones is also another notable name that "SEAL Team" added to their circle of actors. The Californian native known for her role in "Blue Streak" plays the character of Gunnery Sergeant Miller for five episodes. Other new actors are Felix Solis, who acts as Colonel Martinez in four episodes, Joanna Bacalso, who is Christine in the show, and many more.
The storyline of hope
Season one's episode finale did not end so well. Jason had just experienced an episode of hallucination. Season two, however, is having a great start. Jason is recovering, and he is leading the Bravo Team leader again. Six months have passed since he had his episode of hallucination while he was having lunch, and he is doing a great job in recovering. It is worth noting that this was not the first time Jason was hallucinating. He started hallucinating after a deadly helicopter crash where he sustained internal injuries. Jason lied about his condition on numerous occasions to avoid being pulled from work and pursuing the Nouri case. He lived with his ex-wife and children during his recovery period. The episode ends with him looking for a home near his family so he can keep in touch even if he is divorced. The show is showing significant growth in the producer's craft on its storyline.
Introducing the issue of terrorism
According to the United Nations, terrorism is a progressing global problem, and the lack of collective political pressure to fight it is hindering its fight. The second episode of the second season shows the team's activity when they are sent to Saudi Arabia to fight an extremist group. Bravo Team is operating with the local officers to prevent the radical Shiite group from dropping a contagious bacteria in a water-holding permeable rock. The teams' operation is successful, and they manage to show up at the scene on time and stop the bomb in the sand from going off. Terrorists are scared people who are afraid of civility and lean-to violence to voice their unreasonable demands. This show has grown to include components that illustrate radicals can never win in instilling tension among people by disrupting daily events.
Honoring Family values
It features the activities that officers of the elite Bravo Team carry out every time they are set to implement an investigative or field assignment. In season two, episode three, the leader of the group, Jason, is confronted with a significant decision to make regarding his career and life. Jason is rushing to the hospital after receiving news of her wife's accident. He arrives, and unfortunately, for him, it is too late; Alana has passed away. Jason has to arrange his wife's funeral ceremony and gets too busy to continue being the leader of the Bravo Team. He decides to stand down as the team's Chief to take care of his wife's farewell and his lovely children.
His fellow Bravo Team member, known as Adam Seaver, takes his place as the leader of the squad. Jason sees the importance of prioritizing his family since earlier on, his job caused Alana to divorce him. With the lesson learned, Jason now puts his children's welfare first. The show has progressed and expanded its ideas to portray essential family values that people can emulate. Instead of continuing as a solely dramatic action plot, its story grows and shines a light on fatherhood and the importance of taking care of our families. Jason even steps off from being a member of the team to repair his relationship and build a connection with his children.
Reorganizing its production team
On September 17th 2019, reports confirmed that CBS television Studios had decided to part ways with the executive producer of the SEAL Team show, John Glenn. The renowned director, writer, and producer whose notable work includes NBC's show "Allegiance" joined SEAL Team when it was in its second season. CBS settled on the decision to terminate their contract with John after the company conducted an internal investigation on the producer and saw the need to let him go. It is not clear what the findings of the CBS investigating team report are, but sources have it that it is not related to any sexual misconduct. Johnston's lawyer, however, said that the examination was not based on facts and discredited the investigations. According to Variety, Glenn said that he was proud to serve under CBS and he is honored to be part of the team that propelled the success of "SEAL Team."
Tell us what's wrong with this post? How could we improve it? :)
Let us improve this post!