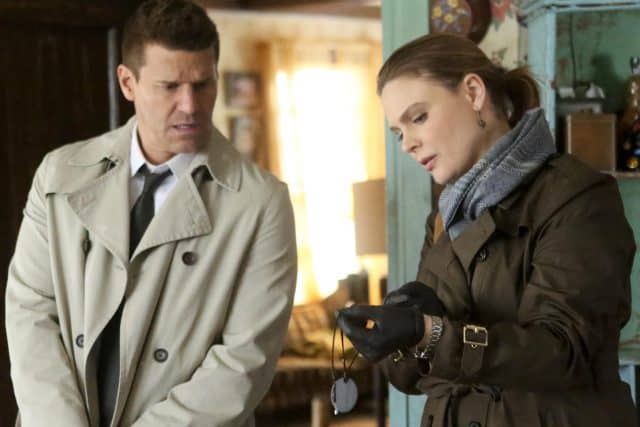 Bones will close its final case later this year at the end of season 12. The series has been a staple on FOX's lineup since 2005, but the show has bounced around to air on almost every day of the week, it is a miracle the drama was able to find such a cult fan following. Much of Bones' success can be attributed to its stars David Boreanaz and Emily Deschanel. Boreanaz was no stranger to TV before landing the role of Special Agent Seeley Booth. He played vampire Angel on both Buffy the Vampire Slayer and its spinoff Angel. Here are six facts you may not know about the Bones' actor.
1. He Started a Nail Polish Line
Though working on Bones can be quite hectic at times, David Boreanaz still found the time to create a nail polish line called Chrome Girl. The day to day operations of the business are controlled by Boreanaz's wife Jaime Bergman and a close friend. Boreanaz helped create the NHL line of colors for the business.
2. He is a Music Video Star
Before starring in Bones, David Boreanaz was featured in a Dido music video. The song was "White Flag" and told the story of two people who continue to see one another even though they are broken up. At the end of the video you see that they both still have feelings for the other person. Here is the video:
3. He is an Award-Winning Actor
David Boreanaz has won several awards for his work in front of the camera. He is the recipient for three Saturn Awards and two Bravo Otto awards for his work on Angel. He has also received nominations for People's Choice Awards, TV Guide Awards, and Teen Choice Awards for his portrayal of Seeley Booth on Bones.
4. He has Two Wrist Tattoos
The tattoos on each wrist of Bones' actor David Boreanaz have significant meaning. They stand for 'destiny' and 'soul.' Boreanaz's wife has the exact same two on her wrists. The tattoos have been visible on several episodes of Bones. The first time they are seen is the fourth episode of the series when Booth is eating breakfast with Dr. Brennan. Here is an image:
5. He is also a Director
Bones' stars David Boreanaz and Emily Deschanel have received producer credits on the series since 2007. However, David has worked behind the scenes as a director too. His first directing credit is for a 2004 episode of Angel. During that time, Boreanaz had knee surgery that limited his physical activity in several episodes. Boreanaz has directed 11 episodes of Bones and one episode of the short-lived series The Finder.
6. He Worked for the Pittsburgh Steelers
Most Bones' fans are aware that David Boreanaz is a fan of Pennsylvania sports teams. Boreanaz is a huge hockey fan, but also has a passion for football. When he was growing up, Boreanaz was able to be a ball boy for the Pittsburgh Steelers. During that time period, the Steelers placed 3rd in their division for 3 consecutive years.
What is your favorite David Borenanaz moment on Bones? Let us know in the comments section below.
Photo by: FOX