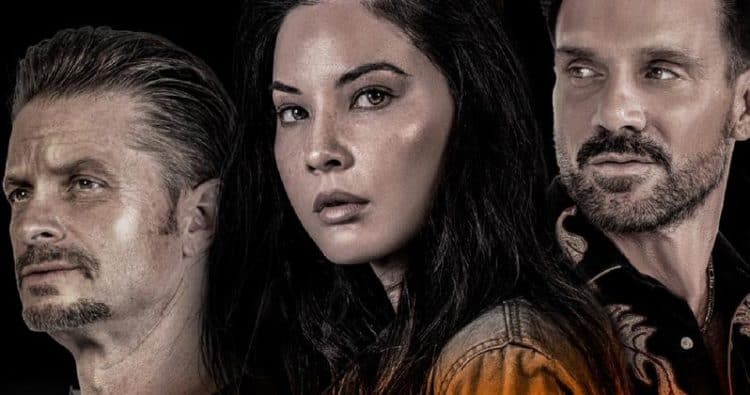 We don't often get to see these actors in these roles and from the trailer, it already looks like The Gateway might be an interesting movie to watch. Shea Whigham doesn't always get lead roles but this one might be something that can convince others that he can take on the lead and, with enough support, can make it work. Olivia Munn has taken on several different roles and has done fairly well in most of them, but this could be a bit different since she's playing the wife of a convict that was just released from prison and is fully intent on going back into the life of crime that put him behind bars in the first place. Whigham, playing a social worker that's been looking in on Munn and her daughter since her husband was sent away, witnesses the constant escalation of violence in the home and feels the need to do something about it, but has to tread carefully. Grillo appears to be a crime boss that the husband reports to, and someone that may or may not make it all the way through the movie.
But when Shea takes Munn and her daughter into protective custody the excitement really begins as he becomes the target. There's definitely a bit of backstory to get through since the explanation of how Shea's character came to be who he is, the criminal husband needs explanation, and of course, Grillo's character needs to be explained in more detail. But from the trailer, it looks like it would be an interesting movie to watch, and the best news is that it will be coming out fairly soon. The dark and gritty look of the movie gives it the appearance of a story that feels accurate to the lifestyles that are being depicted, and in this manner, it's bound to be easy for some folks to relate to the movie in a few ways.
It feels like a lot of movies that Shea stars in have darker undertones to them, and it's not too far off the mark for Grillo either since only a few of the movies he stars in don't have this quality. Munn has been able to go dark and be a little more upbeat in her movies, but in the trailer, she looks like someone that's keeping a lot on the inside and is feeling the rising pressure as the movie goes along. All in all, this looks like it might be a very determined and strained movie given the way that it plays out, and it might be one that leaves a person emotionally drained or numb by the time it's all over. Movies like this do tend to make a person feel as though they've been through hell even if all they've done is sit where they are and grip their armrests hoping that the protagonist manages to make a difference. Desperate-looking movies like this aren't able to be watched by some folks since it stokes their anxiety a little too much, but for everyone else, it tends to be an emotional thrill ride that leaves people wondering how anyone could live like this.
The realism that such movies exhibit, along with the over-the-top moments, tend to be enough to make some folks extremely anxious since thinking of how anyone can possibly live such an existence and not go mental within the first few months is a little difficult. Taking the movie for what it is might actually be difficult for some folks if only because they've either known people that have lived like this or have been through it in their own life. Remembering that it's just a work of fiction is easy enough for those of us that have never had to live a rough existence, but thinking that it might be a reminder for others is a little tough. From a first glance though it does look like something that could tell a convincing and harrowing tale of a mother and her daughter on the run from an abusive husband and father who enjoys a life of crime as his main source of income and isn't mindful enough to try and get out for the sake of his family.
It's fair to say that the actors are going to make this movie or break it since the setting and the situations feel as though they explain themselves just fine, while the relationships between the actors are definitely going to need a bit of exposition to really make them work. The pace that appears to be set in this movie might not allow for such a thing all the time, but it's fair to think that it could possibly slow down throughout the movie to give a little bit of backstory, just enough to keep people in the loop and not lose them partway through.