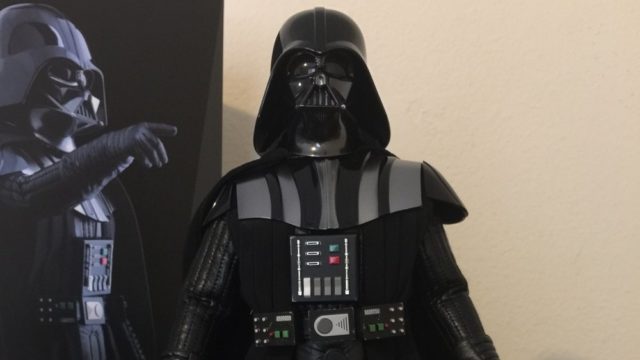 Despite being one of the biggest, baddest, and most reprehensible characters in all of film, Darth Vader is still worth a good amount of money. Or rather, his merchandise is. There are fans willing to give just about everything to own something that's Darth Vader-approved, it's become a real following. Whatever it is about the bad guy that can kill you from across the room by clenching his fist it's been going on for decades now and there's no sign of it stopping anytime soon.
The only issue with buying anything with Darth Vader on it or serving as a representative of it is that such merchandise get's a little pricey. If you're a real fan though chances are you won't care. Here are five costly Darth Vader collectibles you can buy right now….
5. Authentic Men's Darth Vader Costume – $598
Halloween is one of the best times to dress up as a villain. This head to toe costume is about as close as it gets to movie quality and is expertly crafted and comes in several different sizes so as to accommodate the needs of the individual. A lot of these costumes might offer the option of a voice recorder so that you can actually sound like Darth Vader too.
4.Darth Vader's TIE Fighter Replica – $899
Hard to believe that a toy is worth this much but it's true. The TIE fighter that Vader uses from the movies is highly prized and sought after by collectors. Many of them will never take the toy out of the box so as to preserve it's value. It's definitely not something you'd get a kid unless you know that they're willing to look at it but never open it. Once the seal is broken the value starts going down.
3. Darth Vader Lightsaber from Return of the Jedi – $999
Once again the price of a toy is kind of insane sometimes. But this is more of a collectible because it's the same style of lightsaber that was used in the iconic film Return of the Jedi. That alone makes it worth quite a bit considering that movie buffs and fans go nuts over the chance to own a piece of film history that can be mounted on a shelf or a wall. Some of us might think it's a little ridiculous, but that's a matter opinion.
2. Darth Vader Fx Red Lightsaber – $1,057
Once these lightsabers hit the market they went flying off the shelves like they would soon go out of style. Parents will actually buy these for their kids in the hopes that they'll treat them nicely only to realize that you don't just hand your kid something that costs half as much as a regular monthly mortgage payment. These are way cool but they don't need to be handled by those that see them as just toys.
1. Life-size Darth Vader Figure – $2,339
This would be undoubtedly one of the coolest collectibles to ever grace any fan's home. It would be severely imposing and not recommended for those that don't have a lot of room. But it would be one of the absolute best fixtures for a superfan that had enough room and didn't mind waking up to an image of the Sith lord in their home early in the morning or late at night.
There are plenty of other expensive pieces of memorabilia out there, but a lot of them are owned by private sellers and aren't always online for display. If you know where to go and have the cash then there's an entire catalog of items you can find.
Save
Save
Tell us what's wrong with this post? How could we improve it? :)
Let us improve this post!