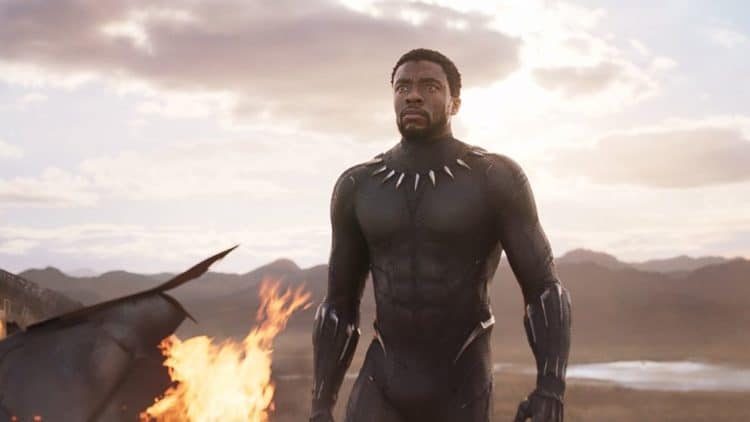 Hearing that Chadwick Boseman is unhappy with the direction that the Black Panther franchise is taking might come as a surprise to a lot of people, but when you hear just why that is you might understand a little better, or you might want to tell him to calm down and just step aside depending on your point of view. In any case, Scott Campbell of We Got This Covered has shed a little light on why Boseman might be a little sore when it comes to what will be happening to Black Panther once the sequel comes out, which is closer to the comics than several of the story ideas we've seen have been at this point. It would appear that Shuri, T'Challa's sister, will be taking over as Black Panther eventually, which means that at some point Boseman will be getting phased out of the role and possibly will be seen as a lesser or non-existent character in the MCU eventually. That sounds like a pretty dire situation for a hero that was so hyped up upon his entrance to the big screen, but it does sound as though this is the direction that the sequel is leaning towards and while a lot of people are likely to sit there with their jaws hanging down some are likely cheering to see a black woman take the lead of a major motion picture, especially when it's for the MCU. In the meantime though, T'Challa will apparently still show up for the sequel and even for the next Avengers movie, but it does sound as though his days could be numbered.
Seriously speaking it's hard to feel too bad for Boseman since the idea of him being the first black Marvel superhero on the big screen is inaccurate anyway considering how Wesley Snipes was snubbed for that mention given that Blade IS a Marvel hero and he DID come out long before Black Panther was even given serious consideration for the big screen. Richard Newby of The Hollywood Reporter can give you more on this. It's also enough to say that Black Panther was a milestone for the still-growing MCU, but it was a great action movie that received way too much hype for what it ended up delivering. The supposed epic was fun to watch and engaging and raised several moral questions throughout the movie, but it wasn't quite as life-changing as so many people were claiming. It was a fun movie, but it wasn't so groundbreaking as to be considered as a whole new chapter in the MCU that would become dominant, much as Captain Marvel wasn't worth every bit of the hype either. They're great action movies, but apart from that they're comic book movies in which the impossible becomes possible by movie magic and comic book reasoning. So feeling sorry for Boseman at this point is possible but it's kind of difficult since the fact that he's such a talented actor means that Black Panther should likely be a feather in his cap for having brought it to the fans, but not the culmination of his career.
It is kind of amusing that the MCU is choosing to now follow the source material a bit closer since Shuri did take over for her brother in the comics. It's the timing really that's amusing since there's a She-Hulk show coming, a Ms. Marvel show coming, a movie about Black Widow, and mention of Captain Marvel 2, so it does feel as though the Marvel universe is starting to lean more towards the female heroes in a big way so as to satisfy fans that are still clambering for more female representation despite the fact that such a thing has already been happening. Regardless of the entire argument over the prominence of men and women in the MCU, it does feel, in a way, that Boseman has a legitimate gripe since he did help to bring one of the most iconic heroes in the Marvel universe to life and now feels that he's being pushed to the side after a limited appearance in Civil War, Infinity War, and especially Endgame. There doesn't appear to be a lot of chances for him to reclaim his title once Shuri takes over unless Marvel has a plan further down the road than anyone is able to see for T'Challa to come back and reclaim the throne. Right now it would appear that his irritation is well-founded since women are coming up in a big way in the MCU and, should they be able to shoulder the responsibility of it, will have easily earned their place and be counted on to keep carrying the Marvel brand for some time to come. Thomas Bacon of Screenrant has more to say on this subject. Whether the fans are going to accept it or do what fans do and claim that this is 'ruining' the MCU is hard to say, but we'll have to wait and see how it goes.