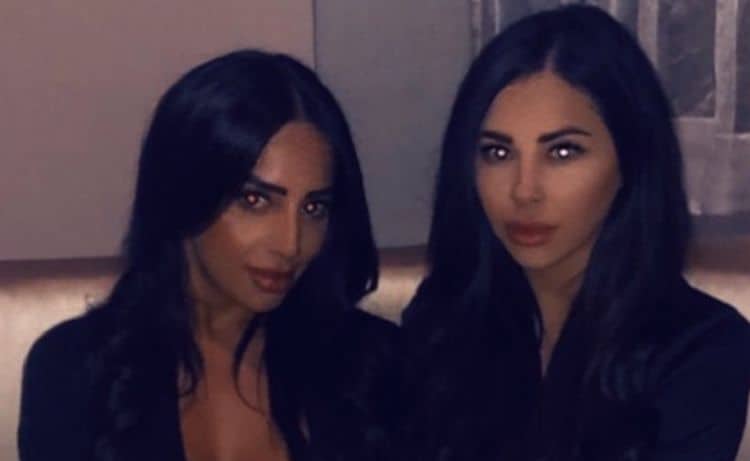 Recently, Mike Shouhed announced to all his fans that he was in a serious relationship with his new girlfriend, Paulina Ben-Cohen. Mike is an actor in Bravos popular reality show; Shahs of Sunset. This is a reality program that revolves around the lives of six friends who bear a Persian origin. It shows how these friends balance their work with their very active social lives. Additionally, it also highlights how they try to find a balance between American and Persian cultures. Although Paulina was not famous, her relation to Mike has made her a hot topic, especially among fans of Shahs of Sunset. Besides getting engaged to Mike, here are 10 things you probably didn't know about Pauline-Ben Cohen.
1. Her Family and Background
Just like other cast members of Shahs of Sunset, Paulina is of Persian origin. Besides this, her mother is Jewish, which makes her part Jew. However, she didn't bond with Mike due to her Persian origin, Paulina loves the fact that she can relate to Mike as they are both share similar identities.
2. She was a Single mom
Before her engagement to Mike, Paulina was a single mum to two boys. Mason, her eldest son, loves music and playing drums during his free time. He is six years old, while her youngest son is four years old. According to Toofab, Paulina was a single mum because she wanted to be the best mum to his two boys. She had sacrificed her love life to focus on raising her sons in the best way she could.
3. Paulina is Vegan
Paulina practices veganism. Although this is not an uncommon practice today, many people still find it hard to believe she is vegan and not just vegetarian. For instance, she was persistent that her first date with Mike should be in a vegan restaurant. In an interview with Soap Dirt, Mike Shouhed speaks on his first date with Paulina at Taco Bell Restaurant. In the interview, Mike says he was surprised at how Paulina knew all the featured items in the menu.
4. Her Failed Marriage
Paulina Ben-Cohen was married to an Iranian businessman; Tal Bahari. Tal is an extremely successful entrepreneur who has amassed millions from his business ventures. They broke up due to irreconcilable differences. Despite the couple separating, the case is still pending in Los Angeles County Superior Courts. It is, however, essential to note that Tal Bahari was the one who filed for divorce. Additionally, her failed marriage was one of the reasons she started seeing Mike. This is because both Mike and Paulina were able to easily relate since they had both experienced failed marriages.
5. She Loves Dogs
Paulina likes to post a lot of photos on her Instagram page. In most of these photos, she is either cuddling with her dog or just posing with the dog. Her dog has got a silky coat with beautiful eyes. Even though she rarely talks about her dog, a picture is worth a thousand words. That said, it is quite clear that Paulina is a dog-person.
6. She Loves Jewelry
She is a woman with expensive tastes. If you check her Instagram page's photos, you will see her adorning a variety of jewels. Whether she is a beach in a bikini or relaxing at home, you will rarely see Paulina without her jewels. From her diamond necklace to her five-row black label square diamond bracelet, Paulina sure knows how to rock them.
7. Lives in Los Angeles
Paulina has been a resident of the greater Los Angeles area for a long time now. She was living in this area with her husband Tal before her divorce. Even though she is currently dating Mike, she still plans to raise her kids in Los Angeles. She is not planning to move away since her kids love living in Los Angeles.
8. Used to Work at CO2 Cashmere
According to her profile in Linked in, Paulina worked at CO2 Cashmere for an extended period of time. CO2 Cashmere is a clothing company that only uses cashmere to make clothes. This company was founded in 2005 by Pascal Benouaiche.
9. Her Debut on Shahs of Sunset
After Mike officially announced his relationship with Paulina, the producers of Shahs of Sunset revealed that she would make her debut in the upcoming season of this show. The producers of this reality program arrived at this decision because Paulina's relationship with Mike will be the focus of the show, which is about to air its eighth season. Additionally, Paulina made an instant connection with the cast of Shahs of Sunset. During a lunch date with one of Mikes friends, Reza, Paulina easily connected with her. Moreover, Reza spoke highly of her during an interview with Bravo Television. He even went on to claim that Mike had won the Persian girlfriend lottery.
10. She Loves her Privacy
Despite being in the public eye in recent weeks, Paulina has kept her personal life from the public. Her social media sites reveal almost nothing about her own life. This is quite surprising considering she is currently involved with a famous reality Television star. Besides this, she has kept her kids' lives away from the public. Even though she will make her debut in a reality show, Paulina is not planning to reveal everything about her personal life to the world.