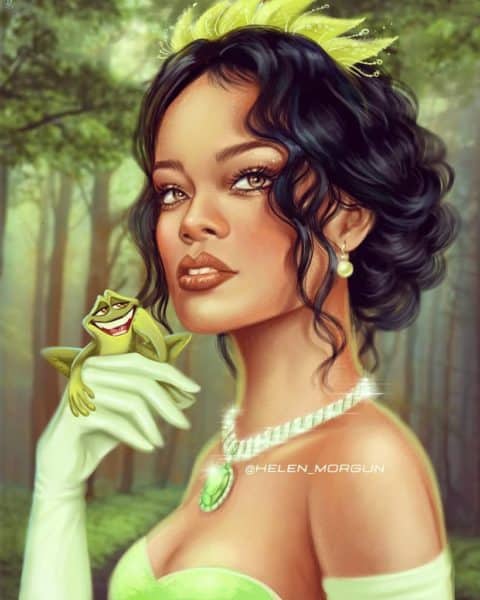 It's always fun to look at what fans would like to see when it comes to certain pop culture icons, and Disney princesses are definitely among those that are interesting to take a look at when it comes to the different views that people have of them. Considering that just about every princess comes from a tale that has been handed down throughout the years one might think that fans would have a vastly different take on them and what they might look like, but this particular fan has taken a look at the princesses if they were portrayed by popular stars from today and the results are quite stunning really since it's enough to think that a live-action movie could be made with many of them this second and it wouldn't be a mistake. Of course, that's a knee-jerk reaction and could possibly lead to a few very ill-timed decisions, especially since a Mulan live-action movie has already been made, and a Little Mermaid movie should hopefully still be in the works. But it's fun to just sit back and imagine and possibly laugh or agree with various ideas that the fan has come up with.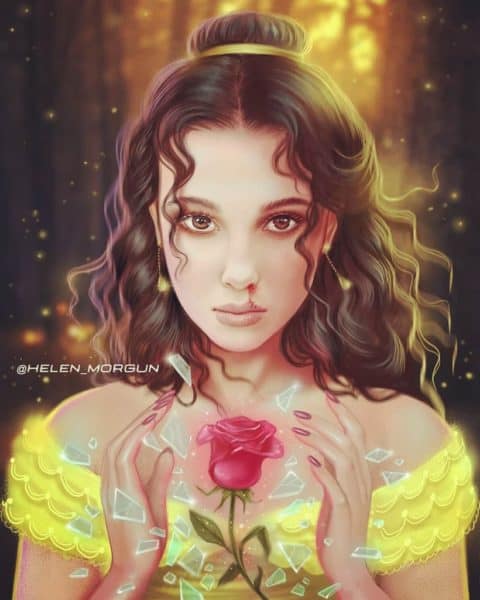 It's hard to figure out what Helen was really thinking when creating Millie Bobbie Brown's image of Belle, but the actress does look quite lovely despite the blood leaking from her nose. The obvious reference isn't lost, but it's still a little awkward to blend Belle with Stranger Things in any way. The look is enchanting in its own way though.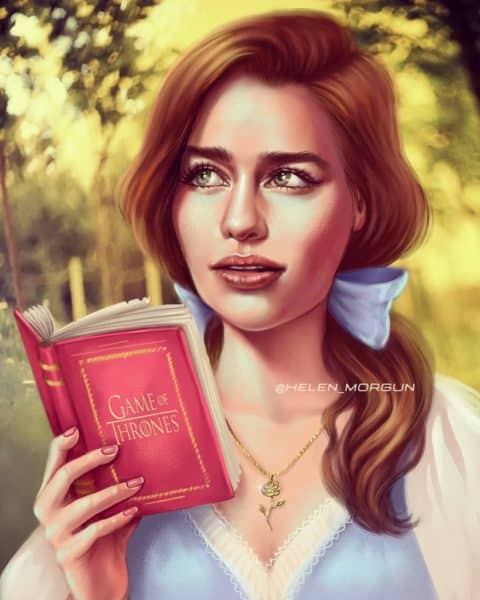 Emilia Clarke tends to look like someone that would gladly offer up a lot of attitudes but still be more of a damsel in distress than Belle ever was. I could be wrong though, she might be the kind of actress that, much like Emma Watson, would show a decidedly surprising inner strength that would allow her to steal the show.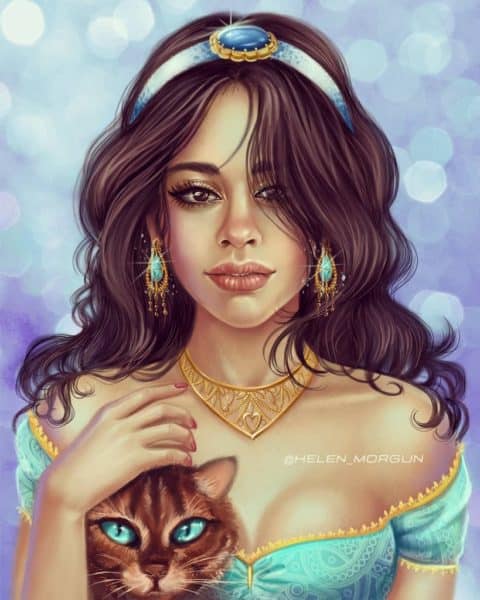 Maybe her features don't look sharp enough as in the animated version, or not quite aristocratic enough as in the live-action movie, but she does strike an impressive figure. As to her cat though, it comes as more of an Alice in Wonderland look based in the Middle East. It's still impressive.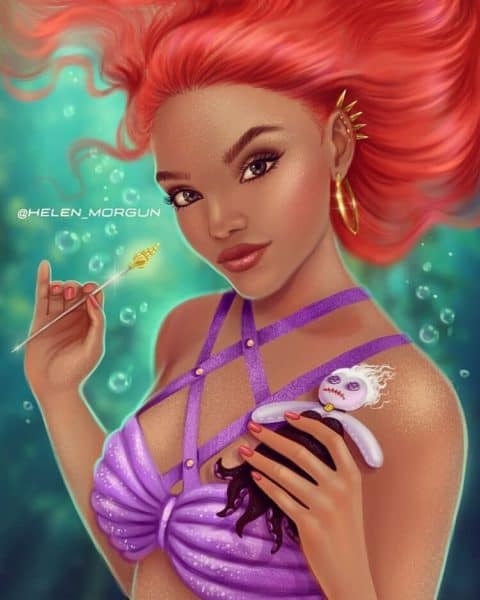 Remember when people had an absolute fit about the fact that a young black woman was going to be the next Ariel? To be fair the look is quite nice, but whether or not this will make it into the movie, which is hopefully still coming, is hard to say. It's a bit difficult to think that a kids' movie would depict Ariel with spikes coming out of her ears and a top that looks like it came from Adam & Eve. But if the young woman can act, then there shouldn't be any issues.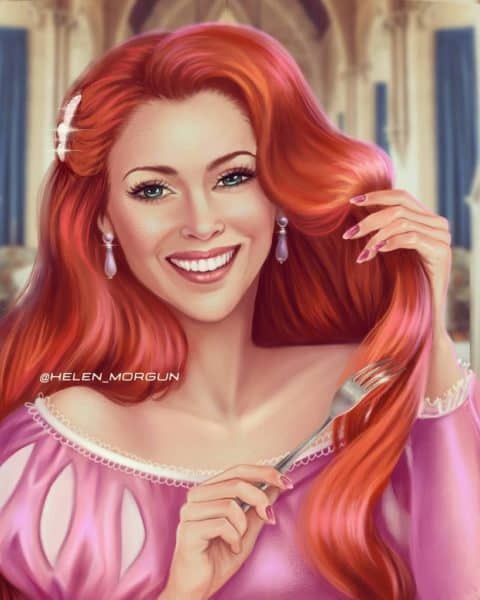 No, no, and no. Did I say no? Well, I'll say it again, NO. As expertly as the artist renders these pictures, and she does without a doubt, even seeing a picture of Alyssa Milano as Ariel kind of feels off since the actress likely couldn't pull this off. I know, overreacting, but sometimes it's warranted.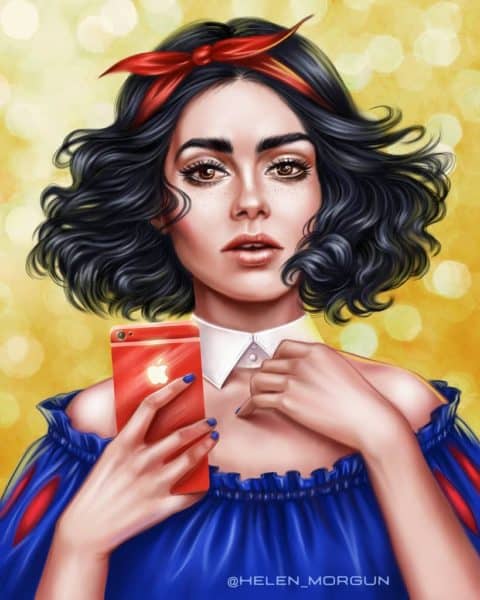 Lilly Collins almost makes a seductive Snow White, doesn't she? The character is supposed to be pure and virtuous and kind, and Lilly can definitely pull this off, but something about her look just suggests that others might not think that such words still apply. Let's be honest, the look of Disney princesses and their garb is sometimes seen as a bit risque, but it does look good.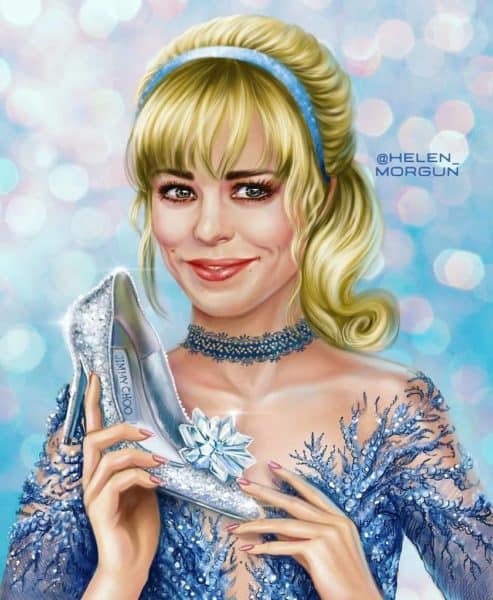 There doesn't appear to be a hint of Regina George in this princess despite the fact that Rachael McAdams has made it clear just what she can do when given a character. But looking at her in this light it's definitely possible that she'd be your best friend if one treated her nicely.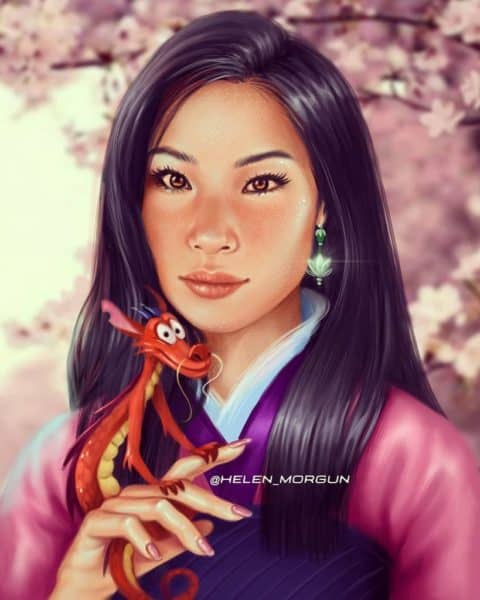 How easily would this have worked back in the day? And the chance to keep Mushu would have been a big bonus had it been in the cards, but then again it might have ticked China off even further since they apparently didn't care for the animated version.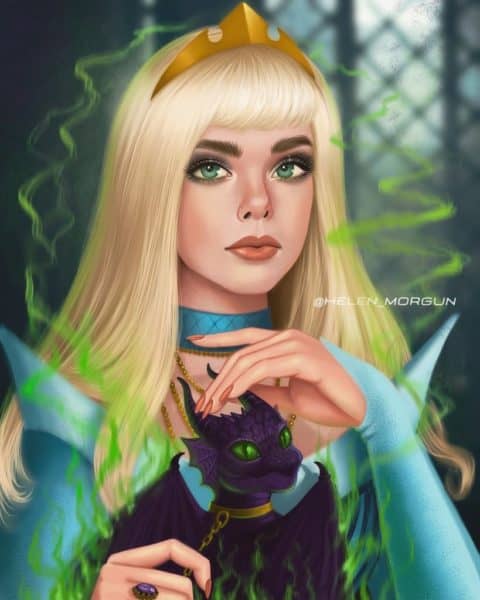 It's a nice look, but at the same time, it feels as though this version of Aurora is lacking something that might have otherwise made her perfect. This is pretty funny though since Elle Fanning actually did play the character.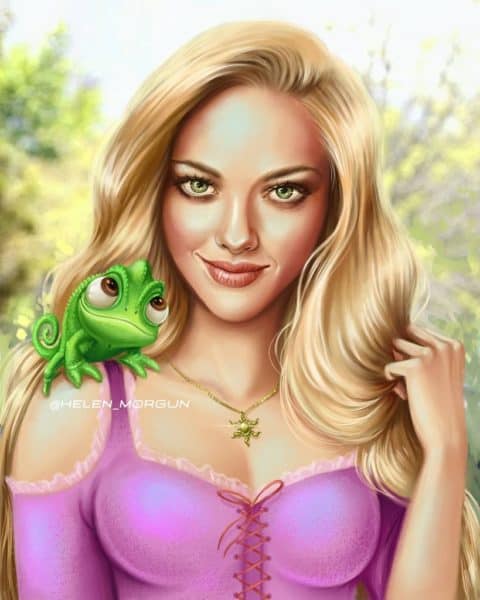 Amanda Seyfried fits this character nicely, but it's a wonder what Mandy Moore, the pop star that voiced the character, would look like in her stead. The short-haired version of Moore would likely fit just fine into this role.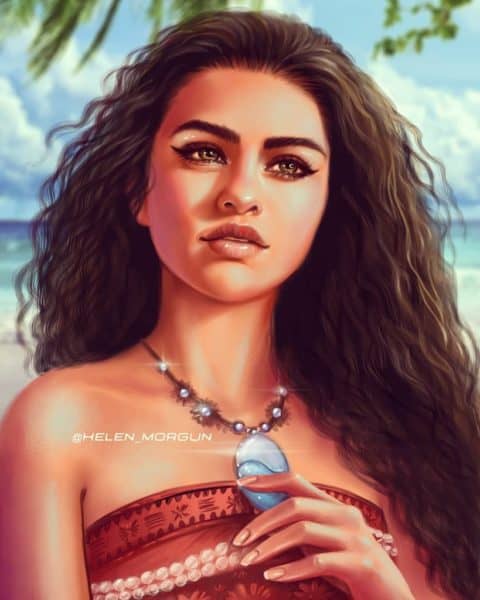 Selena Gomez just fits the bill with Moana since she has the look that people might accept and it would be great to see if something like this could ever happen. Maybe Dwayne Johnson would even consent to be Maui in real life.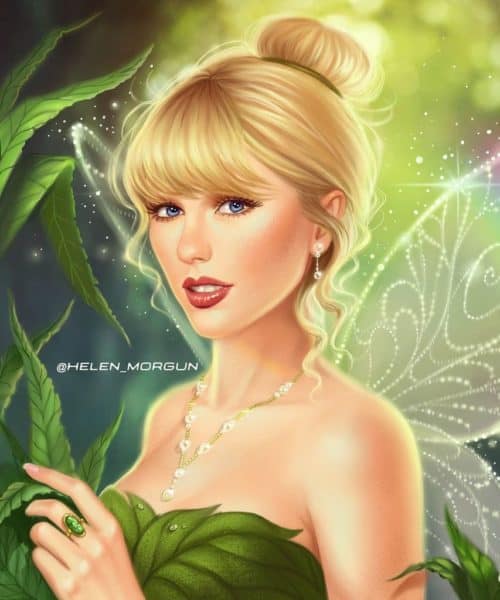 Does anyone else get a good chuckle out of how Tinkerbell and Taylor Swift appear to have more or less the same attitude for good or worse? That's probably why this makes so much sense, she just fits the bill without any real work involved.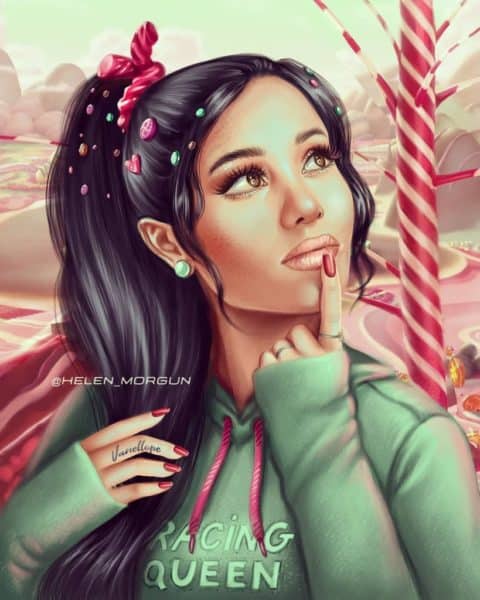 Pitching Ariana Grande as Vanellope would be kind of interesting since Vanellope is all attitude with a lot of heart, while some folks would say the opposite about Ariana, in the best of ways of course.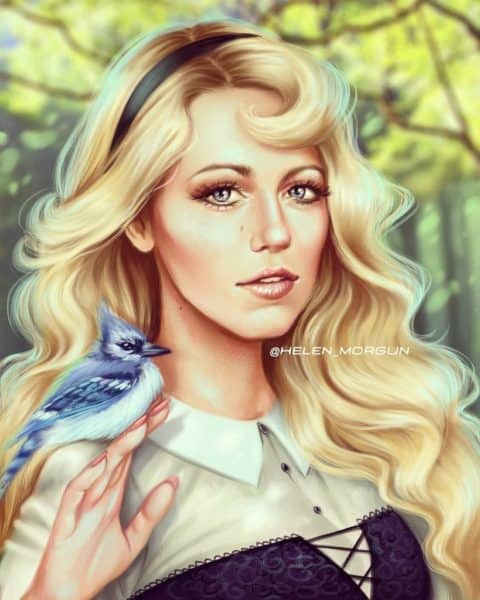 This feels like it would be a more realistic view of Aurora simply because Blake Lively's features are a little more expressive than Elle Fanning's and because, well, she just happens to exemplify the character in a slightly better way.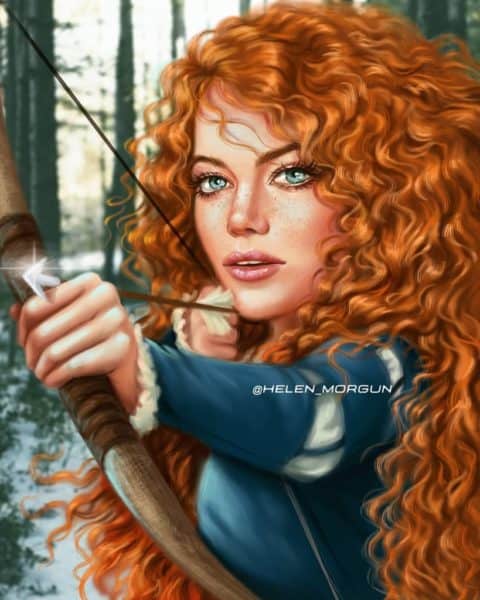 Who wouldn't want to see a live-action version of this? Emma Stone's fiery nature emboldened by Merida's sense of adventure and her desire to simply be her own person would be classic to see on the big screen, or even just on Disney+.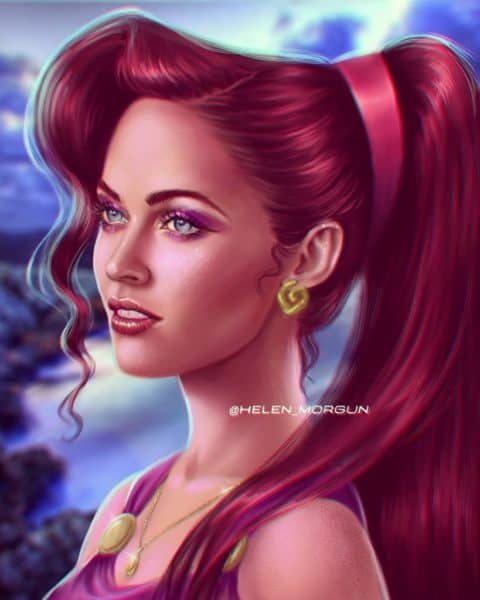 As stereotypical as it might sound, this is the kind of role where Megan Fox can actually shine since she's been typecast as a seductress and a temptress for so long that she's kind of been locked into the role. But thankfully Megara also has a very independent attitude.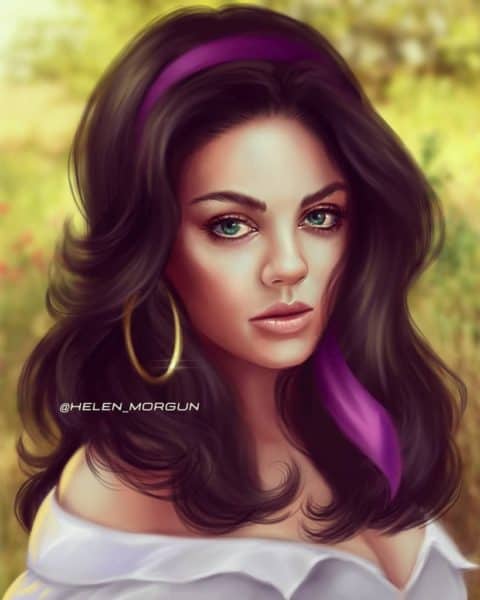 Who else thinks that Mila Kunis could rock the role of Esmerelda? She's strong, opinionated, and has, onscreen at least, shown that she has a lot of heart when it comes to dealing with other people. But she's also a great deal of fun and knows how to play up a character when she needs to.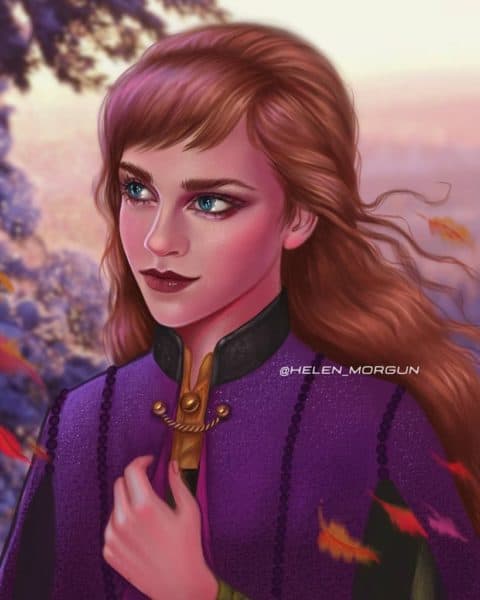 Emma Watson can do a lot, there's no doubt of that, and the only reason she might not become Anna in a live-action movie, apart from a decision on her part that might seal it, is simply because she's already been Belle in Beauty and the Beast. But hey, stranger things do happen.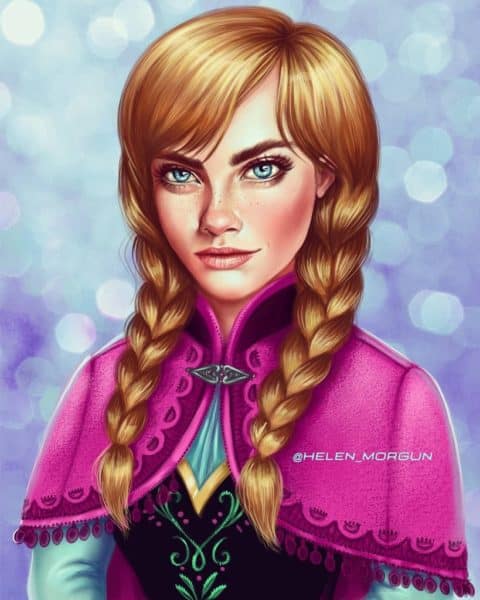 It would be a little easier to get behind a decision to bring Cara Delevingne in as Anna just because she happens to have more resemblance to the character due to her face shape, though getting her to act like Anna might be a stretch.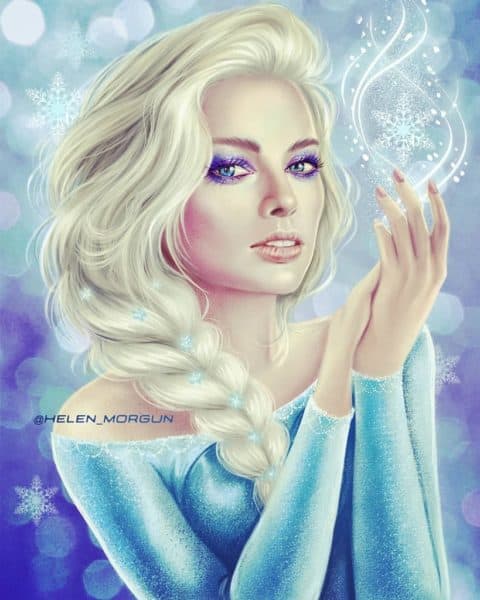 This would probably be demanded by a lot of people since Margot Robbie is quite the actress and she does have a look that can be used in many ways. But whether or not she could nail Elsa's character is hard to say. It might be worth looking into.
Give the props to Helen Morgun, her art is just amazing.