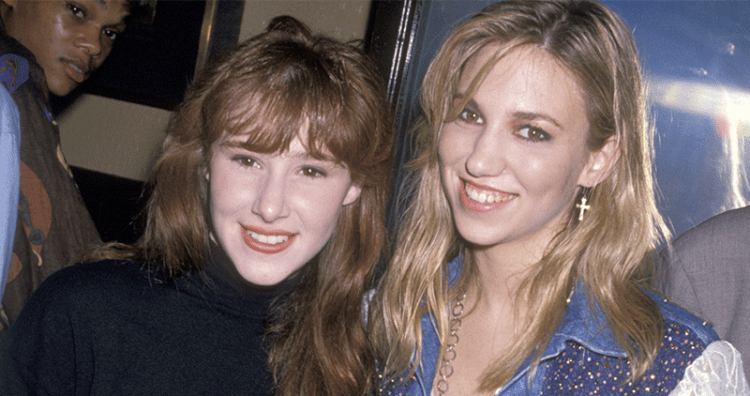 Children and adults of the 1980s are familiar with the pop singers Debbie Gibson and Tiffany. Songs like Only in My Dreams, and I Think We're Alone Now were everywhere. It's not uncommon for stars to become rivals, but the alleged rivalry between Tiffany and Debbie is one of our favorites, and you'll soon see why. As biopics go, we can't think of one that would be more fun to watch. Any movie about their interactions has to have lots of retro 80s gear of course, but there's so much more. From giant alligators to fights, someone needs to write a movie about these incredible ladies. Before they do, we have some ideas on how it should go down.
The Pie Fight
For those who want to know, there is footage of Debbie and Tiffany fighting it out at a lovely party. Debbie accuses Tiffany of feeding steroids to chickens and then feeding the chickens to alligators. She goes on to allege that Tiffany killed her fiance and other innocents as a result. Naturally, that means the two have a nasty battle over a disk with evidence on it and finishes off with a food fight where they pie each other in the face. We're talking about the movie Mega Python Vs. Gatoroid, of course. If you haven't seen this delightful B-movie horror yet, it's well worth the watch. It seems the casting director assumed there was a real rivalry under their pop-stardom and decided to cast the two in opposite roles. It worked out well for the film, but what about the real-life rivalry?
Pop Nemesis
With top-of-the-charts songs at the same time, surely these two pop princesses were teen rivals. They had to be, right? According to Debbie Gibson, no, they barely knew each other. The stars of today can battle it out on Twitter in a hundred and twenty words between takes, and they often do. Everyone shares their opinions on the internet, but in the '80s, that wasn't even a 'thing,' yet. If the two had had a reason to go Jerry Springer Show at each other, they'd have had to do it in person, or at least over landline phones. Who has time for that? Tiffany and Debbie certainly didn't.
In an interview with Huffington Post, Gibson shares how busy they both were and the fact that she always supported Tiffany's career. The two rarely met, and when they did, they were always nice to one another. When asked about it by Yahoo Entertainment, Tiffany took that further. She explained that media rumors and people's love of some juicy gossip were all there ever was to the feud. Though she says, they played into it a bit. However, in recent years the pair have had time to tour, sing and of course film together and they enjoy each other's company. After all, who better to understand your life than someone who basically lived it?
Casting a Biopic
If we were going to tell the story of Tiffany and Debbie, there's a very easy answer to who we'd choose to play the pair. We would cast both of them as themselves, at least for the later parts of the film. It's no stretch for them to play themselves since they lived it. It would be a lot of fun to see them telling the story of how they never really fought, except that one time with the pie. Frankly, the ludicrousness of the whole rivalry-myth would make an outstanding comedy. We'd be the first in line for tickets. In fact, we'd show up in a spin-art t-shirt, a jean jacket, and our best neon. Regardless of how much fun it would be to see them together again, someone has to play their younger selves. Any actress who's going to play a pop icon needs to be able to sing. It also helps if you look a bit like the real person you're playing, so that narrowed down the choices for us. Fortunately, there are a plethora of talented younger actresses who can sing for us to choose from.
Debbie Gibson
There was a time when we'd have voted for Britney Spears to play Debbie, the resemblance is there, and they can both sing pop like it's their job because it was. These days we'd have to make a different choice. Olivia Holt of Cloak and Dagger and the Disney XD movie Kickin' It is our top choice for 80s Tiffany. She can sing, dance and act, not to mention she's been a competitive cheerleader for years. Obviously, this is a young woman who knows what it's like to be too busy for rivalries. This competitive blonde dynamo would make a perfect 80s pop idol, and she'd look great in that black hat as well.
Tiffany
Casting someone to play Tiffany was a somewhat harder choice. After much deliberation, we closed in on another Disney kid. Bella Thorne has a stunning voice, and a name made for pop-stardom. With her red hair and beautiful voice, we think she'd make a great Tiffany. Her recent role in Midnight Sun saw her record some outstanding music, and it seems she's ready to take on more. We have just the role for her playing a real-life pop princess. After hearing her sing Burn So Bright, we're pretty sure she's the one for the job. At least this time she'll be able to go out in the sun, unlike the character in her last movie.
Final Thoughts
Fans of the 80s and it's incredible music would surely turn out in droves to see a catty movie about the rivalry that never happened between Debbie and Tiffany. Things turned out well in the end, and we think seeing some shots of their joint concert in Singapore would be a perfect backdrop to the final credits. Do you love 80s pop as much as we do? Would you watch a movie that centered on two of pop's first princesses? Let us know in the comments below.