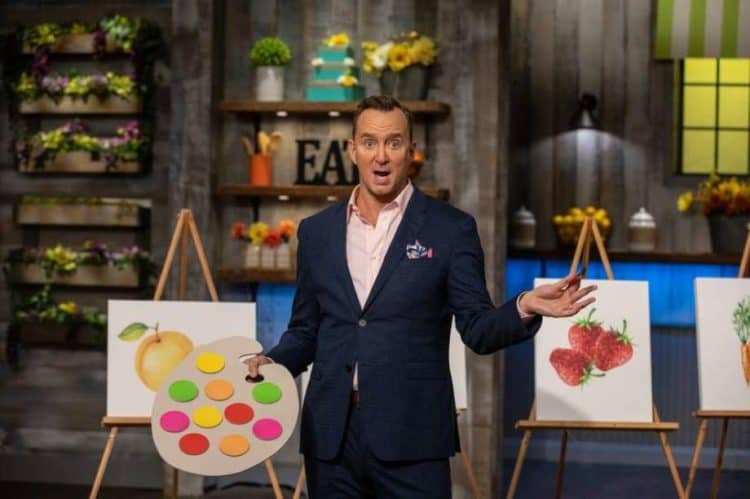 Since rising to fame on TLC's What Not To Wear, Clinton Kelly has become one of the most popular TV hosts of the day. After fronting ABC's The Chew for seven seasons, he moved on to The Food Network, and can currently be seen doing his thing on the sixth season of Spring Baking Championship, a show Kelly's fondly described as an "Escape From Everything Else". Find out more about the star with these ten little facts.
1. Literary Dreams
As a kid, Kelly always dreamed of becoming a writer. Too scared of "being broke" as a novelist to give it a go, he opted for journalism instead. After earning a master's degree in journalism, specializing in magazine publishing, from the Medill School of Journalism at Northwestern University in 1993, he took the first steps in his career as a freelance writer and editor of several publications in New York, including Marie Claire, Mademoiselle, and DNR.
2. What Not To Wear
While working as the executive editor at DNR, Kelly was approached by the producers at TLC's What Not to Wear, who were at that point in the process of recasting the show's male lead. Three auditions later, and Kelly'd won the gig. Over the next ten seasons, he provided help, guidance, and a shoulder to cry on to over 350 women, many of whom he's stayed in contact with since the show ended. "The only reason I was able to do that show for 10 years is that I knew I was helping women," he told Long Island Weekly. "It wasn't just about the clothes; I felt I could continue empowering through this."
3. Design King
It's not just in the remit of women's fashion that Kelly knows a thing or two about style. His Miami residence, which was designed by Kelly as a reflection of his personality and which he's described as "something different, something fun", has managed to impress so much with its combinations of colors, pattern, textures, mid-century furniture and flea shop finds, it's made the pages of multiple interior design magazines.
4. Putting Pen to Paper
In 2005, Kelly put pen to paper for the first time in Dress Your Best: The Complete Guide to Finding the Style That's Right for Your Body, co-authored with Stacy London. 3 years later, he was at it again in Freakin' Fabulous: How to Dress, Speak, Behave, Eat, Drink, Entertain, Decorate, and Generally be Better than Everyone Else. Other works to date include the fashion bible, Oh No She Didn't, 2013's Freaking Fabulous on a Budget, and the memoir, I Hate Everyone, Except You.
5. No Time for Paula
If there's one woman in the world that Kelly wouldn't dream of giving fashion advice, help, or anything else to, it's Paula Deen. During an episode of The Chew in 2015, Deen took Kelly to task over his decision to eat chicken wings with a knife and fork rather than his hands. "What are you doin', eatin' that with a fork and knife?" she shouted. "You look like a turd in the punchbowl!" 2 years later, he got his own back when he called her out in his tell-all memoir, I Hate Everyone, Except You. "I find her shtick more annoying than a hangnail," the normally jovial presenter wrote, adding that after he met Deen for the first time "her good old-fashioned 'charm' struck me as artificial."
6. Coming to Terms with Celebrity
After years of being a successful but unknown journalist, Kelly was catapulted to fame with TLC's What Not To Wear. As he later discussed with CT Post, it wasn't a transition he was necessarily prepared for, nor happy with. Thankfully, he's since come to terms with his celebrity and has no plans on leaving the limelight anytime soon. "For the longest time, I was so uncomfortable with fame, he shared. "After "What Not to Wear" began, I was uncomfortable when people knew who I was and how I looked. Now I am going to be open and just don't care. Just going to be me."
7. A Love/Hate Relationship
Paula Deen wasn't the only celeb to feel the sharp edge of Kelly's tongue in his memoir. Despite coming across as the best of friends on screen, Kelly and his What Not To Wear co-host, Stacy London, had a love/hate relationship that he's since decried as being like "a brother and sister in the backseat of a car on a long car trip." "I either adored her or despised her and never anything in between," he went on to write. "We spent nearly sixty hours a week in captivity, rarely more than an arm's length away from each other. Trust me when I tell you that it is just too much time to spend with any other human being you didn't choose of your own free will."
8. Net Worth
Thanks to his numerous TV shows, bestselling books, and frequent media appearances, Kelly's feeling flush with cash these days. According to Celebrity New Worth, the 51-year-old TV presenter is worth a dazzling $4 million.
9. I Heart Connecticut
In 2009, Kelly married his long-term partner, psychologist Damon Bayles, in Connecticut. Despite being raised in New York, Connecticut has always held a special place in the presenter's heart: little wonder then, that he chose it as the place to say his vows. "Connecticut is my happy place," he told Hartford Magazine. "There is nowhere as nice. When we get here, we stop at the local IGA and get all the food we need for the weekend. And never leave the house. I barely comb my hair. It's me, Damon and the pets and the woods and some friends coming over. I adore Connecticut."
10. Meeting His Heroes
If there's one guest that stands out in Kelly's mind from his time on The Chew, it's Olivia Newton-John. "When I was growing up, I was pretty sure I was going to marry Olivia Newton-John,' he told People. "I watched Grease like 100 times, I was just in love with her. And then, when I met her I was like, I'm still in love with her. That was a real moment for me."