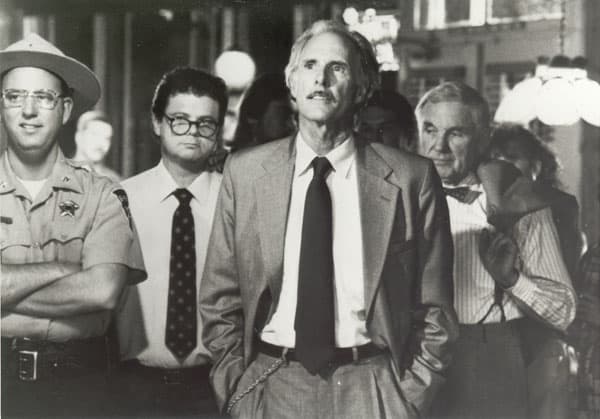 It's not hard for a villain to be underrated, but someone like Bruce Dern is hard to ignore since every role he's in he tends to bring a bit of that snarky attitude to bear and leaves you wondering just how much he's got left in the tank, so to speak. The part he played in Diggstown as John Gillon for instance was perhaps one of the best parts in the whole movie. He wasn't an aggressive bad guy that would come out and simply break you down, he was the cerebral bad guy that would use any and every bit of leverage he could in order to make sure you felt every last punishment he decided to inflict upon you. And because he owned most of Diggstown in one way or another he could get away with it and no one could stop him.
There are a few reasons why he was underrated and why he was a lot better than any of the other characters despite the fact that he was outright despicable as a human being.
He didn't care who he hurt.
This is a guy that told his own son to take a loss just to win a bet. Never mind that his kid wanted to get in the ring and bang around with Honey Roy Palmer, Gillon didn't want to leave anything to chance and in the process he made his own kid look like a coward. Add on to that the fact that he had Slim hung when his brother Ham lost his fight and you've got one very serious and motivated psychopath on your hands. The guy didn't even blink when he threatened people, and with the kind of leverage he had over just about everyone in town it's no wonder. This was a character that lived to make people miserable so long as it benefited him in some way.
He didn't need to be physically imposing to be dangerous.
Gillon attacked people where it really tended to hurt, their wallets. He wouldn't send someone to go after you in a physical way unless it was absolutely necessary, and even then it was more of a warning rather than a last resort. Oh no, he would seek out your financials and really mess with you, taking every dollar you had in one bet or another that he'd already rigged well ahead of time. The moment that he told Buck to take a dive in order to prove to Gabriel that he was in fact the man in charge was a poignant reminder that you just don't mess with some people even if they look frail enough to be blown over by a stiff breeze. Gillon was more of a snake that waited for people to trip and fall before it bites, granting that perfect moment to inflict the maximum amount of punishment that he could.
People are just pawns to him.
Even those he kept in his inner circle were there because he could get something from them and not because he enjoyed their company. Otherwise the cop wouldn't have abandoned him at the end of the film and told him that he wasn't going to be his lackey any longer. Plus, his fighters, at least some of them, thought he was loyal to them when it came to taking care of them, but in truth they were his most lucrative pawns since they did what he said without giving it any thought at all.
Gillon sabotaged his own fighter.
Charles Macum Diggs was the biggest name in Diggstown at one point, the greatest fighter they'd ever seen and the biggest name around. But he wouldn't take a dive for anyone, and his corner man, Gillon, knew that. So what Gillon did was dose him, he actually had the audacity and the nerve to dose his own fighter before each coming round so that eventually Diggs' brain had turned to mush and could barely keep his feet let alone defend himself. That's the kind of man that Gillon was from the start it seems like, the kind that saw an advantage and how to make himself rich and then took it. How low would a person have to be to go against someone that trusted them with everything and no reason to suspect them of foul play? Obviously there wasn't a lot of back story there but Gillon would have no doubt come off looking just as bad.
Let's face it, Diggstown was an underrated movie and Gillon was a VERY underrated villain. His kind of machinations might seem like kiddie stuff to some of the truly heavy hitters. But to us mortals that operate on this earthbound level this guy is pretty low. That's why he made one of the best movie villains ever.