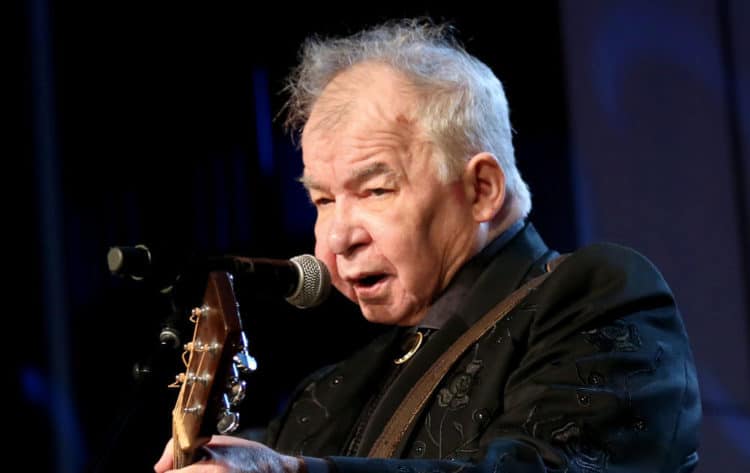 Country legend John Prine recently made headlines when he was named the recipient of some of the highest honors (Album of the Year and Song of the Year) at the 2019 Americana Honors & Awards ceremony. The awards represent another milestone moment in a career that's taken Prine for the backwaters of Illinois to the forefront of the country music scene. Despite two bouts of cancer, Prine shows no signs of slowing down, and remains as active and influential a figure as ever. To find out more about the singer-songwriter, keep reading.
1. He learned to play the guitar when he was 14
Prine, who was born and raised in Maywood, Illinois, began to develop an interest in music from an early age. By the time he was 14, he'd convinced his parents to allow him to buy a guitar and was busy learning the skills that would later see him become one of country music's leading lights. It would take a while for Prine to turn his interest into a profession, however: after spending a brief stint in the US armed forces in Germany, he moved to Chicago to take up a job as a mailman, keeping his singing and songwriting to an occasional hobby only.
2. He started out as a reluctant performer
In the late '60s, folk music was a major part of the American music scene. Prine initially got involved in the movement as a spectator only, shying away from displaying his talents at the various open mic nights he attended at Chicago's coffee houses and bars. That changed when another artist challenged him to "do better" than him; after showing he indeed could, Prine began to perform regularly with other members of the Chicago folk revival scene, which at that time included artists such as Steve Goodman, Michael Peter Smith, Bonnie Koloc, and Jim Post.
3. He was discovered by Kris Kristofferson
In the late 1960s/ early 1970s, Kris Kristofferson was in huge demand as a songwriter, churning out hit after hit for the likes of Janis Joplin, Jerry Lee Lewis, Waylon Jennings, and Kenny Rogers. He'd also won praise for his own releases, which included the likes of Help Me Make It Through The Night and Me and Bobby McGee. In retrospect, one of his most significant achievements from that time was "discovering" the young John Prine, a finding that would lead to Prine's signing with Atlantic Records and the subsequent release of his eponymous debut in 1971.
4. He was called the next Bob Dylan
For a while in the 1960s and 1970s (and even occasionally today), every singer with a guitar, a harmonica, and a talent with words was hailed by critics as the next Bob Dylan. In Prine's case, the description was a little more accurate than most, something Dylan himself confirmed when he made an unexpected guest appearance as a backing player at one of Prine's first appearance's in New York.
5. He's a multi-award winner
The 2019 Americana Honors & Awards isn't the only ceremony at which Prine has swept the board. Past wins include two Best Contemporary Folk Album Grammys for both The Missing Years (1992) and Fair & Square (2006), a Hall of Fame Grammy Award in 2015, Lifetime Achievement Awards for Songwriting from the Americana Music Honors & Awards and UK's BBC Radio 2, and five Association for Independent Music (AFIM) trophies.
6. He was the first singer to perform at the Library of Congress
In 2005, Prine won the singular honor of becoming the first singer/songwriter to read and perform at the Library of Congress. The request was made by none other than the U.S. Poet Laureate Ted Kooser, who appeared alongside Prine as the two compared their different writing styles and discussed the overlap between songwriting and poetry.
7. He influenced Johnny Cash
There're not many artists that can claim to have influenced some of the biggest country music legends of all time, but Prine certainly can. In his autobiography, Johnny Cash revealed how Prine's music had helped inspire his own: "I don't listen to music much at the farm unless I'm going into songwriting mode and looking for inspiration. Then I'll put on something by the writers I've admired and used for years–Rodney Crowell, John Prine, Guy Clark, and the late Steve Goodman are my Big Four." Prine's scope of influence goes far beyond country music, as revealed by Roger Waters doing an interview with Word Magazine. Asked if he could hear the influence of Pink Floyd in modern bands like Radiohead, Waters answered "I don't really listen to Radiohead. I listened to the albums and they just didn't move me in the way, say, John Prine does. His is just extraordinarily eloquent music–and he lives on that plane with Neil Young and Lennon."
8. He's been diagnosed with cancer twice
In 1998, Prine was diagnosed with squamous cell cancer on the right side of his neck. The resulting surgery severed several nerves in his tongue, while the radiation therapy damaged his salivary glands. After a year of speech therapy, Prine was finally able to perform again, although with a noticeable change in his tone. In 2013, doctors discovered a cancerous tumor on Prine's left lung, which was successfully removed. This time around, it took Prine just 6 months to get back on the road after surgery.
9. He's been married three times
As someone who's managed to keep their personal life out of the public gaze, Prine lives a quiet life free from too much-unwanted media attention. He and his third wife, Fiona Whelan (with whom he shares three children, stepsons Jody Whelan, Tommy, and Jack), currently reside in Nashville Tennessee. The couple also has properties in Gulfport, Florida, and Galway, Ireland.
10. He formed his own record label in the 80s
After releasing several albums under Atlantic Records and Asylum in the 1970s, Prine decided to go his own way in 1984, launching the independent record label Oh Boy Records. Most of his subsequent albums (including 2018's The Tree of Forgiveness) have been released by the label, whose books can also boast the likes of Kris Kristofferson, Daniel "Slick" Ballinger, Shawn Camp, Dan Reeder, and Todd Snider.