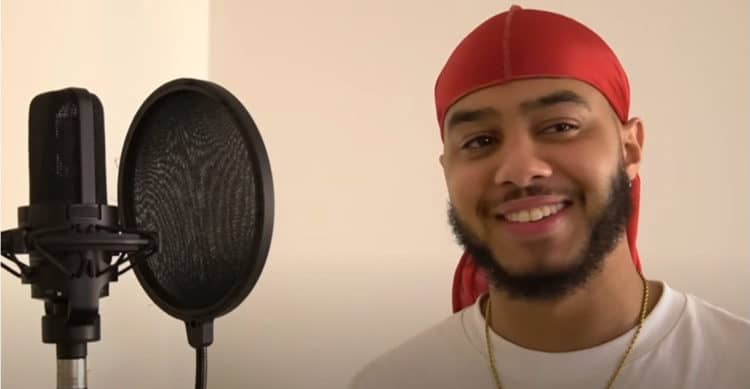 Life is full of surprises and Arif Zahir got the surprise of his life when he learned he was cast as the new voice of Cleveland Brown on Family Guy. Some people may be wondering what on earth could possibly make a random YouTube star qualified for such a role, but the truth is that Arif isn't random at all – and he's been Cleveland Brown long before it became official. Arif's channel, which now has over six million followers, was built off of his flawless impression of Cleveland Brown. Arif is eternally grateful for the opportunity and it's definitely going to be a life changing experience. Continue reading for 10 things you didn't know about Arif Zahir.
1. He's A Gamer
Creating content isn't Arif's only passion. He also loves to play video games like Call of Duty and and Watch Dogs and has incorporated his love for gaming in his YouTube channel. He loves to join online multiplayer games while impersonating Cleveland Brown.
2. He's A Musician
Due to his online persona, there are a lot of people who probably don't take Arif serious. But one thing he's very serious about is his music career. He is a talented rapper and singer who has released several singles. One of his songs, "August," has more than seven million streams on Spotify. He sometimes integrates his musical talents into his YouTube channel by doing remakes of songs while impersonating characters.
3. He Also Does Impressions Of Other People
Cleveland Brown is Arif's most well-known impression, but he isn't the only character who Arif has mastered. He has also impersonated several well-known figures such as Donald Trump and Kendrick Lamar. His ability to switch voices so effortlessly will likely lead to lots of other voice acting opportunities down the line.
4. He Also Has A Big Following On Instagram
YouTube is the platform that made Arif famous, but his popularity has expanded to other social media platforms as well. He currently has more than 188,000 followers on Instagram. As he gets deeper into voicing Cleveland, his follower count will grow exponentially.
5. He's A Big Jim Carrey Fan
Arif has always been a big fan of the entertainment industry and comedy is something that comes natural to him. He is a big fan of Jim Carrey and considers him one of his biggest inspirations. When Arif was a kid, he spent hours watching Jim Carrey movies and copying his voice and mannerisms.
6. He's Been YouTube For Almost A Decade
If you think that Arif just popped out of nowhere, you're totally wrong. He has worked hard to get where he is today and has spent nearly a decade doing impressions online. He started his YouTube channel in November of 2012. It took him a while to gain a following, but once his account started gaining traction there was no turning back.
7. He's From California
Like many other creators, Arif has chosen to keep most information regarding his personal life off of the internet. However, we do know that he was born and raised in California and still lives there today. He was raised by a single mother and has a sister who is much older than him.
8. He Has Some Acting Experience
Arif has always dreamed of working in the entertainment industry and he's specifically always wanted to be a film actor. According to IMDB, he's made some steps in the right direction. He has nearly a dozen acting credits including an appearance in a TV mini series called G.P.A. Now that he's gotten his foot in the door with the role as Cleveland, he's one step closer to making his movie star dreams come true.
9. He Attended Hussain College
As someone who is very dedicated to his craft, Arif has worked hard to gain as much knowledge as he possibly can. At one point, he enrolled at Hussain College in Los Angeles. The school is well-known for its entertainment focused education and offers several BFA programs. Arif decided to drop out during his sophomore year so he could focus all of his time and attention on building his YouTube channel. What may have been seen as a crazy decision at the time was probably the best one he's ever made.
10. He Has Over 600 Million Views On YouTube
The fact that Arif has well over six million subscribers on YouTube is certainly an impressive accomplishment. What's even more impressive though is the number of total views his channel has. To date, he has more than 650 million views on YouTube and he has had dozens of videos go viral over the years.
Tell us what's wrong with this post? How could we improve it? :)
Let us improve this post!