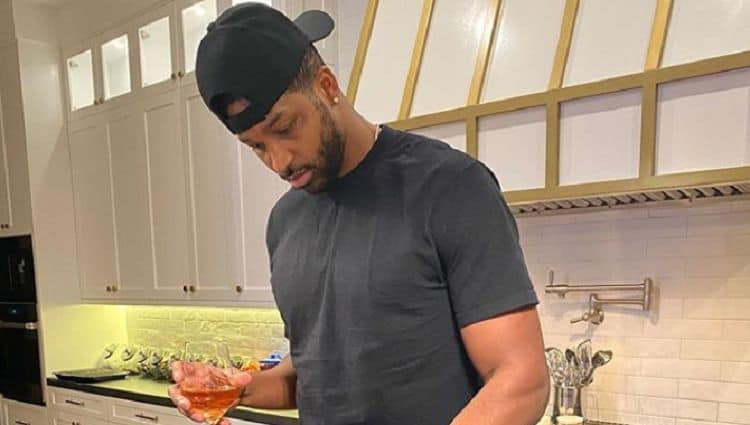 Anytime you hear of the Kardashians, you know without a doubt that scandals will follow. Therefore when a basketball player and a socialite get together, the scandals will be juicy. That is the case with Tristan Thompson who dated Khloe Kardashian. However, most of the headlines linger around his cheating scandals but there is more to Tristan than what most people know and here are several facts to keep you informed.
1. He met Khloe Kardashian through a friend
Some friends care about seeing us happy and will move heaven and earth to make it happen. According to newidea.com for Khloe, the friend who observed how good she is and wanted to introduce her to someone was her friend Brandon Jennings. Brandon wanted to set Khloe up on a blind date with Tristan but Khloe was not up for it so while she was having dinner with a bunch of people at the Bel —Air Hotel, Brandon brought Tristan along and the rest, as they say, is history.
2. His net worth is $35 million
Celebrity Net Worth estimates Tristan's net worth at $35 million. While dating Khloe has put Tristan in the limelight, he is a high-flying figure in the NBA world which is the player's primary source of wealth. He earned $15 million alone from the 2016-17 season playing for the Cleveland Cavaliers. Before 2015, his net worth stood at $8 million since with his previous contract he was only making between $4 and $5 million per year.
3. His contract with the Cleveland Cavaliers is worth $82 million
On October 22, 2015, Tristan Thompson signed a five year deal with the Cleveland Cavaliers in which he will receive $82 million through 2020. According to Spotrac, the $82 million is guaranteed with the annual salary averaging $16,400,000. However, the amount he gets keeps on increasing since, in 2015-16, he received the base salary of $14, 260,870 and during the 2019-20 season, he is expected to receive $18, 539,130.
4. Kris Jenner forced him to sign a 10-million dollar contract
Kris Jenner has been through a lot with her daughters as Your Tango reports, and she wants to make sure none of them go through life's hurdles alone. It is, therefore, no surprise that when Tristan cheated on Khloe, she allegedly forced him to sign a contract worth $10 million that prevents him from being unfaithful to Khloe. Further, if he disregards the agreement and cheats on Khloe gain, the deal has a clause that will make him pay an additional $10 million into his daughter's account.
5. He is a serial cheater
Men have always defended their philandering behavior with "we were born to be polygamous," but that has never stood well with women. Tristan seems like he can never have one woman at a time and he is not sorry for putting his partners through the never-ending cheating scandals. According to Hollywood Gossip, Tristan cheated on Khloe while she was pregnant and even after giving birth but Khloe, trying to make sure her daughter has a normal family, forgave Tristan thinking he would change.
6. His cheating scandals have put his career at risk
No matter how much people try to justify themselves, some things are just morally wrong, and no one in their right senses will stand for them. Tristan has learnt this the hard way because even when LeBron James stuck his neck out to have Tristan re-signed with the Cleveland Cavaliers, he might have had enough of Tristan's behavior and wanted him benched. A source told Hollywoodlife.com that although the team was putting up with his inconsistency in the game, the cheating scandal was the last straw and his hopes to play a crucial part in the team's playoff run were diminishing.
7. He has two children
For a man who always parades his women for the world to see, it is surprising that he only has two children. His first child is a boy, Prince Thompson, with Jordyn Craig and although TMZ reveals that his name is not on Prince's birth certificate, the explanation could be that he was not present at the time of birth, but the State of California allows for the father's name to be added later. His other child is a girl, True Thompson, whom he had with Khloe Kardashian on April 12, 2018.
8. He has mixed feelings about co-parenting
Nowadays people are not willing to put up with the struggles of relationships, and they prefer to split up unlike long ago when our grandparents believed in fixing broken things instead of throwing them out and getting new ones. Tristan and his ex, Jordyn Craig have a great relationship regarding their co-parenting situation, and while Jordyn accepts that Tristan's infidelity is expected of a basketball star, and even supports him, Khloe does not believe so. It is, therefore, no wonder that Tristan is involved in his son's life as US Magazine reports, but when it comes to True, he does not care about not seeing her.
9. His mother was a school bus driver
Mother's Day is a day like no other when everyone remembers how much their mothers have done to ensure they have the best in life. However, for Tristan, he did not wait for this day but instead took to Instagram to express how much he loves his mother and appreciates all that she did for him to be the man he is today. Tristan was appreciative of the sacrifices his mother Andrea Thompson made for him and the family and the work hard she had to do including being a school bus driver as E! News reported.
10. He is the founder of Amari Thompson Fund
We have to give credit where it is due, and despite Tristan being in the spotlight for all the wrong reasons, he at least has done one good thing for the benefit of others. Tristan's youngest brother, Amari has epilepsy and has seizures almost daily, so it has taken the support of friends and family to make it through the difficult times. Consequently, he started Amari Thompson Fund in 2013; the fund supports epilepsy programs and services to ensure nobody faces the struggles alone.
11. He always stops at Tim Horton's on his way to Canada
Tristan is close to his family, and although he has to be in Cleveland due to his chosen career, he makes time to see his family back in Canada. As reported by NBA.com in his childhood, Tristan's mother would always give him two dollars every Saturday to buy donuts at Tim Horton's the place has a special significance. He, therefore, must always stop at the store and take a big bounty back home for his family to enjoy.
12. He is the father figure for his siblings
Tristan is the eldest of four brothers, and that makes him accountable for them; a role which he does not take lightly. Tristan told NBA.com that he is like the big daddy to his brothers and whenever they are acting up, it is up to him to keep them in line. His mother always looks up to him to help her maintain discipline so if she texts him letting him know that someone is out of line, he knows what to say to the culprit since he is aware of their weak points.
13. He was dying to buy his first car while at the University
Everyone has ambitions and for Tristan, buying a car was on his mind since his school days at the University of Texas. His eyes were on the Cadillac Escalade or Mercedes-Benz truck as he told SportsNet Magazine. However, by then he had to ride the school bus or borrow his friend's car. As for living expenses, he had to get on by loans advanced to him through Rich Paul and little amounts of endorsement money from a trading company and Nike. People do come from far especially when he confessed to having a love for fashion but could only afford to buy two suits.
14. His car collection comprises luxurious vehicles
Of course with a man of his status, we would expect nothing less than a car collection that exudes luxury. According to Other Ranks among his cars is a Lamborghini Aventador SV which he bought for $421,145, and a Porsche 911 GT2 RS that had him fork out $294,250. Other less expensive vehicles, in this instance "expensive" being a very subjective term are a Range Rover and Lexus Hybrid RX 350 that cost him $72,000 and $44,000 respectively.
15. He allegedly cheated on Khloe with her sister's best friend
Some things are forgettable and forgivable but others, no matter how much of a Christian you claim to be, are hard to erase from our heart and mind. It was not enough that Tristan was chasing every woman he could in the publicized groupies, but he also became very touchy with Jordyn Woods, the best friend of Kylie Jenner, according to nine.com. We assume that there are sister codes that should never be broken but misbehaving with the boyfriend of your best friend's sister is a no. It is therefore not surprising that Kylie kicked Jordyn out of her mansion.
16. Tristan crashed at Jordyn's house whenever he argued with Khloe
For anyone to keep going back to the ex, they must be trying to communicate something, and it might have taken long for Khloe to get the message. Khloe and Tristan did not have a perfect relationship, as with any other romantic relationships, but every time they argued Tristan would go to sleep at Jordyn Craig's house. In fact, when Khloe found out that Tristan was unfaithful she kicked him out, and Tristan spent the night at Jordyn's house.
17. He does not get along with his father
Tristan always talks of his brothers and mother but never about his father, and it seems like they do not have a great relationship. From the comment that his father made saying that Tristan acts like he does not have a father, it is clear they barely talk. However, Tristan's dad would want Tristan to have a different relationship with his son Prince as he advises him to be a good father to be Prince.
18. He comes from an athletic family
Some things run in the family, and for Tristan, athletics is in his blood. Tristan's mother ran track while his father played soccer. Dishawn Thompson, Tristan's younger brother, also played basketball for Wesley Christian High School and was a highly-rated prospect. His cousin, Jemal Thompson was a football stand out in Virginia State University and defensive tackle on Canadian Football League.
19. He has been fined 19 times so far
Tristan has been fined 19 times so far in his career; 16 are for technical fouls, and the rest are for ejections. The fines made him dig deep into his pockets. For instance, when he was ejected in Game 1 of the 2018 Finals, he was fined $2,000 on May 31, 2018, but further review hiked the figure to $25,000 on June 1, 2018, reason being that he failed to leave the court promptly. Also during the 2018-19 regular season, Thompson was fined $15,000 for making an inappropriate gesture at a spectator.
20. Tristan knew he wanted to be a basketball player at 10 years old
When Tristan was ten years old, he wanted to be a basketball star, and his mother supported his dream by taking him around the country cheering him on in the hopes that he would join the NBA someday. To this day, Andrea Thompson remains Tristan's number 1 fan.
Tell us what's wrong with this post? How could we improve it? :)
Let us improve this post!