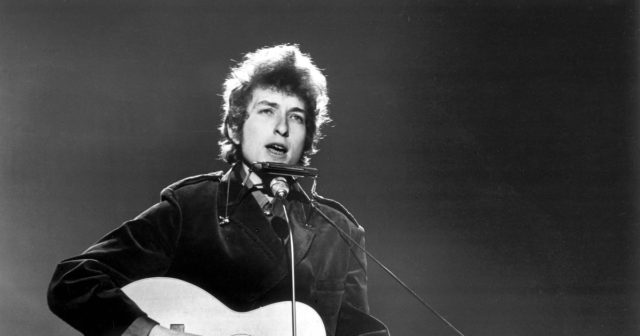 This is one time when words just aren't enough. Throughout his long, illustrious career Bob Dylan has known success, he's known failure, he's known triumph and heartache. For so long he's been entertaining people all over the world that's easy to forget just how he started. As a kid Dylan was listening to everything he could, though eventually rock and roll would become his chosen field. His career has been one that has spanned for decades now and has touched nearly everyone on this planet in some way no matter how obscure. Every track, especially those below, have been immortalized by TV, film, and the music industry so that no one will ever, EVER forget the name of Bob Dylan.
Here are just a few of his best.
5. Dangerous Minds – Mr. Tambourine Man
You wouldn't really expect to hear Bob Dylan even mentioned in a school like this, but when it comes time to think up an assignment for her classroom Michelle Pfeiffer takes the advice of a friend and decides to incorporate the Dylan/Dylan challenge, which is a play on words between poet Dylan Thomas and Bob Dylan. You can hear the song referenced pretty often during this period of time.
4. NCIS: LA – Knockin' On Heaven's Door
This song has been performed so many different times by so many different people that some have actually forgotten that Dylan had a hand in it. But once you listen to him sing it you're reminded of just what it used to sound like and why no one has ever really deviated from it ever since. You just don't try to improve on a classic that's been handed down to so many artists.
3. Dr. Dolittle – Blowin' In The Wind
It's one of the more silly entries but I thought it deserved a chance. When Dr. Dolittle suddenly realizes he can talk to animals the conversation he strikes up with his daughter's pet guinea pig is more than a little shocking. Putting the little critter on the roof for the rest of the ride isn't all that nice but it's a lot better than just leaving him on the side of the road.
2. Watchmen – The Times They Are A-Changin
If you're a big Watchmen fan then you can probably get the gist of the comic a lot better than most. The opening clip isn't hard to understand, but keeping up with the running line of superheroes probably would be for anyone that's never opened the comic. The long and short of it is that the Watchmen have been around for a while and have been in the middle of a lot of influential moments.
1. Jerry Maguire – Shelter From The Storm
This has got to be one of the best songs Dylan has ever produced and one of the best songs to end this movie on. Jerry Maguire became an inspiration for so many that this song just stuck in my head as well as many others. It took me a while to remember which movie it was in but I could not get this song out of my head for the longest time, thank goodness.
Bob Dylan, a legend in his own time.
Save