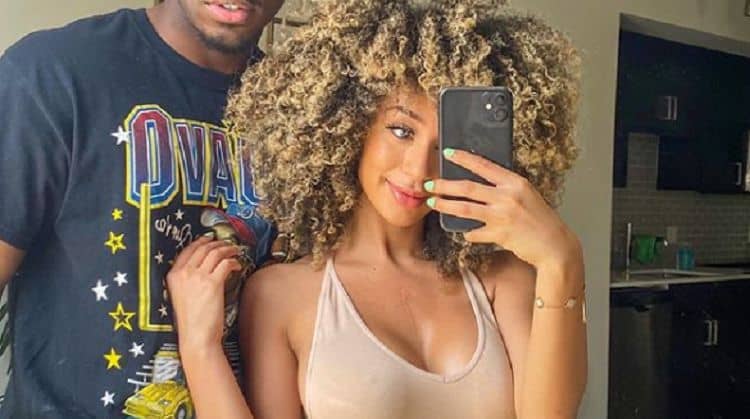 Caro Viehweg is a contestant on the reality television series "Love Island" which airs on the AW station. She joins a cast of 10 other contestants on the beautiful island of Majorco, competing for love. She's competing in the American version of the series that is based on the British show, which just kicked off the second week of July, 2019. We were interested in learning more about the gorgeous contestant and we learned some very interesting facts about the American beauty, and if you're a new fan of hers, here are 10 things that you probably didn't know about Caro Viehweg.
1. She's multi-lingual
Caro Viehweg speaks three languages. These include Portuguese, German and English. She has lived in a total of six different countries in the world. These include The United States, Canada, Sweden, South Africa, Germany and Brazil. She is well traveled and has had some very interesting life experiences already.
2. She has a celebrity crush
We learned that the vibrant Caro has a big time crush on none other than Dwayne "The Rock" Johnson." This was reported by E! News in an interview she held with them. Of course, he's not currently available, so she's looking for love on "Love Island" in hopes of finding lasting romance with someone who is currently available ,but he's going to have to be cool with the fact that she thinks that Johnson is a hunk. It's hard to deny that he's someone that millions of ladies swoon over.
3. Caro is currently a student
At the age of 21, Caro is pursuing her academic degree. We learned that she is enrolled in a Marketing program, but she has not yet disclosed the college that she is attending, but we do know that it is in the Los Angeles area. We're fairly confident that as time goes by, we'll learn more about where she is enrolled. We're just getting to know her as she is new to the reality television scene, but she's someone that a lot of fans are already interested in learning more about.
4. She insists on some virtuous traits
Caro is the kind of person who values honesty and a great sense of humor in a potential partner. She herself is extremely hones, open minded, loving, fun and straightforward. These are the characteristics that she states makes her a great girlfriend. These are also traits that she is looking for in a man. She likes to laugh and if you're going to win her heart, it's important that you have the ability to make her laugh. It seems a reasonable request.
5. Caro is attracted to hard working men
One of the things that Caro had to say about Dwayne Johnson is that he is hard working. This is something that she has listed as being important to her in a man. The guy that she ends up with isn't going to be a slouch. She has a strong work ethic and she is attracted to men with the same outlook on life, so she's not about to all for anyone that is independently wealthy and refuses to work. It's just one of those things that she believes is an important virtue in a man.
6. Her real name is Caroline
Caro goes by her nickname Caro, which is an abbreviation of her given name, Caroline Viehweg. She is just 21 years old and she has aspirations to travel throughout the world before she settles down and starts a family. She's already lived in several unique parts of the world. She is originally from Los Angeles, California and she is looking for that special partner on the television show, in hopes of finding the love of her life.
7. Her ideal guy is tall and smart
Caro isn't looking for just any handsome guy to settle down with. She highly values education and intelligence so the lucky fellow that will win her heart must be smart, and in addition to this, he must be tall. These are two of the requirements that she set as necessary if you want the opportunity to get to know her with the intention of settling down and starting a family with her, but she also wants to do some more traveling before she starts her family.
8. Caroline values authenticity and spirituality
At the age of 21, Caro already knows what she wants in a man. Her ideal partner must have a spiritual side, and value this aspect of life as she does. He must also be authentic and genuine. She's not interested in phonies. She seems to have her act together and she won't settle for anyone who doesn't share her philosophy.
9. She has a big social media presence
If you want to know more about Caroline Viehweg, you can stay on top of what's happening in her life by joining her YouTube channel. She currently has over 4,200 subscribers. She also has an Instagram account with more than 243,000 followers as well. You'll immediately notice on her other Instagram account that she titled Women Prosper that she is big on posting motivational and inspirational quotes.
10. She faces some heavy competition on the show
There is no guarantee that Caroline will find the love of her life on the "Love Island" show. Although she's already selected a partner, this is a reality television series where anything can happen. There are only 5 guys and six women are vying for their attention. As we've seen in similar shows, couples get together then they tend to have squabbles that end the relationship and someone is going to get sent home, so this is a fact of life that she must face with all of the other contestants, so fingers crossed that she'll be successful in her endeavors.
Tell us what's wrong with this post? How could we improve it? :)
Let us improve this post!