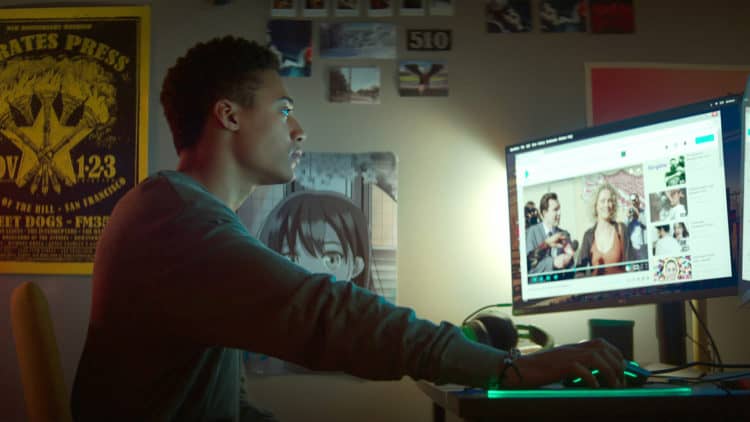 2021 is a year that Camaron Engels will likely never forget. After spending more than a decade in the entertainment industry and only landing minor roles, he finally got his big break when he was cast in the Netflix series Clickbait. The role has gotten him a lot of attention and it has provided him with a platform to share his talent with a large audience. His versatility and professionalism are sure to help him create a path for a long-lasting career. Camaron doesn't have any upcoming projects in the works at the moment, but we feel confident that we haven't seen the last of him. Continue reading to learn 10 things you didn't know about Camaron Engels.
1. He's A Los Angeles Native
Every year, there are countless people from all over the world who flock to the Los Angeles area in hopes of breaking into the entertainment industry. Fortunately for Camaron Engels, that's something he didn't have to worry about. He was born and raised in Los Angeles and still lives there today.
2. He Was In An Episode Of Black-ish
Even though Clickbait was Camaron's first major acting opportunity, it wasn't the first time he was part of a major production. In 2020, he made a guest appearance in an episode of Black-ish as a character named Jeremy. Even though it was just a one-time thing, it was still a great experience for him.
3. He Loves To Dance
Acting has been Camaron's main focus for the last several years, but it's not the only kind of performing he enjoys doing. Camaron also loves to dance and he was a member of a competitive dance troupe called FUSION. Not only was he part of the group's routine, but he also did some choreography.
4. The Lion King Inspired Him To Get Into Acting
Almost all actors can remember the very moment they realized they wanted to get into acting, and Camaron is no exception. According to the bio on his website, "After attending a production of The Lion King at age eleven, Cam's primary interest turned to acting and he soon began training at the Lee Strasberg Young Actors Studio."
5. He's A Boston University Alum
There are lots of people who believe that higher education isn't necessary for those who want to pursue careers in the arts, but there are also plenty of people who believe that attending college can give actors a leg up. Camaron decided to study at Boston University where he earned a BFA in acting. Prior to that, he studied at the world-famous London Academy of Music and Dramatic Art.
6. He Would Love To Play Miles Morales
Camaron is definitely enjoying the moment of success he's having right now, but he's also thinking about the things he wants to accomplish in the future. In a tweet from august 2021, Camaron revealed that Miles Morales is one of his dream roles and he has been "manifesting" the opportunity.
7. He Designs Clothing
Camaron is truly the definition of a man of many talents. On top of acting and dancing, he has also been getting into clothing design. Recently, he learned how to sew and he's focused on getting even better. In an Instagram post, he said, "This is something I've wanted to learn for years and have sat on so many ideas and designs I want to make for my clothing brand."
8. He's Passionate About Helping Others
Despite the fact that his career is just starting to gain traction, Camaron has already made it a point to use his platform to highlight things that are important to him. He likes to help others and has donated to an organization called the ONE Campaign. According to its website, "ONE is a global movement campaigning to end extreme poverty and preventable disease by 2030, so that everyone, everywhere can lead a life of dignity and opportunity."
9. He Likes To Travel
Just because Camaron has lived in Los Angeles for his whole life doesn't mean he hasn't gotten the chance to experience other places. He enjoys traveling and he loves the opportunity to get to learn about different people and cultures. As his career continues, there's no doubt that he'll be able to add even more destinations to his list.
10. He's A Positive Person
It can be easy to develop a negative outlook when you work in an industry like entertainment because rejection is such a big part of it. However, no matter what he goes through, Camaron is the type of person who always tries to see the bright side and he likes to spread that positive energy to the people he comes in contact with.
Tell us what's wrong with this post? How could we improve it? :)
Let us improve this post!