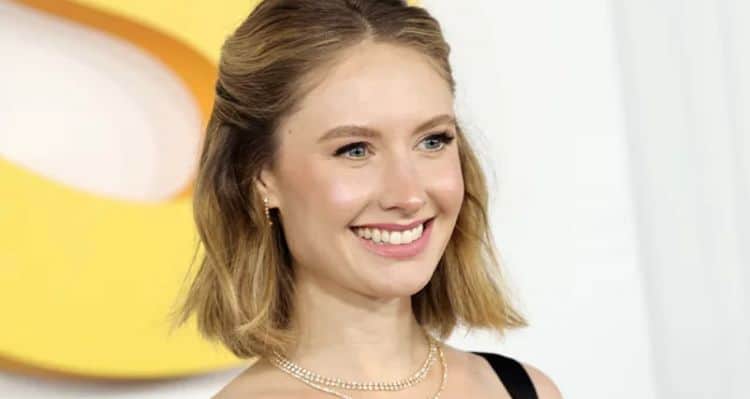 Caitlin Thompson has been in the entertainment industry for more than a decade. However, it wasn't until more recently that things started to really take off for her. She got a big break in 2016 when she was cast to play Madison in the popular TV drama, This Is Us. Although her role on the show was initially somewhat small, she became a much bigger character when she began dating Kevin Pearson (Justin Hartley). The role has given her the chance to show the world how talented she really is, and fans everywhere are very sad to see the show end after six great seasons. Keep reading 10 things you didn't know about Caitlin Thompson.
1. She Is From Ohio
Caitlin Thompson was born and raised in Ohio, but there doesn't seem to be much information about her upbringing or her family life. While it's true that Ohio has some great things to offer, it's also true that it isn't the best place to try to start a career as a professional actor.
2. She Is A Wife and Mother
During her time on This Is Us, Caitlin's character has gone from being single to being a mother and eventually a wife. The family aspect of the character is something Caitlin can probably relate to pretty easily. She has been married to writer/director/producer Dan Fogelman since 2015. The couple has one child together. Dan is one of the writers for This Is Us.
3. She Has Done Stunt Work
Don't let Caitlin's pretty face and petite frame fool you, she's a lot tougher than she looks. According to her IMDB page, Caitlin was credited with a stunt in the 2018 TV movie Christmas Perfection which she also acted in. This is on her only stunt credit to date.
4. She Is Very Private
Sharing her personal business with the world isn't something Caitlin is really interested in. Throughout her career, she has chosen to keep many of the details of her private life away from the public. This is something that she and her husband have always had in common. Although she does share an occasional family photo online, a good portion of her social media activity consists of content related to her time on This Is Us.
5. She Loves Riding Horses
Just because Caitlin works in the entertainment industry doesn't mean that she likes to be surrounded by bright lights all of the time. She is actually someone who really takes pleasure in the simple things in life. In her free time, she loves being outdoors and riding horses is one of her favorite things to do.
6. She Enjoys Traveling
The world is a beautiful place, and most people won't get the chance to see nearly as much of it as they'd like. However, Madison is determined to see as much as she can. She has gotten the opportunity to do a good amount of traveling over the years. Not only has she traveled to different parts of the United States, but she has also gone to other countries.
7. She Is A Writer
Acting is what Caitlin is best known for, but that might not always be the case. There are other talents she'd love to share with the world. Caitlin's Instagram bio notes that she is a writer. At the time, however, she doesn't have any screenwriting credits and it doesn't appear that she's published any written work.
8. She is Passionate About Human Rights
Standing up for the things you believe in is one of those things that tends to be much easier said than done. Caitlin has used her social media platform to speak out about the issues that are important to her. Some of those include women's rights and ending gun violence.
9. She Likes Taking Pictures
Being in front of the camera is what has turned Caitlin into a star. However, it appears that she likes to step behind the camera in her free time. Her Instagram profile shows that not only does she like taking pictures, but she's also pretty good at it. Her love for photography is the perfect fit with her passion for being outdoors.
10. She Is A Dog Person
Dogs and humans have had close relationships for thousands of years. There is something about that bond that nothing else can quite compare to. As a dog person, this is something that Caitlin can relate to. She has two adorable little fur babies. While it doesn't look like her pups have their own Instagram profile(s), they often make appearances on hers.