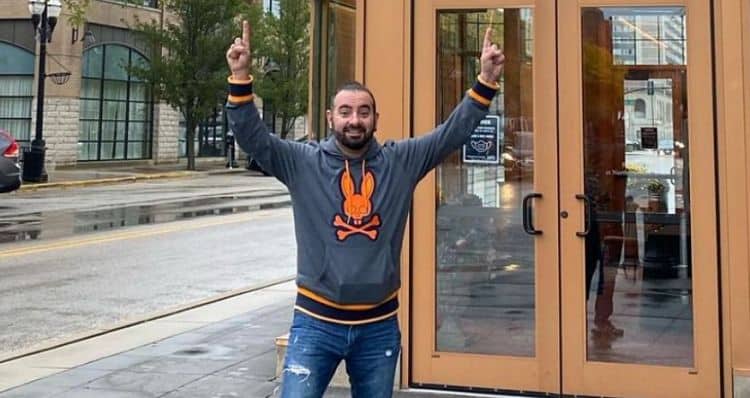 When you hear the name Chris Kirkpatrick, your age determines what you automatically think of. All 80s and 90s kids immediately begin singing, "You can get your a** kicked, worse than them little Limp Bizkit…." You go ahead and finish that part of Eminem's lyrics, and then you immediately think of NSYNC, the boy band to which he belonged. The boy band that, alongside the likes of Justin Timberlake, Joey Fatone, Lance Bass, and JC Chasez, became one of the most famous musical acts in history. If you did not grow up in those decades, you are probably still wondering who this person is. It's all right – we are here to enlighten you.
1. He's 50
Yes, he is 50. The young man we all grew up listening to when we were teens and he was in his 20s is now…50. Chris Kirkpatrick was born on October 17, 1971, and now everyone was just hit with the harsh reality of father time.
2. He's From Pennsylvania
Though we all know that the band was formed and worked from Orlando, Florida, courtesy of the slimy Lou Pearlman, what most people don't know is that not all band members are from Florida. Kirkpatrick, in fact, is from Clarion, Pennsylvania. His mother gave birth to him when she was only 16. She raised him on her own, and she later went on to have four daughters who became his half-sisters.
3. Childhood was Difficult
His life was not an easy one. Born to a teenage mother with no father in the picture, his life was nothing short of difficult. He was often homeless. His family was on welfare, they lived in sheer poverty, and there wasn't always food on the table – or even a table. He once lived in a snowy climate in a single-wide trailer with no power and a gaping hole so big that his mother used the family's dirty laundry to keep snow from coming in through the side of the house in the dead of winter, per Wikipedia.
4. He Got a Job
When most of us are in grade school, we are part of Little League and the local Pop Warner football and cheer programs. When Chris Kirkpatrick was in grade school, he had a job on a farm. It's how he helped his mother financially. Life was, as we mentioned previously, very hard.
5. His Family is Musical
Life was difficult, but music got them through. His mom, grandparents, aunts, uncles, sisters, cousins – you name it – were all singers or vocal coaches or part of the music world in some capacity. He sang, he learned to make it good, and he was always involved in singing to some degree. He just didn't know it would be his way out of poverty.
6. He Ended up In Orlando
Strangely enough, he left his home when he graduated high school to make the move to Orlando. The reason behind this is that his biological father was living and working in Orlando, and he offered to help his son pay for college. His son was homeless, hungry, and grew up in poverty, and his father offered this to him at the age of 18 as a way of getting to know one another. That's how he ended up in Orlando.
7. You Probably Saw Him
In fact, we all probably saw him up close and personal performing in the mid-90s. As a frequent Universal Studios patron, he was part of a doo-wop group who sang around the park. He did this while working on his college degree and after.
8. He Heard About Lou Pearlman
The man who later went on to become more famous than ever because of his crooked financial dealings, but that's a story for another day, formed the Backstreet Boys, and one of the original members who dropped out prior to the big-name and fame, mentioned that Pearlman was looking to start a second boy band. Kirkpatrick wanted in, but he needed a band. He looked for the better part of a year before he found the men with whom he would found the band NSYNC, and that's when history was made.
9. He is Married
He was a very private man, but he changed his mind about that when he met his wife. They began dating in 2010, got married in 2013, and all of his bandmates were part of his wedding at one of the Universal Studios Resort Hotels (Loews) when they wed. They also have a child of their own, a son. He is their first and only child, and he was born in 2017.
10. He is Living in Tennessee
Most of his life was spent in Orlando where he kept his homebase, but he sold his home in 2018 and made his big move to Tennessee. They lived there for a few years prior, but he'd maintained his Florida home until that point. Nashville is home now.