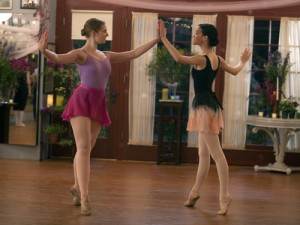 As much as I thoroughly enjoyed the pilot of Bunheads, it left me with a series of questions about when certain elements were going to be explored and/or built on. With the girls not terribly well-developed (for now) and the question of how Michelle will stay in Paradise still lingering, the main thing that I wondered about was the usage of dance itself. Dance can be an extraordinarily emotional art form that says more in movement than in an entire conversation's worth of dialogue, but the pilot didn't embrace it as much as I expected. Granted, the impromptu audition was by far my favorite scene of the episode, but there's a difference between noodling around in the studio and putting on a routine and the latter could add a little more weight to the scenes with the girls if undertaken properly.
Bunheads exceeded my expectations in "For Fanny", confirming organized dance as being one of the many weapons in its storytelling arsenal. After a weary episode that saw Fanny doing her damndest not to break and Michelle feeling more alone than ever, the show punctuated its second outing with a routine from the girls at Hubbell's memorial service and it absolutely shined. Tender, elegant, and simply gorgeous to behold, it was the emotional release that "For Fanny" needed to wind down after nearly 42 minutes of pain, grief, and isolation. The perfectly placed routine allowed the abilities of the girls to be shown rather than merely hinted at or alluded to, which is a good sign going forward. I don't want Bunheads to turn into a ballet and skimp on the story or anything, but if you're going to make a show about dancers, they're going to have to take the stage once in a while and they're going to have to be believable at what they do. Fortunately, the young cast seems well-equipped to bring the meaning and resonance out of each major dance they do and the longer the show goes on, the more the characters will grow and the more their dancing will grow as a result.
Additionally, "For Fanny" answered the question about how the show is going to keep Michelle and Fanny in one another's orbit, bringing out Hubbell's poker buddy/lawyer to reveal that the dearly departed signed over
everything he had to his wife. By the end of the episode, the two seemed to be on the road to a positive relationship, but this will certainly drive them that much further apart; rather than putting Michelle into another residence, Bunheads is keeping the former Vegas girl in Paradise and pushing up against her former mother-in-law, the mother-in-law that still hasn't 100% accepted her and the mother-in-law that hasn't tried to be there for her after the loss of Hubbell. You kind of want the two to work things out and come together for the sake of their individual healing, but the characters have such a great push-pull to them that watching them spar for the next several episodes should be a nice source of fun in the sadness. Kelly Bishop, in particular, stepped her game up in the episode, every bit of her screentime containing an underlying heartbreak through her manic disposition and increasingly outlandish memorial requests until she finally crumbles under the weight of her grief. If the fight that she had with Michelle, a brief yet extremely powerful confrontation from two extremely sad, desperate people, is any indication, having to be constantly around one another should both remind them of Hubbell and help them move on from the tragedy.
"For Fanny" was the first time that we got a look at the townspeople of Paradise, California, as well, and it turned out to be a fairly promising look, at that. Fanny's friends (including a found object artist that focuses on nudes) help to make her character a little more well-rounded, while using a walk Michelle took was a fairly clever way to get her out on her own and interacting with people other than Fanny or the girls. The only thing, though, is that while I loved her random dog-walking-turned-dog-napping, the bartender and his wife have all the makings of being cliche-ridden drags. It's not even that the performances or the dialogue were bad; they were actually quite good and I found myself laughing out loud (multiple times) at the encounter. It's just that, if unchecked, the whole "crunchy granola surfer couple" schtick could wear very thin and become more of a crutch/funny idea than actual tangible characters. Like I mentioned in the pilot, it's very early in the series and there's plenty of time to flesh out the eccentric supporting cast, so I'm not panicking or even heavily critiquing anything. I just think that it could go either way and it'd be a shame to have the resident "watering hole" not be working at full strength, since it's likely one of the centers of town activity and a place we'll be visiting on a relatively frequent basis.
Bunheads may not have the most grounded premise in the world, but I found the way that it handled tragedy in "For Fanny", especially relating to Fanny and Michelle's strained relationship, to be extremely real. You got to see the different ways these characters handled the loss of one of their own (Fanny keeping herself busy, Boo and her unflinching loyalty, Sasha and her tough girl act) and things didn't get tied off with a pretty bow at the end. Michelle and Fanny had no heartfelt cry-fest where they confessed how much they needed one another and immediately formed a mother-daughter-like bond for the rest of the season. Grief isn't that easy to get through and Bunheads has embraced that, allowing the uncertainty and loneliness that Hubbell's accident brought to creep in and be fully felt by both women. And that's okay. That's natural. That's human and I want to see the journey that Michelle, Fanny, and all the residents of Paradise, California take toward getting back to normal and living life after tragedy.
Thoughts, Quotes, & Observations:
-"Ugh, the old."
-"Oh, well. Jesus will just have to share."
-"Tin foil! Aah!"
-"We'll look like a cult." "Or a karate class."
-"We're talking death, Melanie. Stay on topic."
-"That's Talia. She's older than she looks – pass it on."
-"Bleh, I hate brunch! Pick a meal."
-"Lived? Past tense. Junior college."
-"I didn't mean to scare you guys with hell."
-What do you think about the opening sequence? I like the inclusion of dance and the black-and-white, but I don't quite love it.
-I really liked the opening sequence, particularly the Metallica detail and the silence that Bunheads allowed to happen. Very nice.
-The girls are still the weakest major part of the show to me, but I like Boo getting a back bone and Sasha showing some layers. Ginny and Melanie get good lines/reactions here and there (e.g. Ginny selling the car her grandmother haunted for a ski-doo), but they're not quite characters yet.
-I'm glad that we're not completely throwing out Michelle's life in Vegas just yet. Hopefully there'll be a return visit before the season ends.
-Favorite gag: the insecure sitar player. Is it bad I kind of want him to pop up again?
-Grey's Anatomy creator Shonda Rhimes recently scolded Bunheads for its lack of diversity. Amy Sherman-Palladino responded in an interview with Media Mayhem.
-Kaitlyn Jenkins (aka Boo) was interviewed about using her dance background on the show, how she relates to her character, and what we can expect going forward.
-Kelly Bishop (aka Fanny), meanwhile, was interviewed about her working relationship with Sutton Foster, how Bunheads compares to Gilmore Girls, and advice she has for young actors (and dancers).
-Salon analyzes the similarities between Bunheads and Gilmore Girls.
-Next week on Bunheads: Fanny receives shocking news from her attorney, Michelle has a run-in with the law, and the girls have an "ugliest feet" contest.