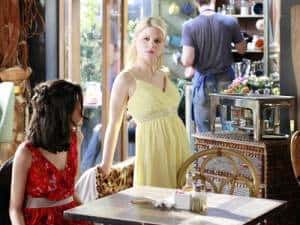 The pacing of Bunheads has been one of the most curious things about the show and something that I couldn't quite put my finger on regarding my feelings toward it. After a pilot that got Michelle from depressed showgirl to hopeful newlywed to crushed widow, the show stepped heavily on the brake pedal, allowing the former Vegas girl the chance to get her footing in her new town. For the last three episodes, Bunheads has been more about exploration and filling out the weird, wild world of Paradise, California, focusing more on the logistics that resulted from Hubbell's death and moving the chess pieces around rather than barreling through more plot. That's been in contrast to the hyperverbal, wired dialogue that shoots out of the characters' mouths like laser beams, but it's also made any type of forward movement much more appreciated and feel more earned.
For the first time since the Bunheads pilot, you felt the story moving forward and "Money for Nothing" proved to be a very strong episode as a result. The show did need to stop and catch its breath following a set-up pilot, since Paradise is basically a character in its own right and Hubbell's death left a lot of stuff hanging, but having things visibly pick back up and keep moving was a nice change of pace that set up the rest of the season. For example, the disparate halves of the show, Michelle's personal journey and the bunheads teenage high jinks, have been one of my problems with the narrative; they had been kept in their own corners for the most part, only bumping into one another seemingly accidentally, but "Money for Nothing" brought them together and hinted that the show's structure would become more sound in upcoming weeks. It's been pretty inevitable that Michelle was going to teach at the dance studio since about 10 minutes following the pilot episode, so making the first steps toward that becoming a reality is a good way for the show to head into the back half of this episode order.
The conflict that this is causing Michelle is the type of material that Bunheads has excelled at thus far in its run. Though she doesn't have a direction and life and has been burned from many an audition, Michelle can't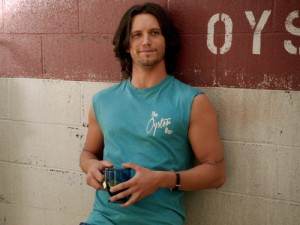 let the idea of a future dance career go just yet – she can't let herself fully embrace the next phase of her career because she'll have to say goodbye to Michelle Simms, ABT-trained dancer and vibrant, spotlight-stealing performer. After her husband died 48 hours into their marriage, Michelle isn't exactly looking for more things to change in her life, so the resistance to teaching is expected and grounded in pain; it's a lot like Fanny refusing to change her Hat Box Finances, in that both women have handled their grief not through productivity, optimism, or acceptance. They're currently in self-protection mode, trying to grasp hold to any sense of normality remaining and waiting for the hurt to stop; the encouraging thing is that they're slowly coming out of it. Fanny let herself let Michelle take care of the finances and we all know Michelle is going to teach, so Bunheads may be coming out of its sadness coma and showing how these two (more similar than even they know) woman deal with putting things back together.
For example, the Flower Festival may not be a big thing, but it's a thing, an accomplishment, something tangible that the two of them made happen by backing down from the bickering. It's small, but like the pacing, it's a step toward progress and that's all you can ask for.
The plot with the girls was arguably their strongest, as Boo got a job at The Oyster Bar and eventually got friendly with the good-looking son of the owners, much to the jealousy of the other bunheads. By chopping the group up into two parts, it allowed each incarnation to breathe and to get more time than if all four were together; we got additional character details about Melanie (her Save the Whales bracelet) and anxiety-ridden Ginny (her boyfriend Josh, whom she's been with since second grade), along with Sasha continuing to seethe with the lack of attention on her and Boo continuing her rather sweet personal growth through her new friendship. Apart from the hack-y, one note joke that is his name, Godot (yes, like Waiting for Godot) could be a valuable character if used correctly. He's not as much of a stereotypical space case as his fellow surfer parents and just being there to show genuine interest in Boo can help bring her out of her shell, which helps her personally and could keep the dynamic of the bunheads on its toes. Sasha's already very much threatened by Boo (or, at least, deems Boo harmless enough to channel her frustrations on) and having the latter become more confident in herself will keep the noticeable divide between the two at a healthy distance.
Although I'm very much a proponent of having the girls dance as much as possible, considering their number tonight was very nice, it's nice to see them out of the studio and just being normal teenage girls that have jobs and want to impress cute boys. The Oyster Bar could be a fun way for the girls to be around other members of the town and plunked into an environment where Boo is Queen Bee for once, so I'm cautiously optimistic. For now.
"Money for Nothing" made for a promising rebound from last week's dud of an episode, balancing Michelle with all four of the other bunheads, toning Fanny's petulance down to a dull roar, and sneaking in another dance number that only hinted at the talent in the cast. It was an episode that not only set up the rest of the season, Michelle's teaching job all but assured in the coming weeks, but it managed to bring the goofy without sacrificing the character moments and restored faith that once Bunheads gets to where its going, it'll become a stronger, more self-assured series. For now, though, all the pieces have been put into place and there are five episodes in which to begin moving them forward, hopefully toward a renewed sense of purpose for Michelle and independence for Fanny.
Thoughts, Quotes, & Observations:
-"Every day in your house is like a Kristin Wiig movie marathon."
-"I'll go change downwind."
-"What are you gonna do with that tush?" "Rent it out for functions?"
-"Nobody tell Josh I just saw God."
-"There's nothing between toe shoes and crack, not even a Grateful Dead album?"
-"I'll handle Jeff – tell him Harvard burned down, watch him cry."
-"Even the tree costumes don't grow on trees."
-"A CD? That's current."
-I liked Fanny's system for paying her bills, but there's no way in the world that people would let her pay them twice a year, if at all. I'm from a small town, too, and trust me, that wouldn't happen.
-Another new characters: Jeff, the neurotic, Type-A "manager" at the bar/Boo's "boss" and Sal, the tush obsessed owner of a dancewear store. I feel like I've seen characters like the prior 1000 times and the latter was a touch on the creepy/inappropriate side, but I'm willing to give both a chance in future appearances.
-The amount of overt old school comedy influences in the show still leaves me uncertain going forward. Tonight we had an I-Love-Lucy-grape-stomping-type moment with Boo and the wind destroying Fanny's system. The first was fairly cute, but the second tipped on the wrong side of homage and became cliche.
-Next week on Bunheads: Talia comes to Paradise for a visit, Michelle is left in charge of the bunheads, and the girls sneak into an R-rated movie.