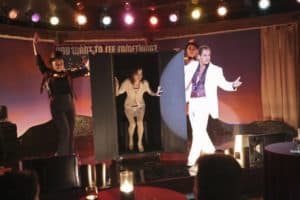 Dance is the lifeblood of Bunheads. The characters have all been involved in the field for so long that it's practically a part of their DNA; whether they talking about it, performing it, teaching it, or anything in between, Paradise is a town of leaps and leotards, of plies and performances. But what happens when you take dance away from the town? Will it (and its residents) still function the same way without time on the dance floor?
Unfulfilled Potential
After the incident at the Nutcracker performance, Michelle has moved in with Talia and Talia's older boyfriend Rick for the time being. The three live in Henderson, Nevada, where Michelle performs with a small-time hotel magician in an act called "Two Shakes of Stardust." Her role is that of an assistant/back-up dancer/hype man; along with Cissy, the magician's wife, she's to get the lethargic crowds into the "spectacle" of the show and add a little something extra to the proceedings. However, she absolutely hates everything about it – the fact that her life is now in Henderson, the demeaning role that someone with her level of experience has to play in order to make a buck, the lack of love in her life following the death of Hubbell. It's not a good time for her and eventually, that gets to her and makes her lash out at her boss for his redundant catchphrase, being demoted in the process and having to face a further diminished role in a lame production.
In addition, there's now a viral video out from the night of the accident – an autotuned news interview featuring Boo, highlighting Michelle multiple times, and drawing over two million views on Youtube. Couple that with Rick growing tired of having her around the apartment all the time and (privately) questioning Talia if anything was wrong with her and Michelle has to find a way out of her current situation, lest she be driven insane in the process. Help comes in the way of Fanny, who had been a little adrift herself without having Michelle around. After watching multiple videos Michelle left behind, including one of her wedding to Hubbell where he talked of how much potential she had as a performer, Fanny heads to Henderson to watch one of Michelle's performances. She invites Michelle to come back home (in the middle of the show), seeing as how they're family and that helping her become the best she can be would honor Hubbell's memory.
Reticent at first due to the parental outrage of the summer finale and feeling like an obligation, Michelle concedes and heads back to Paradise after watching the wedding video that Fanny brought with her.
Going Home
While Michelle was off trying to escape her past, the girls were all biding their time until they could get back on the floor. Without their teacher around, the studio was closed and used as a storage facility by Fanny, meaning that Boo, Ginny, Melanie, and Sasha had to find out who they were without dance. Boo's mother gets pregnant again and has to be put on bed rest, leaving Boo with a reduced work schedule at the Oyster and increased babysitting responsibilities. Melanie has been spending time taking care of her wheelchair-bound grandfather, bringing him to the Oyster on a daily basis while also flirting with a waiter named Jeffrey. Ginny's mother became hysterical once her ex-husband set a wedding date with his younger fiancée and couldn't continue her duties at her real estate office, so Ginny has filled in for her over the summer and overseen open houses.

However, Sasha has come home from Joffrey but failed to actually go see (or inform) her parents, who can't stop fighting and don't provide the safest home environment. She ping pongs around, staying in broom closets and the beds of dead women, until none of the three girls can take her in. As a last resort to going home, she heads to the guest house and meets Roman, who she had been corresponding with during the summer. Right when the two are about to kiss, Michelle comes home, but she ends up letting Sasha spend the night anyway.
Additional thoughts and observations:
-"I don't even know who the Friends are."
-"Sorry, Jeffrey's ovulating."
-"Nothing is more terrifying than a canoe."
-Michelle on Rick: "I think he discovered fire."
-"Oh yeah, I watch a lot of procedurals."
-How great was that opening Bjork number? I love it when the show can implement full dance routines in a natural way.
-One thing going forward: they might have a Hubbell problem. Alan Ruck has been tremendous in what little time he's been on screen, able to connect with Sutton Foster when they're not in the same scene together and a master of the romantic monologue, but if they keep bringing him back, there's a risk of overusing him, turning him into a crutch, or making the show into something different. I do like bringing him back for stuff like the wedding video, though.
-The "Nutcracker Macer" sounds like Ke$ha.
-Cute that Melanie and Ginny are all about the "Nutcracker Macer" while Boo is mortified with how Michelle will feel about her.
-Michelle's trench coat was nice, right?
-Truly builds a cardboard house to show Fanny her ideas for the kitchen, currently in renovation, including a wok, a wall of spice, and rearranged furniture.
–Next week on Bunheads: Michelle helps Truly with her lease and Boo with boy problems, while Talia sets her up on a blind date.