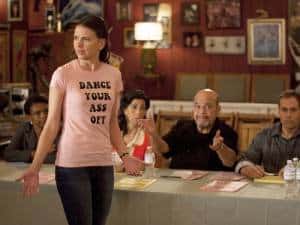 When Bunheads debuted in June, the line in the sand seemed pretty clear. Everything with Michelle and Fanny after the death of Hubbell was raw, painful, and emotionally well done, while everything with the four little bunheads was…not. It's not that their material was so horrible or that any of the girls were poor actresses; it was just that we didn't know them and their storylines felt extraneous, especially since they didn't connect to anything Michelle was doing until halfway through the season. For a show centered so squarely on loss and the value of being able to pick yourself up, dedicating a fair amount of time to four girls that had nothing to do with the main plot in any way was an unusual move, but one that would pay off eventually.
And here it is. The bunheads had been growing on me and in "No One Takes Khaleesi's Dragons", they were the stars, their plotlines easily eclipsing Michelle's and their screen time much more important-feeling. Even though having a bunch of teenage girls arguing and stressing about boys might seem a little trite, having the seeds planted for the past few weeks gave their anger a lot more payoff than it would have had otherwise. Boo's storyline, in particular, felt painfully realistic, as she let her friends' opinion of Carl get in the way of her feelings, spent most of the episode trying to make it up to him, and eventually upset him with her reaction to Ginny liking Charlie. (Not for nothing, Ginny actually having to confront her feelings for Charlie and try to learn what having a real crush felt like was the right amount of quirk for the show, though the secondhand embarrassment and over the top physical comedy muted the impact of that interesting dynamic.) The about-face from Carl may have been abrupt, considering the obviously euphoric joy that Boo's presence filled him with last week, but it made sense, at least to me. He had been made fun of pretty relentlessly by her friends and Boo didn't do anything to stand up for him, so he (being a teenage boy) decided that his pride wasn't worth it and withdrew. That makes the additional beating his heart took after Boo's outburst that much more heartbreaking and something that will make for interesting material for the finale.
The most important thing is that the bunheads have been further defining and refining their personalities to the point where all four have a role to play in their group dynamic. Earlier in the season, Boo was well-defined and Sasha was on her way there, but Ginny and Melanie were wallpaper that could be peeled back from an episode and nobody would notice the scenery change. Now, though, the two have gotten more distinct personalities that got to be on display tonight, whether it be Ginny's perma-anxiety about doing anything out of her comfort area or Melanie's acidic exchanges with her brother and fierce loyalty, and that's something extremely promising going forward. (It helps that they complement Boo's wide-eyed, big-hearted innocence and Sasha's rebel without a cause syndrome.) To be able to care about these girls when they're not around Michelle, they have to have hopes, dreams, patterns, fears, and a specific relationship with one another; they're not all the way there yet (they're both defined by the men in their lives, not themselves), but much progress has been made on all fronts.
But Michelle, you guys. Michelle was painful tonight, in the wrong way, and I hate that because at her peak, she's one of my favorite characters on TV right now. Here, though, her storylines vacillated between being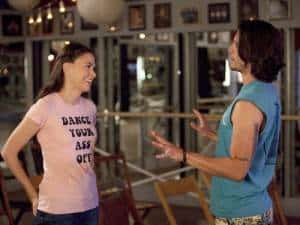 extremely pointless wheel spinning and potentially disastrous, a far cry from the character that can make you laugh, cry, and want to dance within the span of an episode. I don't expect Bunheads to become The Vampire Diaries in terms of pacing and plot twists; I know that this show is slow and methodical, building up change in time and focusing on incremental personal development. However, there's slow and there's killing time and Bunheads killed time tonight, which is frustrating considering the finale is next week. Next week and what's Michelle doing? Doing "battle" with a barista that we'll likely never see again over how he makes coffee? Going up against the neighborhood council over a supermarket? What? After becoming a mainstay in the dance studio the past couple of weeks, Michelle gets taken out and dumped into the real world, literally forced to stand still rather than exploit her greatest asset: her movement. Not that her movement outside the dance studio is that great, considering her constant clumsiness that's played too broadly for quick laughs. But it'd be nice to, after keeping her away from teaching for half a season, allow a little time to immerse the character in the art form, rather than yanking her away for no real reason.
The proposition of a Michelle/Godot pairing, though, is gross and it's not about the age difference. After meeting while she was campaigning against the council's decision, the bartender became a little flirty and got Michelle more than a little flustered, their interactions reeking of "we don't make any sense together, but that won't stop us!". Michelle having a boyfriend, okay, I get her becoming lonely and needing a little companionship. Michelle dating a younger guy, okay, there's interesting underlying mortality issues that are manifesting themselves. Michelle dating Godot, no. Just no. He's too young for her (intellectually and emotionally), he's not really going anywhere, and he's the object of desire from the four bunheads, which makes their impending hook-up more than a little weird. It's all types of crossed lines and weird boundaries that don't need to be crossed or weird, only used for the sake of cheap relationship drama that won't provide any type of growth for the show or the character. If you're going to be a more precisely paced show, every movement, every story has to have a purpose and be that much more on point; the show that has kept Michelle away from the dating world, going as far as crying after her first time having sex post-Hubbell, is now (likely) going after a 20-something surfer that her dance students are into. I mean, really. Come on.
Bunheads managed to make Michelle by far the weak link in an episode that sagged more than usual. The show isn't one for urgency or amped up stakes, but this is the penultimate summer episode and it sure didn't feel like a finale was coming next week. While I did like the girls a lot more this week and there were funny moments, the episode as a whole was just…there. No real progress, no clear direction, just…there. In a show that generally has more pace, you can have a random nothing episode and it work, because you've spent enough time with the characters to be comfortable enough just hanging out once in a while. Here, though, the pace went from slow to slogging, with the plotlines ranging from flawed but fun (Boo/Carl) to pretty awful (Michelle) and not an emotional moment to speak of. Combine that with muted comedy, an increasingly shrew-like Fanny, and another Gilmore-ian element tacked on for good measure and Bunheads heads into its finale barely crawling instead of grand jeteing across the stage.
Thoughts, Quotes, & Observations:
-"Well, my dear, you are no Brad Pitt."
-"She's one high ponytail away from needing an intervention."
-"The guy in back of me had gills when we started."
-The only Michelle thing that I even remotely liked tonight was the opportunity to get on with a travelling production of Follies, but you know that it won't happen and it's just another major tease.
-Another thing I'm beyond over: the cheerleading cracks. I'm not, nor have I ever been, a cheerleader, but I'm a little tired of the comment
-Do you think Sasha actually likes cheerleading or is she being as stubborn as Fanny and won't admit to her wrongdoing?
-Next week on Bunheads: It's the summer finale and the production of The Nutcracker continues chugging along. Michelle's feeling more at home than ever, but that may be changing soon, and Boo goes after Carl.