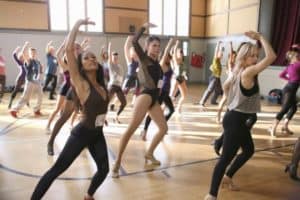 Fanny's back in town early after spending two weeks abroad and things are already falling in around her. Not only did she catch Michelle in bed with Godot after their night together, she has Michelle's brother living on her couch for a few days, reminding her that she needs to find a different place to put her house key. Michelle told him about the key in case he needed to come back in between wives, but she failed to tell Fanny that she told him or that she even had a brother, so the Flowers home will house Scotty before changing its security.
Fanny immediately puts him to work doing odd jobs around the estate, including moving bricks and planting, while returning to the studio, where she has a (surrealist) welcome banner and a sullen Truly to deal with. During the first class back, Michelle joins in with the other students for a little extra practice and later, uses the studio following the final class of the day to put in a little more work. The reason? She has an audition at the Hollywood United Methodist Church on Saturday; it'll be her first dancing gig since quitting her Vegas show in the pilot. Once she gets the day off from Fanny, Michelle heads off to the open-call audition and checks in before settling in with a book. The role is for dancers (who can sing) in an adaptation of the 1939 Bette Davis movie Dark Victory, a drama about a hedonistic Long Island socialite, but when she makes it inside the crowded gymnasium, it's clear that the producers have a type in mind.
Fortunately, Michelle survives the initial culling of the herd, the dancing cut that followed a quick routine teach, and a more focused dance cut that saw her outlast all but one of her group of 10. One final hurdle stood in front of her: singing. The piano player steers her away from doing another rendition of "I Dreamed a Dream" and suggests she performs "If My Friends Could See Me Now" from Sweet Charity, a cute, quirky number that allows her to act out the song like she showed Ginny last week. Michelle does quite well, although the producers aren't exactly enthralled; the friendly piano player informs her why. This audition? Not really an audition. The role she performed for has already been filled – weeks ago. By the same dancers who the producers continually hire, no less. What they put on today was union-mandated and she never had a chance to get the role.
Disappointed, Michelle returns to Paradise.
Let's Talk About Sex, Baby
Melanie, Boo, and Ginny are all spending the night at Sasha's apartment where they're talking about Roman and Carl's lists of intimate encounters. Sasha had forced the both of them to produce a roster of experiences they've had and while Carl only gave her a graphic novel, Roman handed her a truthful list, one that apparently intimidated her enough to make her think about having sex with him to keep his attention. Her attempt to talk Boo into losing her virginity to Carl proves to be less successful, although bringing up the subject sends the girls scrambling for all the information about sex that they can find. Out come the self-help books like "Our Bodies, Our Selves" and everybody turns into an insecure wreck.
To help with that, Sasha schedules an appointment to talk to Michelle about the mechanics of carnal relations, though before they can have the talk, Sasha and the girls follow her to the audition. Mostly, they watch from the sidelines and hold their breath for their friend/mentor/teacher/pseudo big sister to do well…until Boo forces them all to get out and "audition," hopeful that this could be her big break into the entertainment industry. It proves not to be and while Boo doesn't get to become Natalie Portman overnight, she does stand up to Sasha's bossiness, surprising even herself in the process.
Michelle comes back home deflated from the audition and luckily for her, she doesn't have to face dancing for a while. That's because Fanny, who she confided in earlier about the possibility of the girls asking her about sex, is lecturing the class about matters of the body, complete with visual aids from her midwife friend (and the local produce section.) Michelle can't take it and heads outside for some air; she's joined by Ginny who confides in her that she had sex with Frankie. Last week. And wrote him a thank you note. He doesn't talk much, he's not called her, and he might not even know her name, but she couldn't resist how beautiful he is and let herself give in to temptation. Ginny blames herself for being stupid about Frankie and Michelle comforts her accordingly.
The Family Stone
Sparkles is no more. Truly has lost her store and, with it, her sense of direction in life. She may have only worked there for eight hours a week, but Truly loved the store and everything that it gave her, so now she's kind of flailing. While she throws herself into working on the costumes at the studio, Fanny quickly has enough and talks hardheaded Milly into helping her sister get back on her feet. Milly calls a meeting at The Oyster Bar and makes Truly an offer; she can have a recently abandoned building, vacated by one of Milly's clients, to start up Sparkles again. Free of charge, even, since they had paid up through the end of the year. Truly happily accepts and the Stone sisters seem to be on the right track to repairing their frayed relationship.

Until Scotty comes in to deliver a package to Milly from Fanny, prompting both her and Truly to hit on him (and Milly to give him her number.) They might have a chance to be okay again one day, but for now, Milly and Truly are too at odds to have a strong relationship.
Additional thoughts and observations:
-"So, how's oceanography going?"
-"Ooh, that's a big banner. Who's Tranny?"
-"You cheating on your art teacher?"
-"We've got potential spinster buddy comedy written all over our faces."
-"The tutus hate me."
-"Natalie Portman was discovered in a pizza place, but I'm cutting back on carbs."
-"Everyone, name your banana."
-"Moving on. Lemonade." might be my new life motto. Thanks, Truly.
-Michelle taking a picture of (shirtless) Godot on her phone while he slept: creepy or sweet?
-It was a good Matisse episode, between her tying flowers to the freshly sanded barres and revealing her banana allergy.
-The fact that they showed the girls looking into birth control was a small but important moment, a message that's not preachy and didn't take away from the story.
-The audition scenes make me think that the show could have been tremendous had it only focused on Michelle. Finding out that the audition didn't matter was a gut punch.
-However, her number changed between checking in and auditioning. At first, she's 105 and by the time she makes it in, she's 103.
-The piano player was fun, no?
-I loved the mention of The Borgias, which you should all be watching.
-Once again, for those of you in the cheap seats, Ginny is the best bunhead. The best.
-Which do you prefer: summer Bunheads or winter Bunheads? I go winter, mostly because they fixed a few problems I had during the summer. It's still not perfect, nor anywhere near it, but moments like Ginny confessing to having sex with Frankie made watching the winter episodes more than worth it.
-Okay, everybody. Bunheads has yet to be renewed for a second season, so this could very well be the series finale rather than merely the winter finale. Working against it is that there (likely) won't be a space on the summer schedule for it, thanks to Pretty Little Liars, Switched at Birth, and two new series, as well as the fact that it's the lowest rated drama they have right now. However, they could very well choose to bite the bullet and stay in the Amy Sherman-Palladino business, particularly since Bunheads gives them a different type of audience and critical cred. It took about two weeks for the last ABC Family renewal decisions, where Bunheads prevailed over Jane by Design, so news could come anytime between now and when their spring programming starts next month. Cross your fingers, cross your toes, and if this is the last time we meet, always remember to keep on dancin'.