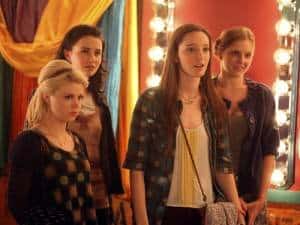 For its first five episodes, Bunheads was defined by a sadness that blunted a lot of its comedy. The one-liners have been very sharp from the beginning and it's been a treat to watch the writing find its rhythm; however, for every pithy pop culture reference that came fluttering out of Sutton Foster's mouth, there was a moment of loneliness, a twinge of grief that kept things a little more somber. Bunheads built itself on the pain that comes from loss, loss of a husband, loss of a son, loss of direction in life, but what happens when the pain finally begins to recede? What will Bunheads look like once the tears have been dried and a little bit of distance comes between Paradise and death?
"Movie Truck" shipped Fanny off to a vacation in White Robe, USA and turned the comedy up in the most entertaining episode of Bunheads yet. Though I admire the show tackling topics like unexpected death and the ability to move on while keeping a smile on your face, it's nice to leave behind the baggage and wallow in its distinctive dialogue. It didn't hurt things that this was the best episode yet of Bunheads regarding structure and tonal issues, offering only one brief emotional moment and finally figuring out how to implement the bunheads without their storyline seeming tangential. The parallel storylines of night outs with each group of girls made "Movie Truck" simple (but extremely effective) in terms of bringing Michelle and the girls together for a passing moment and pulling them apart in divergent endings. In some previous episodes, it felt like they existed in separate shows, but uniting them in a common theme (this case, trying to forget about the past through time with your friends) and simply letting them interact made the episode feel very sound and highlighted how good the cast can be.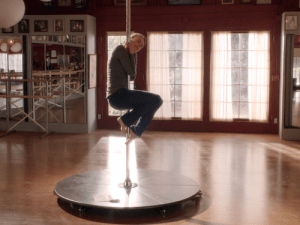 The concerning thing about the episode is that it took taking Fanny out of the picture in order for the fun to return to a show that is slathered in verbal dexterity and cheekiness. I do think that her character serves a purpose and makes for a formidable adversary to Michelle, but she's been turned into such a condescending, nasty person that her screen time doesn't often add to the episode. Kelly Bishop is uniformly excellent and absolutely nails the character's inner pain manifesting itself as outward snark, but I have to admit, I didn't miss Fanny whatsoever in "Movie Truck" and part of me wondered what a Bunheads where Fanny died instead of Hubbell would be like. Michelle would be married and likely have gotten back into dance earlier in the season, which would have closed the gaps between herself and the bunheads and given her a sense of purpose that she's lacking right now. There'd be the element of grief in the show through the lack of Fanny and it'd impact Michelle through Hubbell while never overtaking the show.
But Fanny is arguably the second most important character in the show and her absence should be noticeable in a bad way. We should miss her, if not because we like her but she brings excitement, not be thinking about the show that could be if she didn't exist. In its final few episodes of the season, Bunheads needs to sand down her rough edges without taking much of the sass away, or it'll be doing itself a major disservice.
I did, however, love that "Movie Truck" gave us another major look at Sasha and a Truly that became extremely likable through her relatability here. The former has been rebelling from her poor home life, complete with a depressed, closeted father and a drug-addicted mother, and has alternated between being a brash brat and a misunderstood young girl whose vulnerability peeks through now and then. At times, I love Sasha (tonight, in her scheme to change seats and falling on top of the car) and at times, her abrasiveness approaches Fanny levels of nasty, but in "Movie Truck", I felt like we got to look behind the curtain at who this girl is. And you had to empathize, because it's one thing to hear about a bad home life and it's another to have a throw pillow flying by your face. It doesn't excuse her attitude, but it made it more clear exactly why she is the way she is (need for attention, repressed anger toward her parents) and provided the type of character shading that can only help going forward.
The latter, meanwhile, had her first extended screen time and got shading of her own; in a lot of ways, Truly is like Sasha in that all she wants is someone to be there for her and love her for who she is. But where the teen ballerina reacts to the emptiness with aggression, Truly reverts into her shell, popping out only to make a nervous, trembly comment that she hopes nobody else hears. (Or, in Michelle's case, to make a jealous, defensive comment.) Her anxious demeanor and (heavily implied) mental instability may have been used for humor, but I like this Truly a lot more than the other Truly; this Truly is still kind of a mess (spitting the liquor back into the bottle), but her humanity and oddball sweetness made her presence in "Movie Truck" much appreciated. Everybody's been in her position, trying to get the cool girl/guy to notice you and become your friend, and I liked that Michelle grudgingly liked/respected her by the end of the episode; Michelle needs a friend and with Talia going back home to Vegas, she could do a lot worse than Truly. I mean, really.
"Movie Truck" leaned a bit more to the comedy side of the Bunheads identity, but it turned out to be a great move, a welcomed change of tonal pace that brought out just how tight the writing can be. With Fanny out of town and the Vegas chapter of her life closed, thanks in part to the final check from the show being delivered by Talia, Michelle finally let go, all the way go, and it was delightful to watch. All the anger, all the worry, all the loneliness washed away from her and gave way to a vibrant, fun, engaging young woman that's absolutely luminous to watch. Bunheads has been slowly putting things together, but now that Michelle is more involved in the lives of the bunheads as an authority figure and following a second consecutive strong episode, things are looking up for both the former showgirl and the show that she stars in.
Thoughts, Quotes, & Observations:
-"Please don't wait with us anymore."
-"With snark like that, you'll end up with your own dirty girl sitcom on NBC."
-"You want me to be a slut like you?"
-"I think she's signalling for a mercy killing."
-"Kyle wasn't a car?"
-"Please let me be your shih-tzu?"
-"I know, I'm tall. Genes, right?"
-"Ziggurat of legs!"
-"We passed a tree that looks like a hobbit."
-Although I adored the little dance sequence at the end, it felt very out of nowhere. I loved the few sequences we've got thus far because they've served a purpose in the show, but this one felt more like a time filler.
-I might have died a little when Michelle was on the stripper pole, only for the Nomi Malone references and the way she delivered "make it rain!". I also loved the extended "frosting coming out of my pores" sequence.
–Which Bunhead are you? (Apparently, I'm Sasha. I know.)
-Interviews: Bunheads hairstylist Kim M. Ferry with ABC Family, Kaitlyn Jenkins (Boo) with Wetpaint, and Julia Goldani Telles (Sasha) with the Examiner.
-Next week on Bunheads: The dance studio springs a leak, one of the bunheads steals from Michelle, and Ginny gets teased about her relationship with her boyfriend.