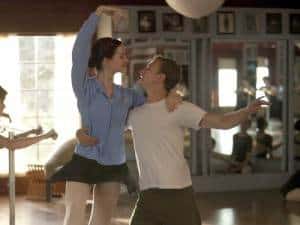 Love hasn't exactly been a pressing issue for the ladies of the Paradise Dance Academy. Once Hubbell passed away, normalcy all but vanished from the sleepy little coastal town; nobody knew how to react to the loss of one of them, a loss that extended farther and hit harder than anybody could have anticipated. Even months later, Michelle and Fanny are both still haunted by the ghost of his kindness, of his impact that has made their lives swerve, twirl, and finally intersect at the place they are now. Bunheads has been an excellent series at exploring the different types of reactions to unexpected tragedy, but what happens when it takes a look at moving on? How soon is too soon to start anew?
"Blank Up, It's Time" explored the flowers after the storm, as matters of the heart (and various bodily regions) were explored in an episode that embraced how tragically beautiful the show can be. With Fanny back from her vacation, you'd think there'd be a trail of piss and vinegar following her wherever she went, but you know what? I really enjoyed her tonight; possibly for the first time in the entire series, Fanny let down her guard and allowed herself to be vulnerable, to be happy. Thanks to her longtime long distance "boyfriend" (friend with benefits?) Michael, piano player extraordinaire, coming to town, she took a breath for the first time since Hubbell passed. And it was a delight to watch, from the all-but begging of Michelle to sleep with the director of the play they went to to her apparent love of all things baseball (and TV dinners!), Fanny became a person tonight and moved past the anger that she had been holding since the pilot. Although I think her tough, brassy side is a valuable tool in the character's arsenal, it had become a little too one note and didn't have as much of an impact; with her soft side peeking out, even accepting advice from Michelle (!), it made the hard moments pop more and the character a little more rounded.
Particularly, having the dance teacher going up against rebellious Sasha, who had been actively defying Fanny's rule book, made for a brief, explosive encounters that book-ended the episode. Sasha's obviously coming back (it's show season, darn it!) and all, but having the tension between people other than Michelle and Fanny brought out a different dynamic and allowed the young lady's awful home life to manifest itself into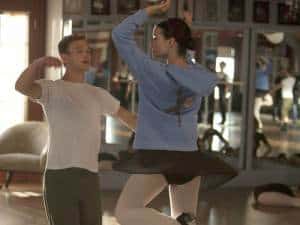 something real and tinged with sadness. Now that the newly blue-haired dancer is off trying to become a cheerleader, it's Boo that's gotten the lead in the upcoming production, centered on Rogers & Astaire. With the lead comes expectations and a new partner in Carl, a short, energetic weirdo who proved to be endlessly charming and one of the best peripheral characters the show has introduced. Bunheads can get a little sloppy with creating the residents of Paradise, often falling on archetypes and not developing them much further, but Carl is an example of what they can do if they fleshed these people out. On the surface, he's very much the Neurotic Jew character, but he had a little depth that was gradually uncovered, from a tender romantic side to an enthusiasm for dance like no other performer on the show. He plays up Boo's sincerity and innocence quite well, to the point where the third guy she takes a liking to might be the charm, but Ginny and Melanie are not having it.
I do like that they didn't rush off to tie Boo into the bonds of holy teenage coupledom and that they actually went There with a peer pressure-type of storyline. Boo may be gaining confidence, in both her dancing ability and herself, but she's still so desperate for approval that it'll be interesting to see if she goes after Carl regardless of what her friends think. Maybe the boost that'll come from (deservedly) getting time in the spotlight will give her the resolve to go against the crowd.
Michelle gained enough self-assurance to make a play for the director that she had a connection with, but in one of the most heartbreaking(ly funny) scenes of the night, her grief for Hubbell bubbled up at an inopportune time. It makes sense – Michelle hasn't really had the time or mental capacity to truly grieve. Between the financial problems of Fanny's that she had to fix, figuring out what the hell her life'll look like in the near future, and the full-load of dance classes she's teaching, tears haven't been in short supply and it was powerful to watch Michelle finally let it out. Sutton Foster is marvelous at the quick changes of tone that the show demands from her performance that scene was no different, forcing her to flip a switch once the guilt from her "betrayal" of Hubbell and the sadness she had dammed up inside spilled out in the form of a hysterical post-coital crying fit. I kind of wondered if her first time after Hubbell would turn into an emotional experience, but with her sparkling interaction with the director and their genuine connection pointing toward a possible future, I didn't think that it'd be here, now. Not after Michelle had such a personal victory by showcasing a little directing skill, not after she got onto Truly last week about the same exact issue. But if Bunheads is one thing, it's a show that highlights the unexpected and our reactions to it; Michelle's reaction, a mix of touching and hilarious, being Exhibit A.
The arrival of show season will be yet another positive for Bunheads heading into the final couple of episodes this summer. It'll allow the plot a central focus by which to operate and the type of movement that has been hard to come by, both of which should help expedite the grieving process at the dance academy. Ironically, Fanny's finally coming out of the darkness that had nearly consumed her following the death of her son while Michelle is just now facing the awful truth. The love that she had in her life was gone and unless she properly grieves for it, there might not be any room in her life for more.
Thoughts, Quotes, & Observations:
-"Only that you rowed your boat ashore, hallelujah."
-"The Killing Fields? That was me. I killed those fields."
-"You know, a cayenne peppery friend?"
-"I count eight asleep. And three dead."
-"Guess I've never heard her stats-rattle."
-"Who are you to say no to a kinky breakfast?"
-The "It's funnier when it's faster" line was a cute wink at the audience. I like.
-How dynamite was the dancing tonight? I loved the whole atmosphere of the studio through rehearsals (all the colors, the costumes, the renewed energy), but Jordan's routine with Sasha was just exquisite. And best of all, it was organically placed into the story, which made it even better.
-I loved Michelle's rant about breakfast and her mentally trying out each swear word in the play's title. Also, can we please see her commercial for the feminine product? Please.
-What were the girls doing at school on a weekend with all their books? I missed the context.
-Next week on Bunheads: Michelle butts heads with a local barista, Melanie tries to figure out why Ginny's acting differently, and Fanny has to find a replacement for Sasha in The Nutcracker.