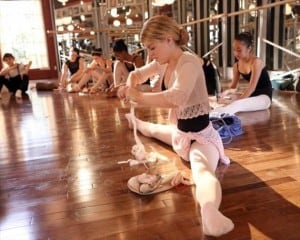 Sam and Sal arrive in the middle of a class to remind Michelle about the TAFTPOKIRIP (the town preservation society) meeting that had been scheduled regarding the construction of the amphitheater. It's merely to go over plans, permits, and concerns and since she knew that everything had been taken care of, Michelle doesn't really pay the idea any mind.
Not until Milly gets involved at least. Upset at Michelle for not immediately informing her about the meeting, Milly believes that nothing good ever comes from a meeting of a small town preservation society and decides to throw a pre-emptive strike and schedule her own meeting before the actual meeting. To prepare, Milly involves hackers (that dig around the computers of the board members), an accountant (who won't include pot dealers in his report of potential revenue from the theater), and a pantsuit for Michelle to wear and look more professional. Michelle, of course, hates anything and everything about being a grown-up and is noticeably uncomfortable in the more conservative clothing, even when they find a finely tailored black suit that makes her look lovely.
At the meeting, the board informs the two that everything seems to be in order, minus the environmental issues. The area had already lost a lot of trees and the theater plans stated that there'd be eight more casualties, something that Michelle hadn't considered would be a major sticking point. After being scolded over her lack of forethought for the squirrel population of Paradise and sweating through a jacket, Michelle had to leave the room to get some air. Milly eventually talks the board into approving the project, resulting in lots of champagne for Michelle and Talia.
An 8 Year Lay
Talia comes to town to tell Michelle that she's engaged to Rick, her older boyfriend from Vegas. Though at first uncertain about whether that was what she wanted, Talia seems to be happy with the direction her life is taking. Until, that is, an old fling came a-callin' with a job opportunity. The former parking lot attendant had become a producer for a New York-based touring production of Rock of Ages and, when a part came open, called her to ask if she would be interested. Talia hasn't really done anything with her career in the past five years and now that she might be planting roots, she gets an offer to leave town for a production that could eventually land her on Broadway. Talia ends the episode still uncertain of what to do with her career and whether to give back the ring in order to pursue a dream long thought dead.
Audition of a Lifetime
Ginny feels like she has nothing going on in her life and therefore, she wants to spice things up by auditioning for her school's production of Bells Are Ringing. The other girls laugh off the idea due to Ginny never following through on any of her big ideas; this time, though, things are different. Ginny gets Michelle to coach her one morning, where she performs "A Perfect Relationship" with a switchboard on stage as a prop. Her voice is about as cute as she is, but Ginny's performance isn't the best. There's no real performing to speak of – no singing out, no acting her emotions, no extra umph to make her really pop. Michelle becomes frustrated and hops on stage to join her, eventually finishing the number on her own while Ginny watched from the sidelines, in awe of what Michelle can do. The takeover was less about Ginny and more about Michelle proving to herself that she's still got it, that she's still a dancer and not ready to make the transition to life in a pantsuit.
For her part, Ginny does well at the audition (after being goaded by Frankie into actually going in to audition) and gains a heck of a lot of confidence in herself as a result. Asking out Frankie while on a high from the audition proved to be a much more difficult task.
Going Public
While they may have fought about their lack of communication last week, Sasha and Roman are still going strong. Perhaps a bit too strong for her, as he wants to go public with their relationship and officially become boyfriend and girlfriend. Sasha likes him and they text back and forth constantly, but the idea of actually committing to someone scares her. You could argue that it goes back to her abandonment issues (and prickly personality defense mechanism) that she got from her parents; however, all that dropped away once they started acting like a couple. He comes to pick her up and take them to school, he puts his arm around her in the hallway, he waits for her after class – simple gestures but meaningful ones nonetheless.
The formerly "girls only" lunch table proves to be the biggest stumbling block, as nobody knows what to say to one another and it's just painfully awkward. However, Carl and Dez join things and Ginny even attempts to get Frankie to come sit with them, though the bell rings before she could get anything out.
Additional thoughts and observations:
-"Jump, children. Jump!"
-"Eventually, I'm going to claim the moral high ground in this relationship."
-"So, is Wilt Chamberlain still alive?"
-"And I was expecting a thunderous applause."
-"I like Hamm."
-"I don't think I'm cut out for legal issues and pantsuits."
-Spoiler alert: Wilt Chamberlain died in 1999.
-Was that the first appearance from the bar owners this half-season?
-We didn't get to see Melanie's skating pictures. Perhaps during the finale?
-Cozette hung out with Annie Leibovitz on a yacht one summer. Because of course she did.
-Roman's not a fan of Rachel McAdams. I guess we couldn't get a good Mean Girls quote from him, then.
-I think that Ginny might be my favorite bunhead. I root for her to do well and I'm glad that she nailed her audition.
-Next week on Bunheads: A fire breaks out on the edge of town and the studio becomes an evacuation center, while the girls all deal with boy trouble.