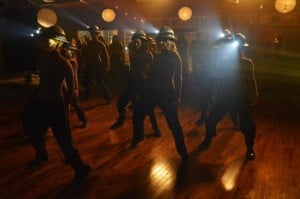 Bash interrupts a class at the studio to inform Michelle that a fire had broken out and the entire town was being evacuated into one of two centers. The studio happens to be the east evacuation center and with Fanny out of the country, Michelle assumes her role as center co-captain, complete with an ill-fitting co-captain cap cap. Bash is much more strict about the goings-on at the center than Michelle, stressing the importance of keeping all the single unmarried people separate and unwilling to give her much in the way of power for fear of her messing things up.
Even with the thought of splitting champagne with Michelle in the future, Bash cuts in when they check in people at the center and does anything he can to do contain her. Until, that is, he finds out that the west evacuation center has jugglers and a conga line and has to enlist the former showgirl to provide a little entertainment. After digging through boxes of costumes and props, she choreographs a routine for the girls to perform while wearing mining hats (from a former production), which turns out well and keeps everyone happy for the time being.
Marry Me
One major thing ruined by the fire was Talia's beach wedding with Rick, which Truly was scheduled to be maid of honor for. Talia longed to be married so as to finally be rid of performing and focus on living a life of bon bons, puppies, and no time at a gym; despite the recent Rock of Ages offer, dancing had never been her thing, not like it's Michelle's, and it was her time to give it up. Once the fire broke out, there was no access to the beach and Rick couldn't get into town due to a blockade, but Truly convinced Milly to use her influence to get the groom-to-be a helicopter ride into Paradise. Truly always wanted to be a maid of honor and no fire was going to dull her fire for achieving her goal, so her Beyonce/Pippa Middleton/Edward Scissorhands maid of honor gown was going to get worn. However, Talia, claid in a sparkly pink dress that read 40s glam, gets a call that Rick broke an ankle getting out of the helicopter, meaning that the ceremony would have to be cancelled.
Or would it?
Talia and Michelle have a revealing conversation where the latter suggests that marrying Rick might not be the greatest idea, that Talia had been trying to turn herself into something she's not in order to be with him. Talia confesses to being pregnant and goes ahead with the wedding to a (temporarily) wheelchair-bound Rick, though she and Michelle make up before the walk down the aisle.
Condom-gate
While admiring Truly's dress, Michelle finds a condom by the lockers and immediately thinks that one of the bunheads has been having sex. As a result, she separates the girls from their boyfriends, pulling the boys' cots a fair distance away; however, when she reveals the condom later on, none of the girls have any reaction, with Boo thinking that it looked like a mint. When the fire is announced to no longer be a threat, the volunteer firemen enter the studio, including Godot. Upon seeing him in the uniform for the first time, Michelle checks to make sure she had the condom and goes over to talk to him.
Love, Love, Love
Sasha arrives home to find her (thought to be locked) apartment door wide open. Panicking, she calls Boo and Ginny, neither of whom answer, and bangs on the door of Mrs. Weidemeyer, again to no answer. Roman ends up being the one to come and save the day, taking a very nervous (and oddly dangerous) Sasha into the apartment to look for burglars or a sign of forced entry. There may be a plethora of weapons (ammonia, two baseball bats, a crowbar) in the place, but the only threat is a gigantic spider in the bathroom. Boo's parents arrive to make sure the apartment is okay, while Sasha thanks Roman for his bravery with a kiss.

Ginny and Melanie both made progress with their crushes during the fire. The former spent much of her time drooling over/staring at (a surprisingly ripped) Frankie, who had volunteered to help Bash at the center. However, her cover is blown when she's caught sniffing his jacket by Cozette; the new girl relays a story about putting a baby antelope out of its misery and compares Ginny's approach to Frankie to that antelope. Deeming her too sad to look at, Cozette tells Frankie that Ginny wanted drawing lessons, which he agrees to and gives out his number in return. Ginny, of course, is thankful for the help.
Meanwhile, Melanie couldn't get rid of Dez if she tried. He keeps popping up during the evacuation and tries to initiate conversation with her, whether it be about camera flashes, his former dog Calvin, or Ansel Adams. When he presses her as to why the idea of dating him turns her off so much, she doesn't have an answer. The episode ends with the two sharing a look and Melanie seemingly altering her feelings for someone she never thought she'd see in that way.
Additional thoughts and observations:
-"Have they orgied in the past?"
-"Anyone undead here? Any flesh eaters? No?"
-"The gods need to give me more time to think."
-"Stand down, Hulk."
-The dueling Tommy Lee Jones' quickly wore out their welcome. The first time, it was cute to see Carl and Jeff bond, but they went to that well one too many times.
-Of course Sasha eats expensive organic fruit. Of course.
-I did, however, love the gag where her phone wouldn't call the police, second to only the hat gag with Michelle for my favorite of the episode.
-Odd that they didn't give a reason for Fanny to be out of the country. Maybe we'll find out next week.
-They actually made Milly act like a human being! Thrilled for her to become, even for a moment, something more than a walking 1% caricature.
-Also, Cozette kind of became a human being, too, even with the antelope moment.
-Did anyone else do a double take when Michelle actually used the phrase "bunheads"?
-I liked the dance number's lighting, even though I think it would have been more effective had it looked less clean/stage-y. Plus, we had never see them dance like that.
-Boo's on the pill (!) but not having sex with Carl. They have, however, penciled in their first time for a year and a half from now.
-The most poignant moment of the episode, and maybe the entire winter season, was Talia's "I don't want to be a young widow" and Michelle's reaction.
-Next week on Bunheads: Michelle auditions for a Broadway production, Fanny and Scotty return, and Sasha thinks the girls need to take their relationships with their boyfriends to the next level.