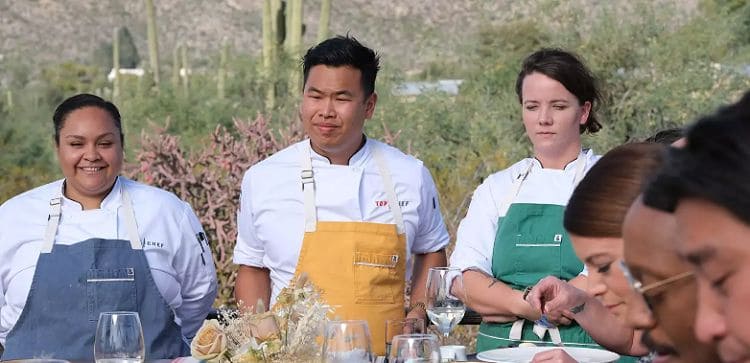 When Buddha Lo was growing up, he probably didn't imagine he'd one day be Top Chef. However, he's the newest top chef on television, and people want to know his story. He's someone who has been in the kitchen his entire life, and his resume is beyond impressive. Here's what we know.
1. He is a Chef
He is not just any chef, though. He's one of the most talented, most famous chefs in the world. He is more than a little talented, as you'll soon read. He is a man who is passionate about all things related to food, and he is always learning something new, trying different things, and working to improve his already stellar skills.
2. He Gets it From his Father
His father was a chef and a restauranteur. He gets it from him. His father owned a Chinese restaurant in Australia while Lo was growing up. He worked for his father from an early age, but not only for his own father. He also worked at a local five-star hotel during weekend days when he was not in school. He knew what he wanted to do with his life, and he knew how he needed to do it.
3. He's a Hard Worker
Since the age of 14, he's worked one or more jobs at a time. We mentioned he'd work for his father after school at the family restaurant, but also at a hotel on the weekends. Throughout his life, he always had a job in and around a lovely restaurant or hotel. This helped him learn his stellar work ethic, and also how to make things work in any hotel and restaurant. He knows the industry through and through.
4. He Attended Culinary School
Following his high school graduation, he immediately went to school. He enrolled in courses at the renowned William Angliss Institute, which is found in Melbourne. He continued to work while there, and he attended culinary school as well. He also earned a scholarship to work for two months at the Chateau Cordeillan-Bages in France, which is a HUGE deal for anyone in culinary school. This restaurant is a 2-Michelin star-rated restaurant, and that experience was second to none for the young chef.
5. He is Supremely Talented
Most chefs work their entire lives to become head chefs working at a high-end, top-notch restaurant, but Lo was only 19 when he earned that position – and it was not at any of his own father's restaurants. He was hired as a head chef by the renowned Raymond Capaldi, who is known as one of Australia's top chefs. It was quite an accomplishment.
6. He Has Worked Everywhere
If there is one thing you should know about this young man, it's that he has been a chef at so many of the world's best restaurants. He's worked for numerous Michelin-rated restaurants across the world, including New York City's own Eleven Madison Park. He's worked in cities such as Paris, Copenhagen, and London, and in countries such as America, Australia, and Sweden.
7. He is Top Chef
To be quite fair, anyone who watched season 19 of Top Chef knew he'd make it to the top. This is not to say that the men and women he competed against were not talented – they are exceptionally talented – but it was clear from the start that Lo was the winner. He knew this, too, and his motto was to just win. There was nothing else for him. He won, and the world is not surprised by this.
8. He is Planning a Trip
Now that he has pocked $250,000 in prize money after winning Top Chef, he's going on a trip. He has the money to plan the vacation of a lifetime right now, and that is what he plans to do. We are on board with this one.
9. He's Going to Live Comfortably
Additionally, he plans to use his money to just live a little more comfortably. He's not someone who was wealthy growing up or even as an adult, so he is just going to put the rest away and allow himself to feel a little more comfortable in his life.
10. He is Working on a Goal
He's not just satisfied to win this competition or to work at some of the world's most amazing restaurants. He wants to open his own. However, he wants to open a restaurant that one day earns him 3 Michelin stars. Most people will never earn one at their own restaurants. He's going to earn three – and we believe this is true.
Tell us what's wrong with this post? How could we improve it? :)
Let us improve this post!