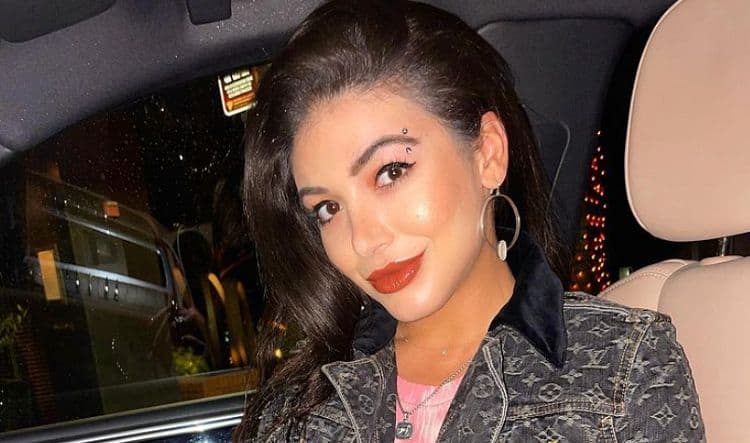 You know when you see someone for the first time, and you have an instant feeling of recognition? That is precisely how we felt when we saw Melina Nasab for the first time when she appeared on the 26th season of The Bachelor. She's working to win the heart of bachelor Clayton Echard, but there's something eerily familiar about her. It's not that we actually know her – we don't. But, in some of her photos, she bears a striking resemblance to the love child of Kylie Jenner and Catherine Zeta-Jones. Check out her Instagram profile and tell us we are mistaken…we'll wait. She might not be the actual love child of those two – that wouldn't even be possible – but she does bear a striking resemblance, and we are certainly saying that as a compliment. Now that we all know she's a brand-new reality star, let's find out what we can about her.
1. She's Young
She is 27. She's young, but she's not so young she doesn't know what she wants or hasn't lived how she wants to live. She's a woman who falls into the middle of the age range on this season. Some of the women are in their 30s, and many are 26 or younger. She's in the middle, and that may prove to be an advantage for her.
2. She's From California
She's a California girl living and working in West Hollywood. We don't know if she is from that area or if she just moved there, but it's where she is. That's good news for her, though, because she has a lot of clients and she has a lot going on in that area – including not being far from home while filming.
3. She's a Personal Trainer
Fitness is important to her, but not so much as mental and physical compatibility. She recognizes the need for both, and that is actually how she found her way into this line of work. Her desire to be both physically and mentally strong drew her to this.
4. She Founded a Company
She may be 27, but she's working hard. She's founded her own company already, and it's an interesting one. She has a line of shoes called KANGABOOTS, which are shoes that are designed to absorb shock while working out. As a trainer, she recognizes the importance of things like that.
5. She's an Equestrian
If there is one thing she is passionate about outside of her work and her career, it is her horse. She's an avid horseback rider with a horse of her own. Her horse goes by the name King, but that's just his nickname. His full name is King's Fairytale, and he is a beautiful Dutch Warmblood. He hails from Germany, but he currently lives in Southern California with Nasab.
6. She's Always Been Athletic
For most of her life, she's been an athlete. She's a runner and a horseback rider, and she was always involved in both sports growing up. We don't know if she still runs – she was part of her school's track and field teams – but we do know she rides regularly.
7. She Wasn't Always into Working Out
Surprise! She's a personal trainer who didn't always realize the importance of working out and maintaining good health. She's always been active, but she knew she needed to do something else to make sure she could focus her mind and her mental wellbeing with that of her body. She began formulating a workout plan that would work for her to combine all of that, and here she is.
8. She Knows What Makes Her Happy
Herself. Loving herself is what makes Nasab happy and healthy. She knows that there is nothing you can find in the material world and in all the money in the world that will make a person happy if they are not happy with themselves. Self-love is not a joke.
9. She's Looking for Someone Unapologetic
Her ideal husband is someone who is athletic and clearly a good person, but she wants someone who is also unapologetic. We like that. However, what gets us the most is that she wants to find a man who is punctual. Nothing speaks to us quite like someone who respects the time of others.
10. She's Reached Influencer Status
In case you wonder what that means, just know that she already has more than 30k followers on the 'gram. We don't know how many she had prior to becoming part of the Bachelor, but we have a feeling she had a large number prior to that. She's doing well, though, and she's making sure she keeps her feed beautiful.
Tell us what's wrong with this post? How could we improve it? :)
Let us improve this post!