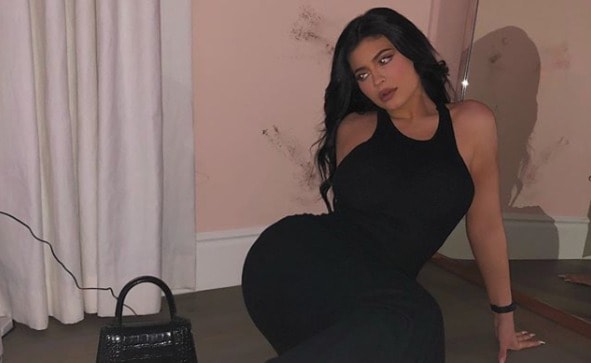 Billionaire makeup mogul Kylie Jenner has nothing but a bright future ahead of her. She's not exactly self-made, but she's definitely turned her opportunities into something no one really expected out of the once timid reality television kid. Kylie has now grown up to be her own woman, set apart from the rest of the Kardashian clan–but also representative of her roots at the same time. As young as she may be, she's already an accomplished businesswoman, a TV personality, and also a new mother. If a movie were ever to be made about her today, here are five actresses who should play the part.
1. Ariel Winter
She's definitely got the looks and the physique to play Kylie Jenner, but Ariel Winter is her own person. We've seen Winter grow up on television on the hit show Modern Family, and she's grown up be an incredible young woman. Apart from playing one of the Dunphy kids in Modern Family, Winter is also known for lending her voice to a few popular animated characters. That list includes Disney's Sophia the First, Roxie Squirrel from Minnie's Bow-Toons, Marina the Mermaid from Jake and the Never Land Pirates, Gretchen from Phineas and Ferb, and a few others. She's also been featured as a guest star in many television series favorites including Law & Order: SVU, ER, Ghost Whisperer, Bones, All of Us, and many others. Winter's talents have always been evident even when she was just a young girl. But the fact that Winter has been acting since she was only 7 years old is a testament to her talent and dedication. Ariel Winter is now in her early 20s, and she'd be a shoe-in to play Kylie Jenner in a movie.
2. Hailee Steinfeld
Arguably one of the most talented actresses of her generation, Hailee Steinfeld has done it all when it comes to film. The 22-year old actress can pull off drama, action, comedy, and even musicals like no other. Her acting skills have been undeniable since she showed them off in the film True Grit (2010), when she was just a teenager. She has evolved even more since then, and she continues to surprise people everywhere with every film she makes. Hailee Steinfeld also has the ability to be able to carry a film on her own, as she's headlined many films including Bumblebee (2018), The Edge of Seventeen (2016), and a few others. She also clearly shines bright even in the presence of the other big Hollywood names she's worked with. If Hailee Steinfeld were ever to play Kylie Jenner in a movie, she would add quality and aura to a role that might not be appealing to the masses. It would be an interesting and challenging role for Hailee to take on for sure.
Rowan Blanchard is most known for playing the role of Riley Matthews from the Disney Channel series Girl Meets World. That show was heavily anticipated by many because of its history, but it unfortunately didn't last as long as its predecessor did. However, it became clear from the beginning of the show that the main star had something about her that was hard to deny. She's got charisma on screen. She's got chops, and she's certainly got skills. While she may not look so much like the part, we believe that Rowan Blanchard would be perfect to play a younger Kylie–before all the surgical work the youngest Jenner did to herself to change into the way she looks now. Blanchard has the same innocent vibe that Kylie had back when she was much younger, and we believe that Rowan can channel all of that into the role. Blanchard's done a few projects since her show, but she could use a big film project like a Kylie Jenner biopic to boost her career in the industry.
4. Kaitlyn Dever
American actress Kaitlyn Dever is just getting a break from the success of her recent film Booksmart (2019). While that movie proved just how talented Dever truly is, it wasn't the first time this young actress shone on screen. Dever actually started acting just 10 years ago. In 2009, she had guest roles in Make It or Break It and Modern Family. Since then, she's managed to stay busy with small roles in films until she got her role in a major film, J. Edgar (2011), where she played the role of Palmer's daughter. Since that movie, she's had roles in several other movies including The Spectacular Now (2013). While she currently doesn't have any films in production, we believe that Dever's future is going to be busy pretty soon. We also believe that she'll be perfect to play Kylie Jenner at all point of her life. Dever has the capability of portraying Kylie as she comes of age, starting from when she was just a shadow on Keeping Up with the Kardashians. We believe she can pull it all off.
5. Selena Gomez
There might be a bit of a controversy if Gomez was ever hired to play one of the Kardashians, but that's what the industry is all about. Selena Gomez is not just your average triple threat. Yes, she can sing, act, and dance. But she's actually great in every single one of those categories. When it comes to acting, Selena can pretty much do any genre. It also helps that she could probably pass as one of the Kardashians with no problem. While Kylie's looks are remarkably distinct, Hollywood makeup magic can turn Selena Gomez into the makeup mogul easily. Since Selena Gomez is older than Kylie Jenner is now, she can actually portray maturity and depth into the role. We also know that Selena Gomez is as professional as they come, so any feuding between her crew and some of the Kardashian crew might just have to wait until this Kylie Jenner film happens.