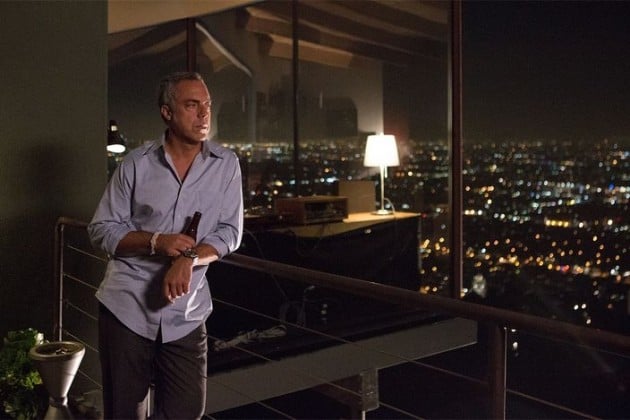 At a distance, Bosch is a show instantly familiar to anyone who has watched a crime procedural starring an angsty, middle-aged white male. The story beats are familiar, the cinematography feels lived-in and conventional, and the main character exudes the same traits we expect from our cop protagonists; and yet, in spite of that, I couldn't take my eyes off Bosch's first hour, a pilot with an exquisite ear for dialogue, and just enough narrative thrust to keep the world around its protagonist moving and interesting. And that's not even mentioning the real highlight of "Pilot": star Titus Welliver, who gives amazing texture to Harry Bosch, the decades-long star of Michael Connelly's crime novels.
Co-written by Connelly and frequent David Simon collaborator Eric Overmeyer, "Pilot" introduces us to the cigarette-smoking, workaholic Harry Bosch on a rainy night in LA chasing a suspected serial killer. Quickly skipping two years later after the introduction, "Pilot" establishes the season's two overarching stories: the lawsuit that stemmed from said serial killer chase and the bones of children he finds in the woods behind an old doctor's (The Walking Dead's Scott Wilson) home.
On every level, these story beats arrive conventionally; but there's something to be said for how quietly Bosch goes about its proceedings, absent of the incessant exposition that drives every single crime procedural currently on television (which these days simply amount to pretty white people explaining an entire story while standing around looking good, until they chase someone in the last two minutes). That quiet allows director Jim McKay's camera to focus on Welliver's performance, which deeply embraces the noir roots of Bosch's literary character, puffing cigarettes and taking pot shots at Internal Affairs when they show up to testify at his civil trial. He's an investigator, a man with a military background (seen in photos in his apartment) and a man of measured emotion; again, very typical beats for a "gritty" crime show to hit.
Yet, Bosch actually feels gritty, riding Welliver's smooth baritone and lots of saturated cinematography to build out a serial murder case that is genuinely engaging – especially when it begins to intertwine the current cold case he uncovers with his own past, something that could easily feel manipulative. Again, Bosch's ability to deliver its strongest emotions subtly, either through the fantastic dialogue (which makes interactions so effortless), or relying on performance, be it Jamie Hector's buttoned-down J. Edgar, Bosch's partner, or Amy Aquino as Bosch's boss, Lt. Grace Billets.
Will Bosch's central mysteries be able to maintain momentum for ten episodes? That remains to be seen; however, the one reassuring thing about Bosch's pilot is how well it establishes rapport between characters, which gives the show a lot of dramatic opportunities outside its central conceits, which feature the typical "cop who works on the edge" material we've seen many times before. Again, it's how Bosch delivers a familiar package that makes it worth watching; it's a cop show that feels like a cop show, soaked in whiskey and tobacco and unshaven, shadowed faces, with a terrific lead and fantastic supporting cast (which also includes Annie Wersching, Abraham Benrubi, Mimi Rogers, and Lance Reddick).
I'm intrigued to see where Bosch goes; there aren't a lot of crime procedural not existing on a CBS production lot in 2015, so there's certainly room for a show like Bosch, even in this extremely overcrowded television landscape. For all the things Bosch does that other shows have done before, it does with a refreshing dedication to the classic tenants of great crime television from the 70's to the 90's, from performance to direction and pacing. That mastery of form is really what makes Bosch the first promising hour-long series so far from Amazon, despite being arguably the least innovative of them all, to this point.
[Photo via Amazon]
Tell us what's wrong with this post? How could we improve it? :)
Let us improve this post!