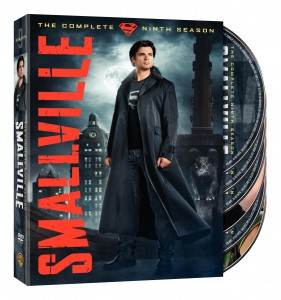 Here it is: the penultimate season of Smallville, the show which reimagines the origins of DC Comics' flagship Superman character. It's been announced already that season ten will be Smallville's last, making anticipation for season nine's DVDs even higher so fans can rewatch these episodes as we lead up to the inevitable moment where Clark Kent becomes the Superman we know and love. On September 7, you can own Season 9 on both DVD and Blu-Ray, but we have a sneak peek at the box set for you now!
The Show
I'll be the first to say that I haven't been a devoted Smallville watcher, but I've caught an episode or two over the years. This was the first season where I can say I've seen a handful of episodes in it, helped by the guest appearance from Terminator: The Sarah Connor Chronicles' Brian Austin Green as John Corben/Metallo, and the arrival of the Justice Society in the two-hour "Absolute Justice." I'm also particularly fond of Justin Hartley, who plays one of my favorite DC Comics characters, Green Arrow. (My two other favorites have been the same since I was a kid: Green Lantern and the Human Target, the latter of whom already has his own show.) I don't quite understand the rabid fanbase for this show, but I was certainly interested to see the DVDs turn up on my doorstep.
I've been told repeatedly and by several people that Smallville is one of those shows you had to have been watching from the beginning to understand. I've never quite found that to be the case. There's a lot that does go over my head as a casual viewer, but I can still enjoy and appreciate the adventures in each individual episode. There are ups and downs in this season, which isn't appointment TV to me but is a fun diversion. I particularly enjoyed "Absolute Justice," though I find myself still shaking my head at a certain plot twist in "Hostage" (fans of the show can no doubt guess which one).
The show also has the unique quality of having cast who also contribute heavily behind the scenes, probably more than I've seen with any other show. Tom Welling is a co-executive producer who's directed episodes; this season Allison Mack directs ("Warrior") and Justin Hartley co-writes an episode ("Sacrifice"). I always love shows where actors are more than just actors, and fans will no doubt enjoy the cast's multiple talents.
Thankfully, the cast has thinned out from earlier seasons, so there's not too many people around anymore (and a lot of shows could take a hint from that). Tom Welling still makes a capable Superman, though if you're looking for a show that follows comics canon, you'll be frustrated because like Dexter is to the Jeff Lindsay novels, Smallville is its own entity. Liking the supporting cast is a matter of personal preference, though everyone should find someone to like amongst them. This has been one of CW's flagship shows for years, and is exactly the type of show that phrase evokes.
The DVDs
I do love the box art on these DVDs, inside and out. They're lovely to look at. Each season has its own distinctive art, but retains the same general style on the outside so collectors of the show can enjoy putting them all on the shelf without a bunch of totally different-looking boxes. The discs have equally gorgeous cast pictures to look at.
The DVDs come with a handy booklet that's pretty much the same as all Warner Home Video releases, which is to say useful and uncluttered. It will tell you which are the two "key episodes" with commentary, and it does list the chapters for each episode underneath each synopsis.
Smallville can be a dark show at times, but I had no problem viewing it on both TV and laptop. Audio comes through clean and clear, which is great when you may find yourself singing along with the show's distinctive theme song, which plays on each disc's main menu. Speaking of the menus, they're easy to navigate, complete with chapter selection that has pictures in case you need your memory jogged at all.
The Special Features
I've never understood why Smallville DVDs don't seem to have more special features. The amount seems to vacillate from season to season, and this one is one of the more thin seasons. Aside from the aforementioned commentaries on "Kandor" (with Callum Blue and two of the writers) and "Idol" (with Erica Durance and two executive producers), there are just deleted scenes and two featurettes, one that focuses on the character of Zod and the other devoted to the making of the two-part "Absolute Justice." As that's probably the most touted and one of the better episodes on this set, it's a welcome addition.
Still, I could see the potential for additional features here. I know I'm biased as a Green Arrow fan and a screenwriter, but it would've been cool to have Justin Hartley on a commentary for "Sacrifice," talking about his first turn contributing to the show as a writer. It's also interesting to me that the two commentaries are on the episodes they're on, as most DVD sets put their commentaries on season premieres or finales, not generally two episodes in the middle. Yet I'm just happy that they're there, as I do love a good commentary track!
The Bottom Line
Fans of Smallville will no doubt pick this set up anyway to continue their collection of the series, so I won't waste my time trying to persuade you if you're in that category. If you haven't seen the show before and are interested in it, you might want to check out one of the earlier seasons first, if only because with eight other seasons before, you're walking into a show with a lot of history, and half of the current regulars have arrived within the last few years. (CW trivia: Supernatural's Jensen Ackles appeared on Smallville for 22 episodes, meaning he's been on two of the network's tentpole series.) This is a good release for established fans of the show, but possibly not for people just now wondering what all the fuss is about. You can own it on DVD on September 7, or pre-order by clicking the box art above.
Tell us what's wrong with this post? How could we improve it? :)
Let us improve this post!