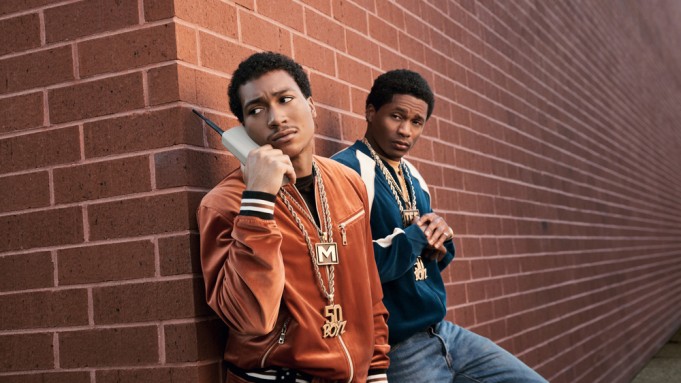 Mafia stories have always been popular in the American entertainment industry, and now there's a new one in town. This time, however, the focus isn't on the Italian or Irish mafias. The new Starz series BMF (Black Mafia Family) centers around the lives of a Black Detroit-based family who got involved with selling drugs and laundering money. Eventually, they became known all over the country. Still in its first season, it's already clear that BMF has all of the ingredients it needs to be a long-lasting hit. If you haven't seen the show yet, it's something that you'll definitely want to consider watching. Keep reading to learn 10 things you didn't know about the TV series BMF.
1. The Series Is Inspired By True Events
If some of the names in BMF sound familiar to you, that's because the characters are based on real people. BMF was inspired by the lives of Demetrius "Big Meech" Flannery and his brother Terry "Southwest T" Flenory. The brothers started their organization in the late 1980s and were running a massive drug operation by the 2000s.
2. 50 Was Originally Supposed To Play The Pastor
50 Cent was instrumental in coming up with the idea for BMF and he is one of the show's executive producers. However, he was almost a cast member, too. Initially, writers wanted 50 Cent to portray the Flenory's pastor, but 50 felt like Snoop Dogg would be a better fit for the role.
3. You Can Follow The Show On Social Media
Anyone who likes to keep up with their favorite shows in between episodes will be happy to know that BMF has official social media profiles. Fans can follow the show on Facebook, Instagram, and Twitter. Not only do the profiles provide updates on the series, but you can also see additional clips and behind-the-scenes footage.
4. The Show Has Already Been Renewed For A Second Season
BMF is only a few episodes into its first season, but fans can already breathe a sigh of relief knowing that it'll be back for a second season. However, since the show is based on real people and events, it'll be interesting to see how long they're able to make the story last.
5. Members Of The Flenory Family Were Interviewed
When you're making a show about real people, it's important to get as many facts as possible. That's exactly what executive producer Randy Huggins set out to do when he was putting the story together for BMF. He got the chance to talk to both of the Flenory brothers as well as other members of their family. When talking about his interviews with the Flenory brothers, Huggins told The Detroit Free Press, "What's really interesting is that neither one of them ever talks down about the other to me. That's how you know they're brothers. … Neither one of them ever gives me any negative material about the other."
6. The Series Was Filmed In Atlanta
BMF is mostly set in the city of Detroit where the Flanery family is from, but the show was actually filmed in Atlanta. That said, there are some parts of the series that were filmed on location in Detroit. Sometimes the best way to capture the essence of a place is to really be there.
7. Eminen Will Make An Appearance
Snoop Dogg isn't the only rapper who earned a spot as a cast member in BMF. Rap legend and Detroit native Eminem will be making an appearance in episode 7. The role will mark Eminem's first acting gig in almost 20 years since he starred in the movie 8 Mile. 50 Cent told Newsweek, "It was not that difficult to get Em, because we have a great relationship and if he ever finds a point where he could do something to help or support me, or catapult me to the next level, he's the first guy in line to do it".
8. Big Meech Is Portrayed By His Son
Not only did Randy Huggins get the chance to talk to members of the Flanery family, but the show has another interesting connection to the infamous family. Big Meech's son, Demetrius Flenory Jr., is playing the role of his father and he's thankful to be a part of the story.
9. 50 Cent Helped Demetrius Flenory Jr. Prepare For His Role
Since playing his father was Demetrius Jr.'s first acting role, he felt a little overwhelmed. However, 50 Cent came through to make sure he could feel confident in his performance. Demetrius Jr. told The Detroit Free Press, "50 Cent was the one that put me in acting classes. … He made sure I was ready. He always believed in me."
10. Many Viewers Can Relate To The Show
There are some people who won't even give BMF a chance because they don't want to watch another show about drugs and violence. While those things are definitely present in the series, BMF is about more than that. At its heart, it's a story about family, loyalty, and pursuing dreams.