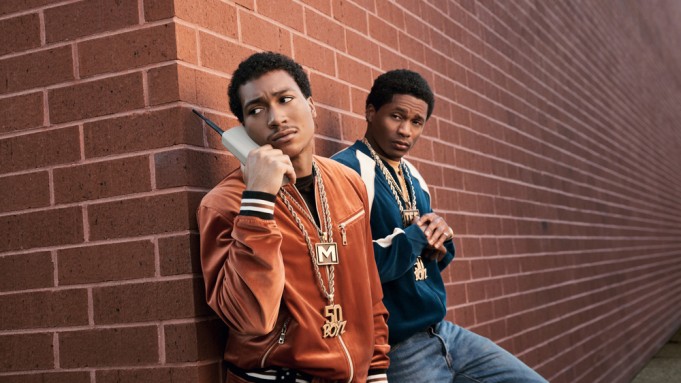 After much anticipation, the first episode of BMF premiered Sunday night. The show follows the infamous Flenory Brothers – Demetrius and Terry who built a drug empire that was worth well over $270 million at its peak. If you ever wondered how these brothers from the Southside of Detriot got in such a position you finally get the back story in this series.
The Flenory Boys Came From A Good Family
In just the first episode we learn a lot about Demetrius "Big Meech" and Terry, (Southwest Terry) and their family life. Although Demetrius and Terry grew up in the crazy Detroit streets and lived in extreme poverty most of their life, they came from a loving family two-parent household which beats the stigma that black men in their position only come from single-parent homes. For the most part, Meech and Terry had a good upbringing. Although Demetrius dropped out of school early, their parents were big on education and supported all of their children as long as they were in school.
Terry Was Their Father's Favorite
Every family has its favorites. In the Flenory family, Terry is the golden child at least that's the way that their father sees things. Tension is thick during the family dinner. It's obvious that Meech and his father Charles don't get along because when his mom tells him to bless the food, Charles has Terry say the prayer instead. Meech offers to help pay for his sister's school trip but Charles tells him that they don't need his money. Terry's schoolboy looks and his good grades as his parents fooled. They have no idea that he is Meech's partner in crime.
The Flenory Brothers Have A Tight Bond
Meech and Terry have a tight bond which is to be expected of brothers. When Charles finds Terry's gun in the room they share he immediately assumes that it's Meech's gun and he kicks him out of the house. Meech doesn't hesitate to take the blame. Meech and Terry both rely on each other in different ways when it comes to their operation. Meech is ambitious and he is determined to get their family up out of poverty. He is the brains of the operation and comes up with great ideas like running their drug business like a corporation. However, Terry helps him bring his visions to fruition. Meech is level-headed he knows when to negotiate and keep the peace whereas Terry is more hot-headed. This is evident when they met up with the 12th Street Boys as a rival crew. The 12th Street Boys wanted their territory and Meech ended up calling a truce and giving it to them. Terry had smuggled a gun into the Stadium and whipped it out on the rival crew. But Meech made him calm down and instead gave in to their threats. On the streets, this could be perceived as a sign of weakness but Meech knew that they couldn't afford a war especially since they didn't have enough people.
They Are Both Fathers
Both Meech and Terry are young fathers. Meech shares a daughter with Monica. Terry and his girlfriend Lawanda welcome their baby son into the world towards the end of the first episode.
They Listen To Their OGs
Fortunately, Terry and Meech aren't your typical hard-headed boys who can't take advice. Pat is Meech's former boss and the man that inspired his line of work. Meech seeks advice from Pat on almost everything. He even lets him know that he's interested in buying more drugs to flip. However, Pat feels like the boys are moving way too fast and he stifles them for their own good.
The Flenory Brothers Are Determined To Be Successful
Becoming successful and getting to the rids is not an option for Meech and Terry. Meech is tired of watching his family succumb to poverty within a system that has always worked against African Americans. Although Meech's parents despise what he has become he's determined to put his family on the map and running Detriot. Meech finds a way to increase the price of his drugs and has Kato a Southern girl push their product on the street. Meech's ideas prove to be fruitful and he shows up to Pat's party at the nightclub looking fly in mink coats and driving a Benz. It's safe to say that business has been going well for the Flenory brothers.
Terry Gets Shot
The show ends with Terry getting shot right in the face right outside of Lawanda's house. It's going to be interested to see how Meech and Terry evolve throughout the season. What were your favorite moments from the show?
Tell us what's wrong with this post? How could we improve it? :)
Let us improve this post!