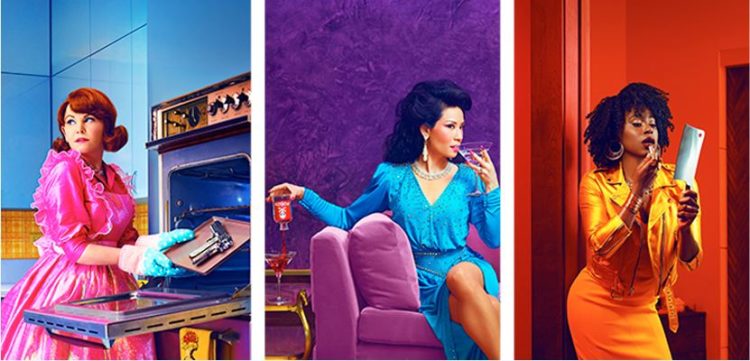 Some series will have you binge-watching not caring whether the next day you have to be at work by 8 am. We watched Desperate housewives and loved it, and now the producers have gone ahead to create one addictive drama, "Why Women Kill." If you check out the article on Vulture, you'll be sure to never miss an episode now that it already premiered on August 15th on CBS All Access.
Women will do anything to make their marriage work
The trailer starts with Ginnifer Goodwin (Beth Ann Stanton) having dinner with her husband, played by Sam Jaeger (Robert Stanton), who appreciates how good she cooks the meatloaf. However, when he asks her about what she is thinking, she responds that she is thinking about how he will die. From what follows, Ginnifer has already discovered that her husband is cheating on her, and she is trying desperately to hold on to him. Even when he calls to tell her not to wait up because he will not make it home in time for dinner, Ginnifer does not give up. Instead, she tries to doll herself up, which her husband does not notice. Ginnifer goes farther to confide in someone that she will work harder at being a good wife, perhaps thinking that she is not doing something right. Thinking it might be their bedroom life that has gone stale, Ginnifer decides to show up naked for dinner. Unfortunately, the husband only gasps, in shock and not appreciatively.
Women cannot change a man no matter how much love they dish out
Sex has always been thought to be the way to a man's heart, but there is more to what men want. Lucy Liu (Simone Grove) is living a lavish life with her husband played by James Davenport (Karl Grove) as seen from the house they live in and the parties they keep attending. One can easily mistake they have a perfect life as even one of their friends comments during one party, but there is more to the marriage than meets the eye as Lucy soon discovers. Lucy receives flowers in their house with pictures of her husband with another man, and she cannot believe that she married a gay man. The husband does not seem to mind that Lucy feels shortchanged for spending her life with a man who would rather be with a man. At this point, she feels used, and she cannot help but wonder how many more men are there in her husband's life. Living in a society that seems to thrive on appearances, the husband can only threaten to come out as gay if Lucy Liu decides to kick him to the curb.
Women can manipulate men to accept them as they are
Most of the times, people assume that women are the victims of manipulative relationships, but sometimes they are the bad guys, and the man will do anything to make them happy. Kirby Howell-Baptiste (Taylor Harding) plays Reid Scott's wife, and he cannot even decide what to have for dinner. When he suggests pizza, Kirby makes him remember of her mother's body, which assumingly was not an hourglass figure. The next thing Reid Scott (Eli Cohen) wants for dinner is a salad. This couple also has an open relationship, and the ground rules are that they should never bring their hookups to the house. Still, Kirby has invited her friend played by Alexandra Daddario (Jade) to spend the weekend which Reid thinks is an insult to him and their agreement. He still agrees to have her over for two nights, compromising to keep his wife happy. Kirby, however, notices how smitten her husband is when she introduces him to her beautiful friend. Reid is so taken in by her Alexandra's beauty that he ends up tripping over the laundry basket as he goes to help with the new guest's suitcases. He even sleeps with her, something that Kirby will not take kindly.
Women are vengeful
They say hell knows no fury like that of a woman scorned and in "Why Women Killer" trailer, you need not any more proof. Now that Lucy Liu knows her husband does not find her attractive and would rather sleep with a man, she decides to engage in a new "exercise routine." Her husband does not fail to notice that his wife has changed. When she admits to engaging in exercise, she means that she has also found herself a younger lover to keep her sexually satisfied. Ginnifer, on the other hand, decides to take matters into her own hands. After discovering that her husband no longer finds her attractive and is seeing someone else, she gets close to the other woman played by Sadie Calvano (April) who is a waitress. Of course, at this point, Ginnifer is wondering what her husband sees in a waitress. So she approaches Sadie to find out more about the man in her life, knowing too well it is her husband. Over drinks, the two seem to hit it off as Ginnifer vows that she can keep a secret hoping that Sadie spills it all.
Women always seek an exit strategy
No woman likes to be labeled as being the foolish one in a relationship; doing everything for her man and the man never seeming to appreciate. Therefore when she grows tired, she will decide how to exit the marriage. If a man will not grant her a divorce, death has always been an option for many. As the trailer begins with Ginnifer holding a knife wondering when her husband will die, she knows that she cannot have him back and that she wants him dead. She seems to have thought it out carefully. Sama could be hit by a bus, have a stroke, or be stabbed in the chest. As the trailer ends, Sam says he is not dying any time soon, but Ginnifer calmly responds he does not know that. The trailer ends with the two in the shower. Sam falls out of the shower, breaking the glass and landing on the floor.
Since there is a body, we cannot be sure which wife has grown tired of her husband's infidelity and done away with him for good. What we know, for a fact is that even Lucy Liu's husband knows that it is only a matter of time before she kills him. According to him, his wife dreams of suffocating him to death with a pillow or casting him aside like an old shoe. However, since Lucy admits that she never throws away old shoes, the only option has to be killing him.
Tell us what's wrong with this post? How could we improve it? :)
Let us improve this post!