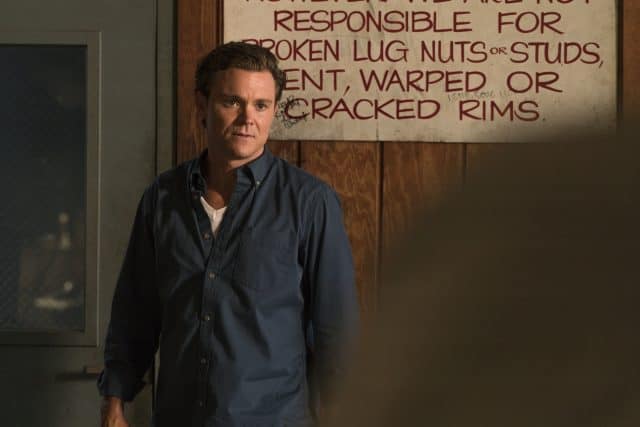 Well, it finally came. As much as I wanted it to continue forever, Rectify finally aired its series finale. "All I'm Sayin" turned out to be a perfect, beautiful, fitting end to a masterful, under-the-radar series. Every character was not vindicated or given the perfect ending, but was simply set on trajectory to reach what we all wished and hoped for each of them. Each scene was moving, and each story reached a fitting point, making for a beautiful, soft ending.
This week on Rectify: The DA gets approval and re-opens the investigation into Hanna Dean's murder. Daniel continues to make progress at the halfway house and at work, and speaks to his family to distract himself from Chloe's departure. Ted and Teddy facilitate a clearance sale when they close out the tire store. Janet reconciles with Hanna Dean's mother.
Even though I didn't necessarily find the answers I sought about who killed Hanna, I'm more than OK with the results of the series. I was afraid that there wouldn't be enough resolution on that front, based on what the creative team had said in interviews. Even without the identification of a new killer and vacation of Daniel's conviction, the strong implication is that Daniel is innocent and that Chris Nelms is the true culprit. The series ending on a note filled with hope feels more important to the show's legacy than finding out what happened or whodunnit, though the pieces have largely fallen into place on that front. This story was the one I looked forward to most, and I was certainly not disappointed.
In true Rectify fashion, it was the character moments that ruled the super-sized episode. The reconciliation of Janet and Mrs. Dean was a powerful, beautiful moment. Teddy and Tawney both brought me to tears separately as they spoke to Daniel on the phone. Daniel's silence was the most powerful it had ever been. The large family moments brought tears of joy, especially when they included Tawney and/or Melvin. Amantha and Jon Stern had one last moment alone to "rectify" things before Jon left to visit Daniel.
Each character got a little bit of a moment, and Rectify made the most of each one. Even when Teddy asked Sheriff Daggett if he thought Daniel killed Hanna was a monstrously powerful moment. Michael O'Neill appeared on-screen one last time as Roland Foulkes, said nothing, and still gave a powerful performance. Even Kerwin was able to return for a brief moment as they flashed back to prison one last time.
Rectify was never about the murder mystery. This was a beautiful drama that explored every aspect of the human condition. Every performance was powerful and excellent, and it has had a profound impact on my life in the short time it's been a part. I will never, EVER stop recommending that people watch this show, and I'm proud to have had the privilege to watch and review the show for as long as I have.
I appreciate that we now have Abigail Spencer and Clayne Crawford on our TV's more frequently, and I will begin my campaign for both of them and Aden Young to win Emmys immediately.
Thank you for taking this journey with me! That's "All I'm Sayin".
What did you guys think? Did you enjoy the episode? Was it a fitting finale? Let us know!
Tell us what's wrong with this post? How could we improve it? :)
Let us improve this post!