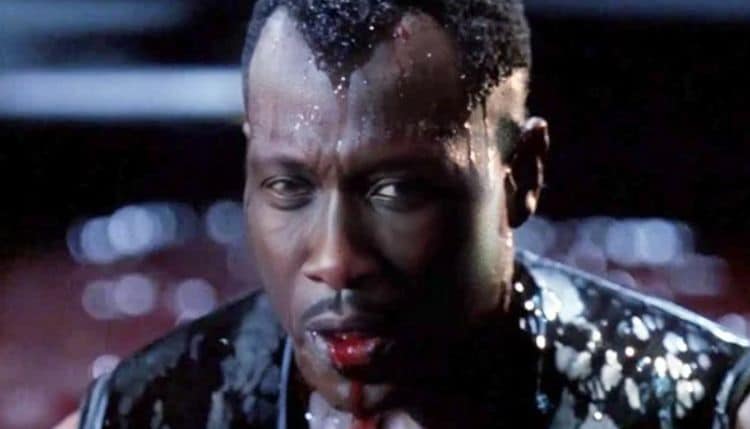 Deepfake decided to give everyone a bit of a preview as to what we might expect when Mahershala Ali takes the role of Blade in 2022, which is the rumored release date at this time. Obviously, he's going to present a different character than Snipes since this time around things are going to be fashioned in a way that will play to Ali's strengths and not those of Wesley Snipes, but a lot of people are already excited to see what will come of this decision. The hope of course is that the MCU will treat the character in an appropriate manner and not depower Blade the same way that has been done to so many other heroes, but it would also be nice to see Blade kept at the same level where Snipes' character left off since the guy was pretty tough and didn't have much in the way of any serious weaknesses other than needing to feed every so often to keep himself on the level. But there were some aspects of this that were never fully explored, so maybe the MCU will go a little more into the story in a manner that fans will appreciate, just to flesh Blade out as a character a little more.
It's also hopeful that we'll see more crossovers in the MCU in the years to come since there are a few street-level heroes that should possibly be able to meet up now that Morbius, Moon Knight, the Punisher, Spider-Man, and a few others have been established as either coming to Sony, the MCU or have at least been established. Blade is definitely an antihero and might run afoul of a few different heroes in his time if it's allowed, but it's also fun to think that he might team up with a few of them along the way due to the fact that they share a need to see said enemies taken down. Blade has almost always been exclusively rooted in the supernatural though, meaning that allying with heroes such as Spider-Man and a few others hasn't always been seen as viable. But with the way the MCU is going at this point, it's fair to say that anything could happen and that Mahershala Ali might be sharing the screen with some very notable names. Still, it does feel as though it might be necessary to see how he does in his own movie, or perhaps as an extra in other movies, before really seeing how the whole crossover idea would work. Plus, it's always up for grabs as to who might be in the next crossover.
There are likely still a few people out there that don't believe that Mahershala can do what Wesley Snipes did, but it's safer to say that we'll wait and see and then make any judgments since one thing Ali has proven is that he's a great actor, but we'll see if he's great at action as well, since people grew used to Snipes as Blade over three movies. Even the TV show didn't do much in the way of impressing people when compared to the movies, which started getting kind of bad by the second. The effects started to fall flat, and the acting was subpar to the point of being bad enough to ruin the entire plot since apart from the action it wasn't really that great. Even Ryan Reynolds and Triple H couldn't keep the third movie from tanking, and they had one of the most entertaining fight scenes since Blade vs. Drake really wasn't that big of a deal. But in terms of the overall action, Snipes was usually able to deliver, so in that regard, Ali has a lot to live up to since trying to replicate the same type of action that Blade has become known for is going to be difficult no doubt. But as I mentioned, it's better to wait and see what comes than make the attempt to create snap judgments that could be easily debunked as soon as the movie comes out. This compilation is definitely impressive, but one has to wonder what the action is going to be like when Ali takes on the role, and whether or not it will be as compelling.
It's still funny that Blade isn't lauded as being the first black Marvel hero on screen, but considering that the MCU hadn't been formed yet the Black Panther movie found a pretty big loophole to use when it came to making that claim. It's unimportant at this time though despite any arguments to the contrary, since both heroes have been established, but Blade will have a lot of work to do to get people on his side once again in order to recreate the popularity he needs to be a part of the MCU.