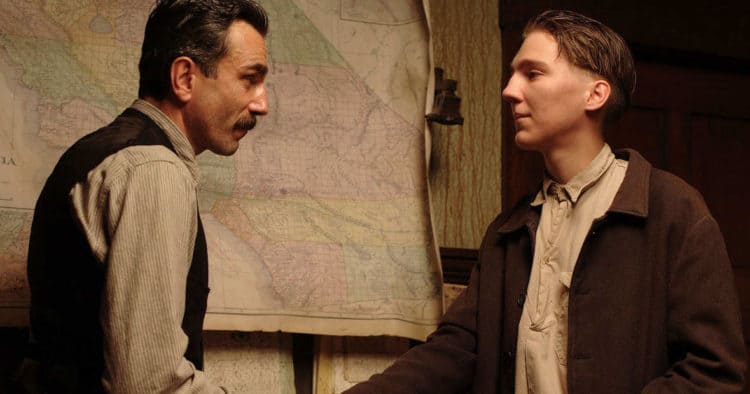 It's kind of hard to think that Paul Dano is in his mid to late thirties at this time since he still looks so fresh-faced and young, but the guy has actually been in the business for a while and started out on stage where obviously he did quite well. Since entering show business it's been seen that he has a very distinct look and as a result he tends to get parts that play upon that innocent and sometimes vapid demeanor. But to his own credit he rocks the look and the roles that are granted to him since he's come quite a way in his career, even if he seems to have flown under the radar of a lot of people throughout the years. Seriously, he's one of those that you can't help but think of as great in his own way since he doesn't always seem to measure up to other actors until you realize just how much he's done. And anyone that can stand toe to toe with Daniel Day-Lewis, well, they're worth a good deal of respect.
Here are the five best movies from his career.
5. 12 Years a Slave
Manohla Dargis of The New York Times puts it down pretty honestly when it comes to the idea of someone being abducted in a time when slavery was still a very respected institution. It's difficult to think that free individual could possibly be sold into slavery after being unlawfully abducted, but the saddening reality is that it was a different time and justice was based upon the color of a person's skin more often than anything else. Some people would say that things haven't changed, which would spark a huge debate without any doubt, but people in this era should at least be able to admit that the oppression felt in the era that the movie depicts is far worse than it's been in recent decades.
4. Prisoners
Bill Gibron of PopMatters is quick to point out a few plot holes that made this movie deflate just a little but overall this is one of the scariest moments for any parent when you realize that one of your kids has gone missing. The reaction by many people would vary since some would cry their eyes out and hope like hell that the police would be able to do their jobs, while others might go on a tear trying to find their children. When it comes to the latter however you can imagine just how far some people would go, and woe to the people that get in their way and might be thought to know anything, especially if they're not forthcoming when it has to do with any information that might be helpful.
3. Little Miss Sunshine
Families aren't perfect by any means no matter how they look, seem to be, or even present themselves to the general public. Every family has a couple of issues here and there that are hard to move past and in some cases don't seem easy to remedy in one day or even a year. The Hoover's are that type of family that have issues coming out of their ears so to speak since they have an overworked mother, her gay brother that tried to commit suicide, a young son that is nihilistic and resentful of his family, her father who is a heroin-snorting old man that eventually dies of his habit, and a husband that is trying to be a motivational speaker but can't seem to motivate his own family. In the midst of this is the youngest child, who simply brightens up the day since she's comfortable with who she is and what she wants.
2. The Girl Next Door
This movie seems like every teenage boy's budding wet dream, but as Ashley Morton of HBO states it actually holds up as a very nice story all on its own. It's true that it focuses heavily on the sex aspect that a lot of young men obsess over, but it also goes heavily into the idea of who a person is during high school and who they want to be afterwards. Klitz is perhaps one of the last people you'd think would come out ahead in this movie, but as part of the Tripod he comes up big, no pun intended I swear, and becomes one of the most important pieces in this movie. Plus, how many young men could say that they had a porn star call them cute?
1. There Will Be Blood
This has to be one of the absolute best scenes in this or any other movie since it's the culmination of a fight between Eli and Daniel that was a long time coming in this movie. Neither man is really that great of a person, but Eli kind of had this coming since as a man of God, supposedly, he was content to rest on what he thought of as his moral high ground until he could break whoever he felt needed to be broken. Well, at the end Daniel definitely got his revenge, and somehow it was insanely satisfying.
Paul is a great actor, and hopefully we'll continue to see him as the years continue forward.