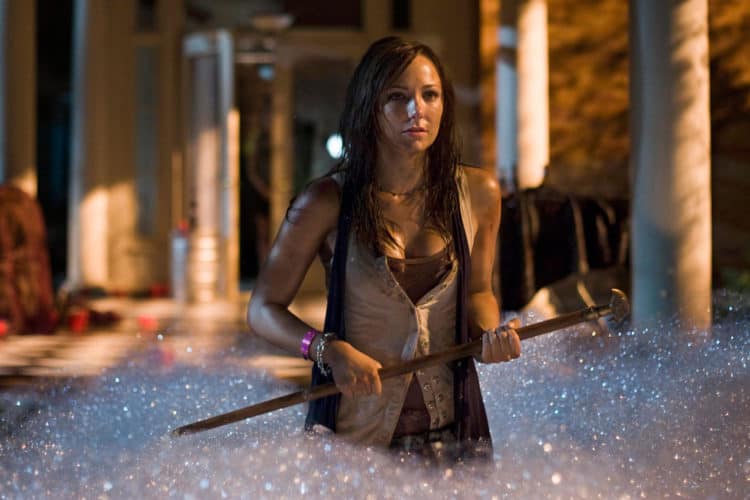 The title of 'Scream Queen' is something that people can take as a badge of honor or roll their eyes at since to some folks it's the mark of an actress that could watch her career get bigger and bigger by the year, or hit a point where it's almost impossible to move up but it's even easier to move forward before dropping out of view for a while. A lot of people take this title in different ways since, like any other title in show business, it's bound to mean something different to a lot of people. One of the most famous Scream Queens, Jamie Lee Curtis, is a great example since her own career has been ongoing for a while, and while she's definitely been a great actress in her time, there have been plenty of moments when she's appeared to kind of fade into the background, perhaps to recuperate for a while or maybe to build up her reputation for another comeback. In any case, a Scream Queen is normally someone that is immortalized in some special way thanks to her role in one or more horror movies, but it's not a role that one will cling to for their entire career since like it or not, even a Scream Queen can be forgotten now and again.
Here are some of the more promising Scream Queens that are still coming into their own in a big way.
5. Lucy Hale
Despite the Fantasy Island reboot tanking in such a big way, Lucy is still young enough to have a good deal of promise left in her career, and while Truth or Dare didn't do a lot for a number of people, it was still creepy enough to be addictive in a way. Her career thus far has been something that people might describe as not entirely impressive, but the fact is that there's a great deal of room for improvement since once again, she's young enough, and she has the kind of acting talent that it will take to keep improving as the years continue to roll on. It's a hope at least that we'll get to see more of her.
4. Emma Roberts
The American Horror Story alum is one of those that can be great as a Scream Queen or as a tough as nails heroine that doesn't bother to scream when it's time to get down to business, which is one reason why she's so much fun to watch. Her time in AHS has varied since she's played the pampered brat and she's played the tough and resourceful survivor that has been able to weather the more difficult times. In the movies, it feels as though she still has a ways to go, but overall it does feel that Emma is the type of actress that can complete a number of roles that vary widely in their demands.
3. Anya Taylor-Joy
It would be wise not to judge Anya too harshly for her time as Ilyana Rasputin from The New Mutants, which was kind of a letdown after all the delays, especially since she's playing one of the most impressive mutants in the movie. But her time in Split and other movies has made her one of the more exciting names to watch since she does appear to be versatile, though she is also someone that might be best sticking to her strengths as time goes on. Trying to pin down what her best is at this time though is something best left to those that are a little more experienced in such things. In other words, it should be up to Anya to decide if she's really worthy of being a Scream Queen.
2. Samara Weaving
One image keeps jumping out when talking about this young woman, and it's that of Nix from Guns Akimbo with Daniel Radcliffe, since she played an absolutely psychotic individual who was coked out of her mind half of the time and whose screams were more like war cries of a vengeful goddess just waiting to deliver another soul to hell along her path of destruction. Yes, that's the image I prefer of Samara, but she's also proven that she can do so much more with her career as well, but Scream Queen feels as though it might be kind of limiting to her, even if she's well-equipped for it.
1. Lupita Nyong'O
Lupita has definitely shown herself as a worthy actress and someone that absolutely deserves the accolades that she's won over the course of her career. Seeing her progress further is going to be interesting as it feels that she has a lot more to offer considering that only a decade ago a lot of people didn't know a lot about her. There are a lot of actors that people will be following for their own reasons, but following Lupita's career will be kind of fun since it feels as though she has a lot of good years left.
Scream Queen is an earned title obviously, but it's bound to be handed out to many young actresses for at least a trial period.
Tell us what's wrong with this post? How could we improve it? :)
Let us improve this post!