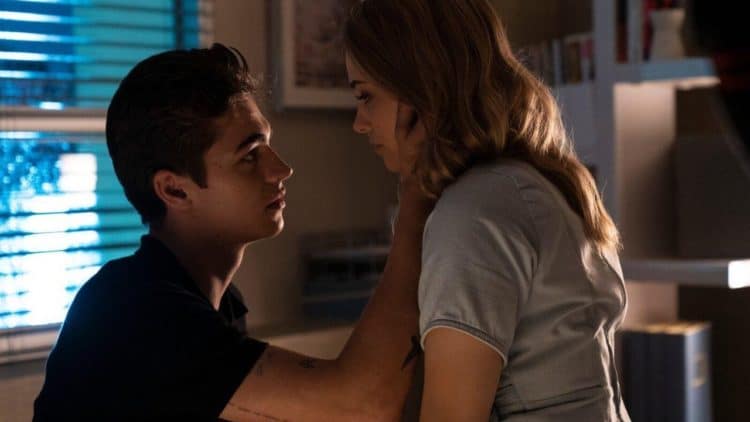 Released in 2021, the movie After We Fell was the third installment in the After franchise. Like the first two movies, After We Fell was based on the novel of the same name by Anna Todd. Although the movie didn't get much attention upon its release, it has gotten a second wind now that it has been added to Netflix. Since the movie is essentially another run-of-the-mill love story, most people probably haven't put much thought into what the filming process was like. As a result, viewers may be surprised to know that there was a doctor on set – particularly for one scene. Keep reading to find out why there was a doctor on set while filming After We Fell.
What Is After We Fell About?
Just in case you're out of the loop with the whole After franchise, I thought it'd be nice to give you a quick rundown on what the movie is actually about. The film follows Tessa Young (Josephine Langford) and Hardin Scott (Hero Fiennes-Tiffin) as they continue their intense relationship. Even though things have been going smoothly, things from Hardin's past threaten to tear the two apart. As mentioned earlier, the film didn't get a lot of attention when it came out and that is largely due to the fact that it received very poor ratings.
The movie has a 0% rating on Rotten Tomatoes and the chances of that rating improving seem very slim. When sharing her thoughts on the movie Sandra Hall of the Sydney Morning Herald wrote, "It's a soft-focus romance about a couple of melancholy adolescents whose lives don't have a plot. Instead, they seem to be caught in a loop composed of a never-ending series of quarrels reliably followed by make-up sex shot in languorous close-up and accompanied by anodyne pop."
Even people who previously enjoyed the After series weren't really feeling the movie. A viewer named Joanna D wrote, "Possibly the worst movie I've ever had the unfortunate of watching. I watched the first two and thought what the hell is this, but stuck it out as i hope she would come to her senses and realise what a toxic vile human Hardin is. He has no redeeming qualities at all. There's no story, no endearing qualities in any of the characters, too many sex scenes (trying to compete with 50 shades?) but my biggest problem is their relationship. Absolute toxic drivel! Who thought this was ok??"
Why Was There A Doctor On Set
Now that you have an idea of what the movie is about, you may be wondering why they could've possibly needed a doctor on set. After all, it's not like the movie required lots of stunts or anything else that could obviously put someone at risk of needing medical attention. However, if there's one thing we all know about Hollywood it's that things aren't always what they seem on the surface. That said, it was actually one of the most unsuspecting scenes that resulted in the need for a doctor's presence.
During an interview, Hero Fiennes-Tiffin revealed that the movie's steamy hot tub scene was everything but steamy. According to Looper, Fiennes-Tiffin said, "There's one scene in a hot tub that was minus temperatures. It was freezing outside, literally. And we had the hot tub at lukewarm, because apparently that's better for you, so you don't go from hot to cold, hot to cold. It's better to go from cold to freezing, cold to freezing. And we actually had a doctor on set for that as well. So that took its toll on us."
As you can imagine, having to sit in a hot tub in freezing cold weather probably isn't the most enjoyable series, but fortunately, everybody was able to make it through the scene without sustaining any injuries. On top of that, the scene turned out beautifully which goes to show that all of the hard work and extra precautions weren't in vain.
What's Next For The After Franchise?
Despite the fact that the After movies have gotten quite a few negative reviews, the train isn't stopping here. The final movie, After Ever Happy, was green lit even before After We Fell was released. After Ever Happy has already been filmed and is expected to be released sometime in 2022 although the exact date has not yet been revealed. It doesn't appear that the final book, Before (which is actually a prequel) will be getting a movie. Hopefully, the last movie will be good so the franchise can go out with a bang.
Tell us what's wrong with this post? How could we improve it? :)
Let us improve this post!