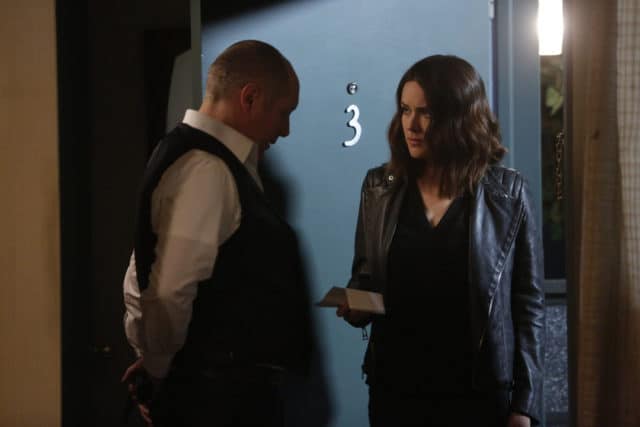 Sorry for the delay in writing this post, folks, as well as missing last week. I was graduating with my Master's degree, so I was unable to view last week's episode in a timely manner. That said, this week's 2-part finale of The Blacklist was a huge turning point for the show. Not only did the Mr. Kaplan saga reach an exciting conclusion, but it set up interesting arcs for ALL of its characters, and gave satisfaction to long-time fans desperate to find out the true nature of Liz and Red's relationship.
This week on The Blacklist: Aram is summoned to testify on a grand jury trial, investigating the task force's use of Reddington as a CI. Mr. Kaplan moves in for the kill on Reddington, but he still has a few tricks up his sleeve. Harold Cooper digs up old evidence to run a DNA test on Reddington and Elizabeth, to further understand the nature of their relationship. Ressler gets closure on an old case, but must give up his leverage to save the task force.
Though of course I have always known that Red is Liz's father, this turned out to be a pretty good reveal. For one, this may be the first season in The Blacklist history in which Liz doesn't shun Reddington from her life, but rather embraces him (literally) as a part of her family. They've shifted the status quo on this show before, but there is a whole new set of problems and dynamics shifting on the show heading in to a (now official) Season 5, and Red and Liz's relationship is the cornerstone of those changes. Of course, I may be more interested in the changing dynamics for other characters on the show. More on that in a minute.
The Kaplan saga turned out to be really exciting. The battle between she and Reddington was exciting at every turn, and really turned out to be about to two powerhouse criminals. Even though Susan Blommaert's Kaplan was what some referred to as a "geriatric" villain, she was just what the show needed to keep things flowing into the next stage creatively. The use of blackmail to stop the grand jury trial and finally gain the upper hand was one of the strongest sequences that The Blacklist has done all season.
As previously mentioned, I'm most excited for what the finale's events mean for the rest of the task force, namely Ressler, Aram and Samar. Ressler's accidental butchering of his archenemy suggests that he will descend slowly into darkness over the course of Season 5, which is really exciting for a character who hasn't gotten enough dimension on display over the show thus far. Also, I'm not much of a shipper, but I am SO on board with Aram and Samar's big kiss that it's not even funny. I'm so glad they stopped teasing and finally went for it.
A few other thoughts:
"I wonder what else Donald's men will find in your nightstand. Are you a vibrator kind of gal?" Absolutely hysterical. James Spader is the best.
I was not very excited to learn that Tom Keen was coming back (again, love Ryan Eggold, just not the character lately) but he being Kaplan's contingency plan was absolutely brilliant.
Further from the aforementioned Keen item: Are those Katarina Rostova's bones? My gut says no. Again, because until they say so I'm going to stay convinced that she's still alive.
Overall, this was a strong end to a back and forth season. Ending strong is important, and I'm excited as ever for the next season.
What did you guys think? Did you enjoy the episode? Let us know in the comments!
The Blacklist returns Fall 2017 on NBC
Tell us what's wrong with this post? How could we improve it? :)
Let us improve this post!