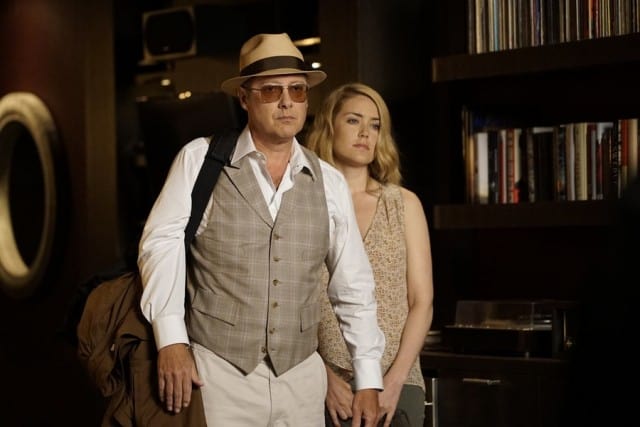 With a new status quo established, The Blacklist seems as though the twists and turns will remain constant. However, the seriees continues to shake up and change things to keep you on your toes. I've been impressed with the third season's run so far, and hope that it will continue to keep me guessing. "Eli Matchett" was the perfect episode to include the entire cast and created tons of interesting plot threads that are sure to resolve with a bang.
This week on The Blacklist: Reddington and Elizabeth turn their ship around to pursue leverage that could clear Elizabeth's name. Tom Keen approaches Ressler about helping Elizabeth, but is turned away. Reddington finally realizes Dembe is missing, so he seeks Glen Carter's assistance. Harold Cooper seeks help outside the FBI to help Elizabeth. A disgruntled farmer attempts to spread a virus to take down a GMO corporation.
Did you notice how I put the main episode plot on the last line of the synopsis? This episode had an individual plot, but it also very much zeroed in on the characters and how they're all affected by the situations they're in. This show has an excellent character focus, with an excellent use of the procedural skeleton to retain a large weekly audience. I'm continually impressed at how much each of these characters grows and develops with each passing episode, and "Eli Matchett" gave excellent cause for them to do so within the framework of the show.
I started watching The Blacklist for two reasons: James Spader and action. What I found instead was a complex cast of characters led by Spader (who is fantastic) who have this great action show at the base, but it's actually a character-focused drama series. Reddington, Elizabeth, Tom, Ressler, Dembe, Harold Cooper, and the rest of the cast are some of the most complex characters on TV today. "Eli Matchett" gave the perfect opportunity to showcase different facets to different characters, and did so masterfully.
Perhaps my favorite element of The Blacklist as a whole (again, showcased perfectly in "Eli Matchett") is the constant exploration of morality versus legality. In this episode, there were two major plot points that illustrated that theme: Elizabeth shooting the undercover cop, and Cooper seeking out Tom Keen. Elizabeth did what she had to do to save Reddington. In her defense, that guy did not identify himself as a police officer before he drew his gun. But what I'm really talking about is what follows. She insists that they get him taken care of before they can leave to save their own butts. So Elizabeth shot a man, but she also saved her own life, Reddington's, and quite possibly this man's as well. Then there's Cooper. He understands better than anyone what kind of a man Tom Connolly was, and why Liz did what she did. Though he detests Tom Keen, Cooper sought his help because of his desire to help Elizabeth, whom he knows to be good. My favorite part about this show is that it explores these situations that humans don't have a clear answer for. We often live in a black and white society, and sometimes, there isn't a clear answer.
Overall, "Eli Matchett" gave us some exciting thrills and procedural framework, but also a much deeper character story. I'm really excited for the return of Paul Reubens, and to see where the show goes from here. If there's one thing I appreciate about a show more than anything, it's the ability to keep me guessing.
What did you guys think? Did you enjoy this week's episode? Let us know in the comments!
The Blacklist airs Thursdays at 9/8c on NBC.
[Photo credit: Peter Kramer/NBC]