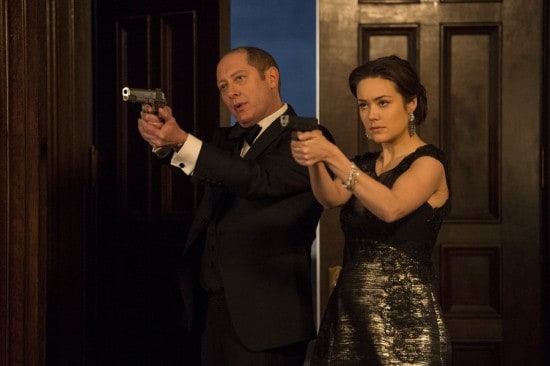 The Blacklist is one of those shows that can make a few storytelling missteps during an episode and still end up compelling and gripping throughout the whole hour. I admit that through the first half of the episode this week, I was unimpressed, but by the end, I was enthralled. Just goes to show you, a few mistakes do not a series make. Does that make sense? I'm going to roll with it anyway.
This week on The Blacklist: Harold returns a favor to a friend. Reddington is captured by a family who auctions off both stolen artifacts and kidnapped human beings, and it's up to Elizabeth to save him. Tom resurfaces and heads to Germany on a new assignment.
The Blacklist does a lot of things right. They tell calculated stories. They're intense, thrilling episodes. Their characters are interesting. It's not often that they misstep. Even when they do, it doesn't ruin the episode. I think they brought Tom back too soon. He was intertwined in the beginning, middle, and end of the episode, but had NOTHING to do with the main story. I love Ryan Eggold's work, and I was certainly glad to see him back, but they should've waited a week. Better yet, they could've put all the Tom scenes into the tag at the end of the episode. That would've made for a more dramatic lead in to next week's episode, in which Tom (apparently, according to the promos) has a bigger role. I don't hate the Tom story at all, but it didn't fit very well with the rest of the episode.
Harold's story was similar. It fit better with the story, because it called back to a previous episode in which Harold had a friend pull some strings for him. Ultimately, both with Tom and Harold, The Blacklist is playing a long game, but that was not evident or necessary in this episode. Harold's was better, because they were able to make it tie-in to the Reddington/Keen stuff.
While there were negatives, there were a lot of positives in this episode. For instance, as a fan of The Walking Dead, I was extremely happy to see Jeffrey DeMunn back on my television screen. As the blacklister, DeMunn was wheelchair-bound and spoke with an electronic device connected to his vocal cords. I almost didn't recognize him. DeMunn is one of those actors that has been around the block literally hundreds of times, but he never gets less compelling to watch. He made a VERY good villain in this episode. I only regret that Reddington killed him so he won't see more of him.
The Reddington/Keen story was perhaps my favorite of the season so far. Instead of Reddington having the upper hand (as per usual), this time he was the one in trouble. Elizabeth had to come to his aid, and by doing so she proved that she still cared. She was upset with him, but she clearly still cares for him. Megan Boone did some of her best work in this episode. She went undercover, saved a child's life, and was still able to rescue Reddington before his winning bidder executed him. I still can't say enough about James Spader, though. He and Boone went through a really intense couple of scenes, and they built to the confrontation with the blacklisters. In the confrontation, Spader did nothing but crack me up. Reddington's arrogance sometimes plays jerkily, but it really works well when it's played for comedy. I laughed out loud. Spader has something for every occasion, and that really enhances the show.
All in all, a solid effort from The Blacklist. I'm really looking forward to the Keen/Tom situation coming to a head starting in next week's episode. This show is really great with tension and slow builds, and I'm very much looking forward to seeing what they do next.
What did you think of this week's The Blacklist? Let us know in the comments section!
[Photo via NBC]
Tell us what's wrong with this post? How could we improve it? :)
Let us improve this post!