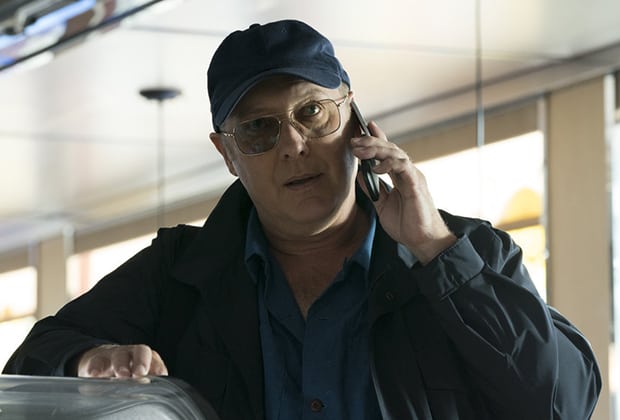 Red and Liz are back and this season everybody knows that they are father and daughter. Of course, fans knew it right from the start but it took forever for them to confirm our suspicions. And, Red's circumstances have greatly changed this season Now, he's broke and living in a motel where the neighbors are down-to-earth and the pool is always warm at the Terrace Vista Motor Lodge. Strangely enough, Red seems to actually like it there. After all, what's not to like? They even have poolside cocktail parties with pretzels, cheese puffs, and wine in red Solo cups. Hey, all they need now is Toby Keith!
Red the Bounty Hunter?
Anyway, Red needs some spending money so he takes a $40k job as a bounty hunter, tracking down a rather nondescript pathetic little guy named Smokey Putnum who robbed a carnival that is actually a front for laundering drug cartel money. Liz accompanies him basically because he tells her he doesn't even have a car. They track down Putnam and, as always, there are some really funny moments and classic Reddington lines that we all know and love. Red gets his $40k and turns Putnum over to the law just in time for his court appearance. Liz is feeling sorry for Smokey and Red pulls some sneaky strings to get the woman who is going to testify against him, Ms. Hawkins, sprung from the prison van on her way to court. With no witness, Smokey is exonerated and released.
Father/Daughter Dance
In the end, it all becomes clear what Red really wants with Putnam and Ms. Hawkins. He's building his new team and they're both a perfect fit. She's a money launderer extraordinaire and he's an expert in logistics and tactics. So, the two become the first new members of Red's all-new criminal empire. And, it all takes place, you guessed it, at a poolside party at Red's fave motel, which can only be topped by Red dancing with his daughter, red Solo cup-in-hand.
The Blacklist Season 5: What to Expect after the Premiere
So, now that we've seen the Season 5 premiere on, which aired on NBC at 8 pm ET/PT; here are our predictions for The Blacklist Season 5: What to Expect after the Premiere:
1. Red will, of course, rebuild his immense fortune with a little help from his friends and, of course, his loving daughter. They make such a great team and those smart and funny Reddington lines are getting better and better with each show.
2. Ressler is going to have to get his hands really dirty when the bad guy who did the clean-up job for him after he killed National Security Advisor Hitchins calls in some nasty little favors.
3. Maybe we'll get to see baby Agnes again soon since she was strangely absent from the premiere. Where is she? Hopefully, they won't bring her back abruptly as a teenager like they always seem to do on the soaps.
4. We'll finally find out whose bones are in that suitcase that Red is looking for and Tom has found and hidden. He was about to tell Liz about it when she announced that Red is her father and so he shoved it behind the sofa with his foot.
5. Once Red is filthy rich again, he'll go back to being well-dressed Red instead of redneck Red. His new persona is funny but we liked him better in his Fedora and fancy suits rather than somebody else's duds and an old blue baseball cap. He does explain away his bad taste in shirts during the season premiere by telling Liz that he just happens to be the same size as the motel manager.
So, tune in to see if we're right about the future episodes of Blacklist and watch the amazing cast of characters that includes James Spader playing Raymond Reddington, Megan Boone playing Liz Keen, Diego Klattenhoff playing Agent Donald Ressler, Ryan Eggold playing Liz' hubby Tom Keen, and Harry Lennix playing FBI Asst. Director Harold Cooper, as well as Parminder Nagra who plays Meera Malik and Amir Arison's Aram Mujtaba who are now finally officially a couple. About time!
Tell us what's wrong with this post? How could we improve it? :)
Let us improve this post!