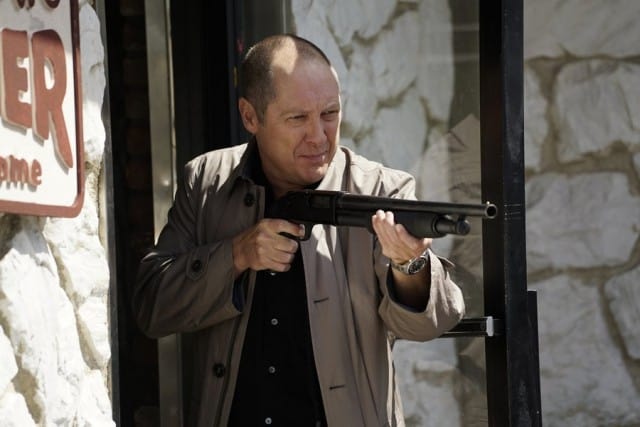 The Blacklist has just come off a major format shift in its first episode of Season 3. Format shifts like this can often create novel episodes or events, but sometimes don't feel sustainable. After the premiere, I was unsure where they could go from there, but after seeing the second episode, I'm much more excited for the season to continue. Rather than giving set up like the first episode, "Marvin Gerard" really established some of the new rules that The Blacklist is playing by, and they're pretty fun to watch.
This week on The Blacklist: Agent Keen seeks asylum at the Russian embassy. Reddington turns to Ressler to save Elizabeth from a trap. Reddington and Elizabeth end up in a hostage stand-off. Harold is offered a deal. Dembe gets in deeper with the Kabal. Tom Keen resurfaces.
I was already a fan of this show. I love the action, the characters, and it's often an hour I look forward to in the week. They didn't have to sell me on the new format, because I was going to be watching anyway. However, I could see how they might need to sell someone on the format, because it's quite different from the first couple of seasons. IF they were trying to sell me on the new format…they need not anymore. I am SOLD! Several of the minor quibbles I had with this show throughout its first couple of seasons (some of which are well documented by this site) have been corrected (like more Dembe and Ressler, to name a few). Reddington and Keen's relationship has finally shifted into something other than "affectionate contempt" from Keen and "mysterious affection" from Reddington. They've fundamentally developed and changed the show without changing its DNA, and that's a really tough task. "Marvin Gerard" illustrates these changes beautifully.
I would be remiss if I didn't mention the clear MVP of (not only this show, but also) this episode: James Spader. Now, I'm aware that he's the whole reason the show got made. I think all of the actors in this show are really great, but Spader is a special breed. There's a shortage of characters on television who can bring with them a bone-chilling gravitas in one minute, and a jovial sense of comedic timing the next. "Marvin Gerard" was an excellent picture of why so many audiences tune in to watch this show. Spader's full range was on display, which upped the episode's value ten fold. How about that scene with the abusive husband? Absolutely brilliant. I am very hopeful that the show and Spader continue this great work, so that there might be more conversation about him come Emmy time.
Other than being pleased with the new direction of the show, and delighted as always by Spader, I only have a few minor thoughts about the episode. For one, I'm glad to see The Blacklist becoming more fearless in changing up the format of the show. To fall back into the status quo would seemingly take more effort, and their new direction is exciting as ever. I'm also really glad to see more Ressler and Dembe. I'm glad they found a way to include Tom.
"Marvin Gerard" was the result of the reset button pushed in the previous episode, and it got me really excited about the future of the show. It's still smart and action-packed, but it now has extra potential to push its characters to new heights. I'll never complain about that.
What did you guys think? Did you enjoy the episode? Let us know in the comments!
The Blacklist airs Thursdays at 9/8c on NBC.
[Photo credit: Peter Kramer/NBC]