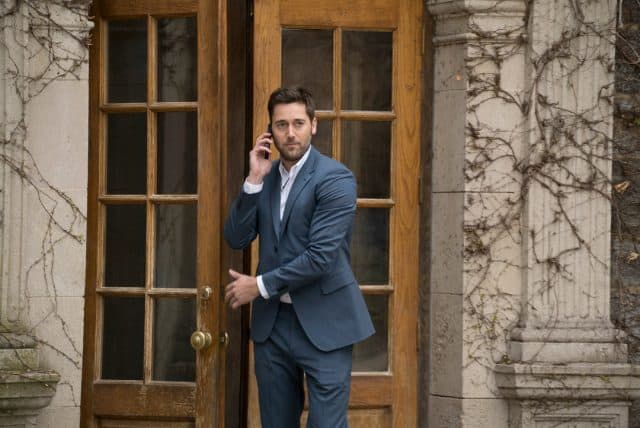 The Blacklist, as a generally exciting show, didn't really get me excited about this episode. I expected a little bit more from a penultimate episode, especially from what's been a fantastic season so far. I was generally intrigued by Susan Hargrave (played masterfully by Famke Janssen) and the fact that Tom teamed with her and Mr. Solomon, AND the task force to bring this particular villain out of hiding. It seemed like it should've been exciting, but the more I thought about it, the more it felt like setup for a spin-off. I love Ryan Eggold, but that wasn't enough to get me excited about a spin-off, or the rest of this story. Until the end, that is. For an underwhelming hour, The Blacklist tossed in some serious twists and turns that left my jaw agape by hour's end (and had me far more interested in the spin-off for that matter).
This week on The Blacklist: Now with the name of the man who orchestrated Liz's death, Reddington, the task force, Tom and Susan Hargrave team up to take him down. The task force attends Agnes Keen's baptism. Tom exacts vengeance, and discovers some things about his own past.
As I've previously stated, the bulk of this episode was unimpressive. I mean, the action was vaguely intriguing, and Tom Keen put on a heck of a show. Ryan Eggold has been nothing but impressive as Tom Keen, and it's no wonder they want to give him his own show. He carries the action scenes with what appears to be effortlessness, and each emotional turn piques my interest a little more. I wasn't sure that I'd be interested in a spin-off, but after "Alexander Kirk", I'd be willing to give it a shot. And you better believe I'd watch Famke Janssen in anything. Even X-Men 3.
(I've avoided it as long as I could, so here is one last spoiler alert) Susan Hargrave is Tom Keen's mother!! As difficult as it was for me to pay attention to this episode, I have to admit: the revelation left my jaw a little too close to the floor. First of all, that makes the scene they shared previously slightly Oedipal in nature. I mean, thinking back on the episode, the new nature of their relationship is WEIRD. But it's intriguing as crap, too. Janssen's philanthropic Hargrave would make an excellent companion to Eggold's warrior Keen should the show continue, and the small revelation both changed the tone of and redeemed the entire episode.
Perhaps I didn't like this episode because even without Liz in play, the show managed to put all of the focus on Tom and Red, and shed little light on the task force characters. A spin-off starring Tom Keen could also be beneficial for the criminally underused characters on The Blacklist. Aram played the biggest role in this one, and still wasn't much of a role. When each character is in the thick of the action, I adore them all. Harold, Samar, Aram, and Ressler all deserve more to do, but hopefully next week's finale will work toward correcting that.
Overall, the penultimate episode of The Blacklist's third season was lacking in some areas, but there was enough meat to the good parts to keep the episode afloat. It looks like we're in for a doozy in the finale, and I genuinely hope that we are.
What did you guys think? Did you enjoy the episode? Let us know!
The Blacklist's Season Three finale airs Thursday, May 19th at 9/8c on NBC
Tell us what's wrong with this post? How could we improve it? :)
Let us improve this post!